PRINCETON, NJ -- When asked to name the most important financial problem facing their families today, nearly half of Americans point to energy and gas prices (29%) or to the high cost of living and inflation (18%). Fourteen percent say a lack of money and low wages, and 9% each say healthcare costs or the cost of owning or renting a home.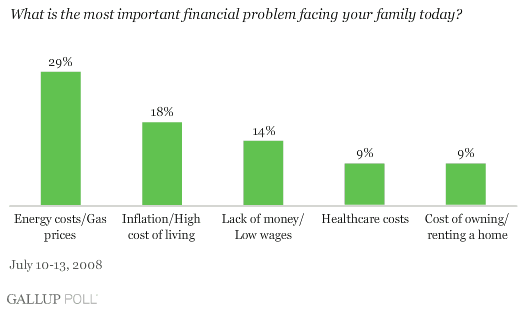 Consumer Behaviors Are Changing
No one needs to tell the average American that prices are increasing, but the Labor Department confirmed Wednesday that consumer prices rose 5% over the past 12 months -- the most rapid rate of increase since May 1991. This follows the previous day's report that wholesale prices increased 9.2% over the past year -- the biggest jump since 1981. It is thus not surprising to find that the top two categories of personal financial problems named by Americans relate to rising costs.
It follows that surging consumer prices are creating financial problems for many families. And Americans are responding by changing their behavior as consumers. A recent Gallup Poll asked Americans to react to eight possible ways in which families could in theory cope with rising prices. In response, an overwhelming 81% reported that they have made more of an effort to find the cheapest prices for the products they buy. Three in four say they have cut back on spending on entertainment, recreation, or eating out, while two-thirds have made a greater effort to keep track of family spending, such as a monthly budget. Nearly half have bought cheaper, lower-quality goods (49%) or have shopped more often at discount stores (46%).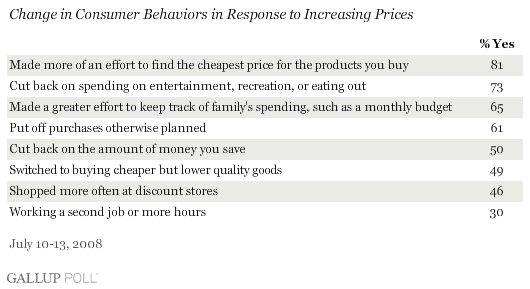 Commentary
Increasing prices are not a new challenge for consumers, despite what economists might say regarding the changes in the consumer price index and so-called core inflation -- a price measure that excludes food and energy prices. Still, it appears that consumer perceptions of price inflation have intensified. Compared with April, roughly twice as many consumers volunteer that energy costs or inflation is the most important financial problem facing their families.
More importantly, inflation seems to be having a major impact on consumer buying behaviors. Consumers are not only cutting back on their entertainment spending and deferring some purchases they previously intended to make, but they are also shopping differently. While it is not surprising that they are more price conscious and looking for sales, it may be somewhat less well recognized that so many -- about half -- also admit to buying lower-quality items and shopping more at discounters because of price.
Assuming this change in consumer purchasing behaviors continues even if the cost of gas at the pump declines from its recent record levels, the change itself suggests that discounters like Wal-Mart will continue to benefit at the expense of department stores and the top-quality brands they sell. In this regard, the real question going forward may be whether this consumer spending shift to low-cost-provider companies and brands is large enough to offset the overall decline in consumer purchasing activities -- making today's low-cost providers actual winners in terms of sales growth, as opposed to being "lesser losers." Low-cost providers may be getting a larger piece of the consumer-purchases pie, but the size of that pie is shrinking.
Survey Methods
Results are based on telephone interviews with 1,016 national adults, aged 18 and older, conducted July 10-13, 2008. For results based on the total sample of national adults, one can say with 95% confidence that the maximum margin of sampling error is ±3 percentage points.
Interviews are conducted with respondents on land-line telephones (for respondents with a land-line telephone) and cellular phones (for respondents who are cell-phone only).
In addition to sampling error, question wording and practical difficulties in conducting surveys can introduce error or bias into the findings of public opinion polls.
To provide feedback or suggestions about how to improve Gallup.com, please e-mail feedback@gallup.com.