WASHINGTON, D.C. -- Rioting over alleged election fraud last week in Mongolia's capital highlights Mongolians' lack of faith in the honesty of their elections. A Gallup Poll in the East-Central Asian country last year showed only 21% of residents express trust in their electoral process.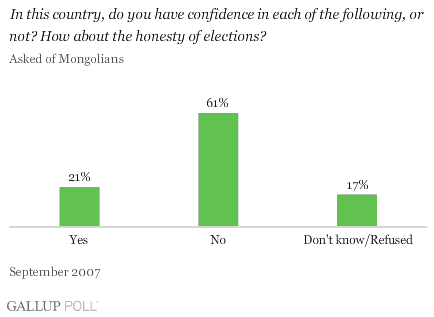 Allegations of vote rigging after an election have been the norm in Mongolia, which may partly explain why citizens exhibit so little confidence in their electoral process. Demonstrations are also common in Mongolia, but the outbreak of violence last week was extremely rare. Observers say simmering anger over unemployment, corruption, and the coalition government's deadlock over the development of the nation's resources likely roiled an already tense political situation.
Gallup's poll last year appears to confirm Mongolians' discontent in each of these areas. Only 16% of residents say now is a good time for people to find jobs in their communities. And Mongolians' have a trust deficit when it comes to their government: Nearly half said they do not have confidence in their national government, and 78% believed that corruption is endemic throughout it.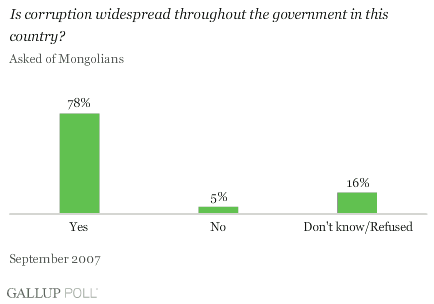 Bottom Line
The discontent Gallup observed in its data last year suggests many Mongolians were primed for change, but given the lack of trust in the electoral process, they may doubt whether that can be legitimately achieved. The unusual violence after last week's election underscores this suspicion, but in tandem with corruption and distrust of the government and the judiciary, it also raises questions about the future of the country's democracy.
Survey Methods
Results are based on telephone interviews with approximately 1,000 adults living in Mongolia, aged 15 and older, conducted in September 2007. For results based on the total sample of adults, one can say with 95% confidence that the maximum margin of sampling error is ±4 percentage points. In addition to sampling error, question wording and practical difficulties in conducting surveys can introduce error or bias into the findings of public opinion polls.