WASHINGTON, D.C. -- India's political gridlock over a civil nuclear deal with the United States raises the question: In the long run, will the United States or Russia -- both seeking economic ties to India -- be the less politically problematic trade partner? Gallup Poll results from 2007 suggest it could go either way. Indians are somewhat more likely to approve than disapprove of the leadership of Russia and the United States, though in both cases slightly more than half say they don't know.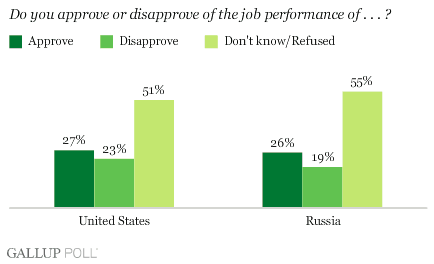 Once competing for political influence, the United States and Russia now find themselves vying for trade partnerships with emerging economic powers. In the case of India, the rivalry is especially pertinent: India's status as the world's largest democracy makes it a particularly good candidate for strategic and trade alliances with the United States. On the other hand, Russia has traditionally been India's largest supplier of arms and energy.
Some observers have noted that the best position for India may be to maintain a "strategic balance" between the United States and Russia, developing trade relationship on both sides without becoming overly dependent on either country. However, walking that line can produce ideological tensions within the Indian government, as in the case of India's communist parties' steadfast resistance to the pending civil nuclear pact with the United States.
Indian Prime Minister Manmohan Singh recently reiterated his support for the pact, but soaring inflation has weakened his Congress party politically. The delicate power balance has paralyzed the Indian government on the issue, and has commentators speculating about the possibility that a split could force early elections in India.
The Indian public's similar ambivalence toward the United States and Russia reflects a lack of grassroots pressure to forge a compromise that would hold the current government together. Not only do Indians fail to give either country an edge in terms of favorability, their impressions of recent relations with the two countries follow a similar pattern. In each case, they are more likely to say relations have improved than to say they have declined, but large percentages say they don't know.
Who loses if the nuclear pact is not ratified? With power shortages already severe in vast portions of India, the average citizen will probably not experience any difference. However, failure to realize an opportunity to boost the country's energy supply could limit economic growth. On the diplomatic front, it would be a loss of face for Singh, who had originally brokered this deal. It would also embarrass U.S. President George W. Bush and his Republican Party for having extended such an unprecedented offer only to have India refuse it.
Survey Methods
Results are based on face-to-face interviews with 3,186 adults in India, aged 15 and older, conducted in April and May 2007. For results based on the total sample of adults, one can say with 95% confidence that the maximum margin of sampling error is ±2 percentage points.