This article is the second in a two-part series on the hopes and dreams that urban Burmese expressed in a September 2006 Gallup Poll, the most recent survey of people in Myanmar. The first article focused on respondents' personal dreams; the second looks at their hopes for their nation.
WASHINGTON, D.C. -- The chances urban Burmese would see their dreams for their nation come true were poor even before Cyclone Nargis. Crumbling health and education systems, deteriorating socioeconomic conditions, and weak infrastructure may help explain why respondents most often mentioned modernization and higher living standards when Gallup queried citizens about their hopes for their nation.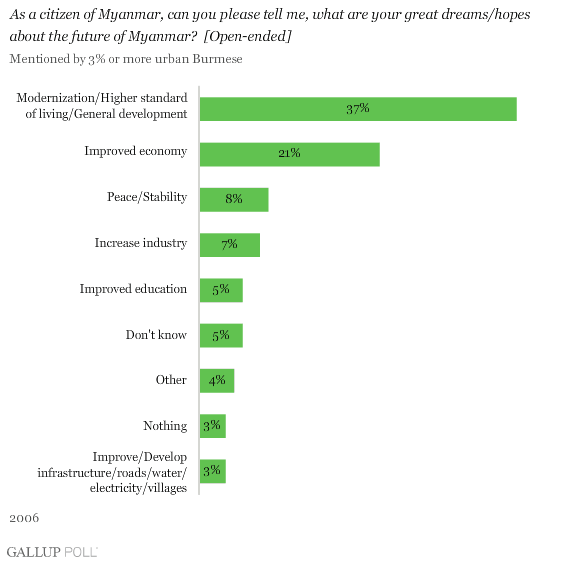 Before the brutal storm more than four weeks ago, Myanmar was already one of the lowest income countries in the world even though it is rich in resources. In recent years, high inflation and commodity prices had reportedly reduced Burmese purchasing power from already low levels. Urban Burmese were less likely than most of their neighbors in Southeast Asia to tell Gallup in 2006 that they were satisfied with their standard of living (59%) and that it was getting better (39%).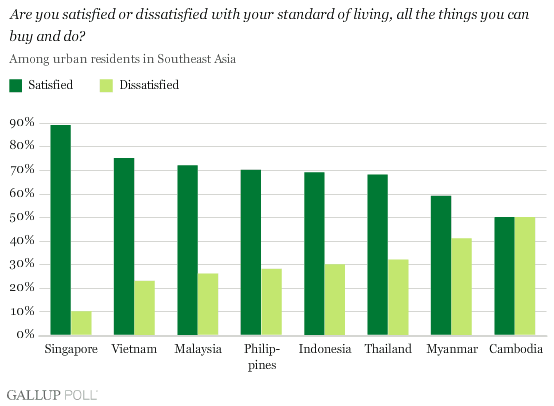 The desire for an improved economy was the second most frequent theme in urban Burmese responses to the "hopes and dreams" question. Respondents often cited lower commodity prices when mentioning the economy. In the months before the September Gallup survey, unprecedentedly high government salary increases had sent inflation soaring, driving prices on staple goods up as much as 60%. Shortly before the Gallup survey, the government attempted to provide some relief through price controls.
In Their Own Words
Gallup codes common-themed responses to open-ended questions into overarching categories to organize and examine broader sentiment, but the actual verbatim responses provide greater insight into Burmese respondents' attitudes.
Modernization/Higher Standard of Living/General Development
Urban Burmese wishes for modernization and development in their country ranged from broad responses such as "all-around development" or "modern, developed country" to those that were far more specific.
"Wish to be an all-round developed country in education, economy, social welfare, and politics." -- 15-year-old man
"Wish to become a modern, developed country, with prevalence of justice and equality among the people." -- 47-year-old woman
"Wish to be developed in all aspects -- health, communication, industry, education. Want to have excellent medicare in the country." -- 35-year-old man
""Socially, economically, and technically I wish my country to be the same level with other countries." -- 50-year-old woman
"Wish to become a modern, developed country. Roads and bridges in all towns should be renovated." -- 20-year-old woman
"Wish to become a country with a higher living standard. More attention should be paid to farmers." -- 61-year-old woman
Improved Economy
Many urban Burmese who mentioned some aspect of a better economy as their great dream for Myanmar said something about commodity prices or hinted at the potential solutions a better economy would bring.
"Country's economy should be reformed to get better. Commodity prices should be reviewed. Education system should be revised as well." -- 39-year-old woman
"Wish to be an economically developed country, and wish young people to have good jobs." -- 17-year-old man
"Wish to have more economic enterprises so that the country will be all-round developed and people can live well." -- 75-year-old woman
"Wish to be a country developed in economy and people can afford for food, clothing, and shelter." -- 50-year-old woman
"Want to have a same level in economy and industry like other countries." -- 38-year-old woman
Bottom Line
Even before the cyclone and the ensuing humanitarian crisis in Myanmar, the country faced many obstacles to the modernization and development its citizens told Gallup that they desired. Some observers would say these obstacles are of the country's authoritarian, isolationist leadership's own making, but few Burmese respondents mentioned the government at all when asked about aspirations.
Burmese dreams for themselves and their country may have changed after Cyclone Nargis changed their reality, but one thing is clear from their responses to Gallup's questions about both -- even in a repressive atmosphere and adverse conditions, hope remained. This resiliency may be what Burmese will need to draw upon to survive the difficult times they are living through now, and in the future.
Survey Methods
Results are based on face-to-face interviews with 337 adults living in one of the larger cities or suburbs of a city in Myanmar, aged 15 and older, conducted in September 2006. For results based on the total sample of adults in urban Myanmar, one can say with 95% confidence that the maximum margin of sampling error is ±6 percentage points. In addition to sampling error, question wording and practical difficulties in conducting surveys can introduce error or bias into the findings of public opinion polls.