WASHINGTON, D.C. -- As Indonesian politicians kick off their nine-month parliamentary election season, a recent Gallup Poll in the world's third-largest democracy suggests citizens' concerns about the economy and corruption could dog candidates along the lengthy campaign trail.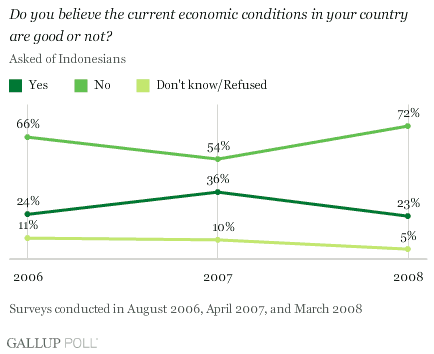 In 2007, Indonesia enjoyed strong economic growth accompanied by healthy increases in private consumption and investment. However, a Gallup Poll conducted in March 2008, two months before the government's fuel price hike sparked protests and spiked inflation, found consumers' confidence in Southeast Asia's largest economy clearly shaken. Seventy-two percent of Indonesians perceived economic conditions in their country as bad, representing an 18-percentage point increase from April 2007. In addition, the percentage saying economic conditions were getting worse hit a record high of 57%.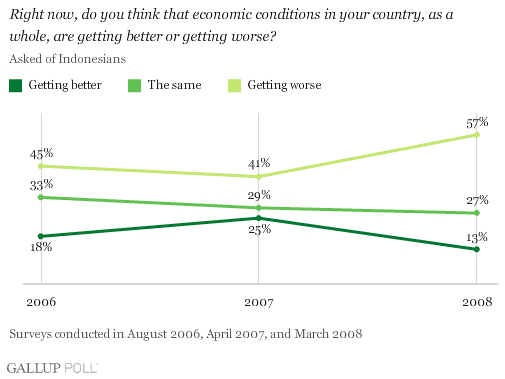 At the time of Gallup's survey, residents were already battling rising food and fuel costs. A record 39% of Indonesians said their standard of living was getting worse, and nearly as many (36%) said it was difficult to get by on their present household incomes. The fuel price hike in May, and the double-digit inflation it spurred, likely exacerbated many Indonesians' difficulties. Last week, Indonesia's Danareska Research Institute reported its Consumer Confidence Index in June had dropped to its lowest level since 1999; its index that measures sentiment toward the government's ability to stabilize prices also plunged to its lowest level.
Indonesia's central bank governor reported Wednesday that the country's economy had rebounded from the effects of the fuel hike, despite rising interest rates and inflation. However, residual anger over rising prices may harm incumbent President Susilo Bambang Yudhoyono's coalition partners' election chances, especially if conditions don't improve quickly for consumers. The government's cash handouts to 19 million poor families over the next year and a half may generate goodwill toward the incumbents, but the election will test how far that goodwill extends.
Corruption Concerns
Just as it was in the 2004 elections, Indonesia's pervasive corruption will likely be a key issue for voters next year. At the time of the Gallup Poll, the then-governor of Indonesia's central bank, who is currently on trial for corruption, had just been accused of misappropriating millions. After that, multiple high-profile corruption allegations continued to surface involving parliamentarians, federal prosecutors, the customs department, and most recently the agency that oversees the state's oil and gas industry.
The percentage of Indonesians who perceive corruption as widespread throughout their government and the country's businesses has been high, and getting higher, over the past several years. Nine in 10 Indonesians (91%) said in March that corruption is widespread throughout their government, and 85% said the same about businesses.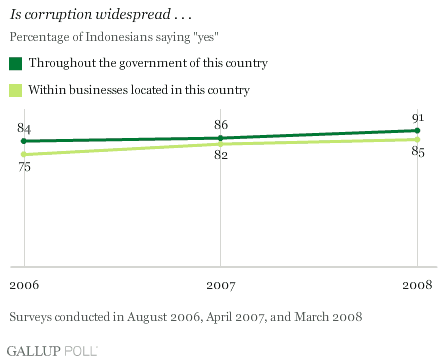 Many residents perceive a real lack of progress on Yudhoyono's 2004 election pledge to fight corruption, which may have implications on the next legislative election and the presidential election after that. In March, roughly half of Indonesians (52%) said that corruption was actually worse than it was five years ago and that the government is not doing enough to curb it (50%). It is possible, however, that the spate of current corruption investigations could change this perception between now and next year.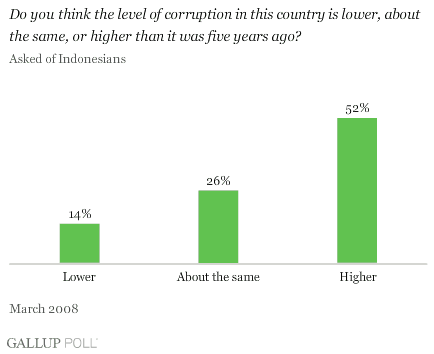 Election Look Ahead
About two in three Indonesians in March told Gallup that they were confident in their national government and approved of their country's leadership. But polling by other organizations conducted days after the fuel price hike suggest it likely has affected voters' opinions of their government: Support for the president has dropped precipitously, and support for the two main parties in the coalition government has also slumped. Unless Indonesians' confidence is restored soon, it could portend a shake-up in their country's leadership.
Survey Methods
Results are based on face-to-face interviews with approximately 1,000 adults living in Indonesia, aged 15 and older, conducted in August 2006, April 2007, and March 2008. For results based on the total sample of adults, one can say with 95% confidence that the maximum margin of sampling error is ±3 percentage points. In addition to sampling error, question wording and practical difficulties in conducting surveys can introduce error or bias into the findings of public opinion polls.