WASHINGTON, D.C. -- Even before the Food and Drug Administration lifted its warning on raw tomatoes -- because of the salmonella outbreak now considered the most widespread for a food-borne illness in the United States in more than a decade -- Americans remained as confident as they were a year ago that the food available in grocery stores is safe to eat.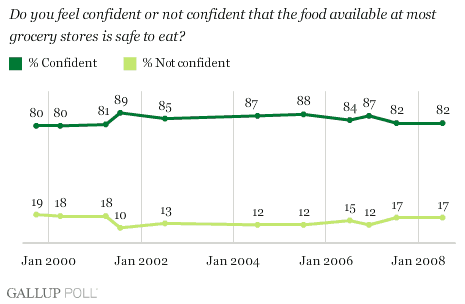 Federal officials still can't say for sure what made more than 1,100 sick across 42 states and the District of Columbia since April. Although the FDA first warned against certain types of tomatoes, it now says the salmonella may have come from jalapeno peppers, serrano peppers, or fresh cilantro. Yet, despite extensive media coverage and at least 220 cases involving hospitalization, Gallup finds average Americans no more worried about food safety than they were a year ago, but still slightly less confident than at other times in the past decade. Overall, it seems confidence has yet to recover from two high-profile outbreaks in 2006 -- one involving E. coli in bagged spinach and the other involving salmonella in peanut butter -- and several high-profile food recalls in 2007.
While many restaurants have had to change their offerings or take extra precautions because of this year's salmonella outbreak, Americans are only slightly less confident in restaurant food than they were a year ago. Although Americans are usually less confident in restaurants than in grocery stores, this measure has seen a modest downward trend since 2001.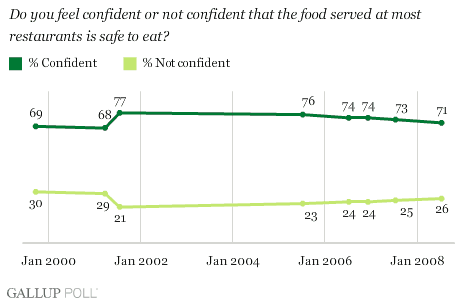 About two-thirds of Americans (60%) do report avoiding certain foods or brands as a result of a government food safety advisory or a product recall, and this number remains stable compared to a year ago. Fewer Americans say they threw food away or returned it to the store (33%), or worried about having eaten something contaminated (25%).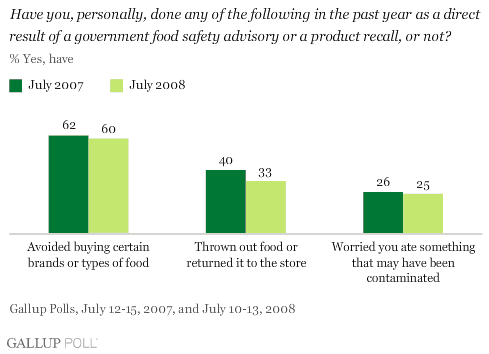 While some have expressed frustration in the U.S. government's inability to pinpoint the source of the salmonella, Americans place no less confidence in the government to ensure the safety of the nation's food supply than they did a year ago. Still, confidence remains at a Gallup low and shows no improvement since the FDA added a new "food safety czar" in May 2007.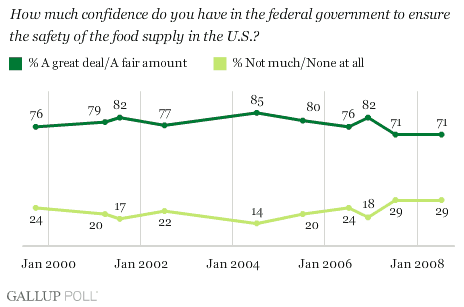 Bottom Line
Despite the widespread and perplexing nature of this year's salmonella outbreak in the United States, Americans are not expressing any heightened sense of worry about the food they buy at grocery stories and in restaurants. Beyond avoiding certain foods that they are warned about, consumers appear generally unfazed, though this could be in some part because they are unaware of the outbreak or its relatively limited agricultural scope. Nonetheless, confidence in the U.S. government to ensure the safety of the food supply remains lower than at times over the past decade, suggesting some room for improvement.
Survey Methods
Results are based on telephone interviews with 1,016 national adults, aged 18 and older, conducted July 10-13, 2008. For results based on the total sample of national adults, one can say with 95% confidence that the maximum margin of sampling error is ±3 percentage points.
Interviews are conducted with respondents on land-line telephones (for respondents with a land-line telephone) and cellular phones (for respondents who are cell-phone only).
In addition to sampling error, question wording and practical difficulties in conducting surveys can introduce error or bias into the findings of public opinion polls.
To provide feedback or suggestions about how to improve Gallup.com, please e-mail feedback@gallup.com.