WASHINGTON, D.C. -- A Gallup Poll of Cambodians shows most voters (74%) are either somewhat or very dissatisfied with the way democracy works in their country, suggesting many may have resigned themselves to the likelihood that longtime Prime Minister Hun Sen's party will coast to re-election Sunday.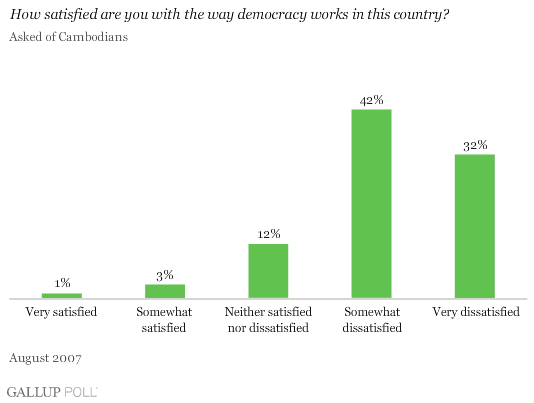 Political analysts fear a big win for Hun Sen's Cambodia People's Party (CPP) could potentially deal a blow to the country's multiparty system. Gallup's data suggest Cambodians may be reluctant to risk leadership change. Compared with where they said Cambodia stood at the time of the last national election five years ago, citizens are relatively positive about where they think their country stands today and will stand in the future.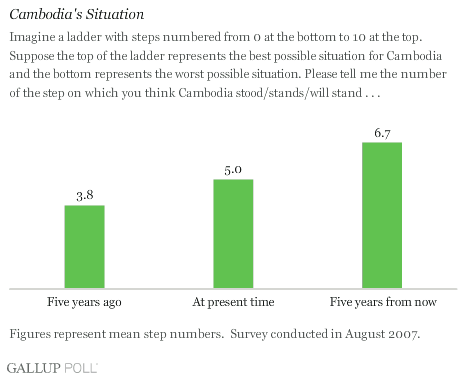 Cambodians' outlook on the state and direction of their nation likely reflect heady economic times in the past 10 years. The country's GDP growth has been robust over the past decade, expanding roughly 10% or more since 2003, and a flood of foreign investment and aid has helped finance a construction boom. In August 2007, 69% of Cambodians told Gallup that economic conditions in the nation were good, and 62% said conditions were getting better.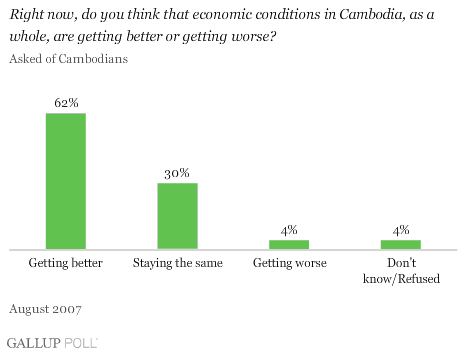 However, the nation's stellar economic growth has not necessarily generated benefits for all its citizens. Only 37% of Cambodians said the government's economic reforms over the past 10 years are perceived as mostly good for the country, while 29% said they are perceived as mostly bad and 34% had no opinion. What's more, only about a quarter of those with an opinion about the government's reforms said they expected benefits for most (16%) or nearly all (8%) of Cambodians.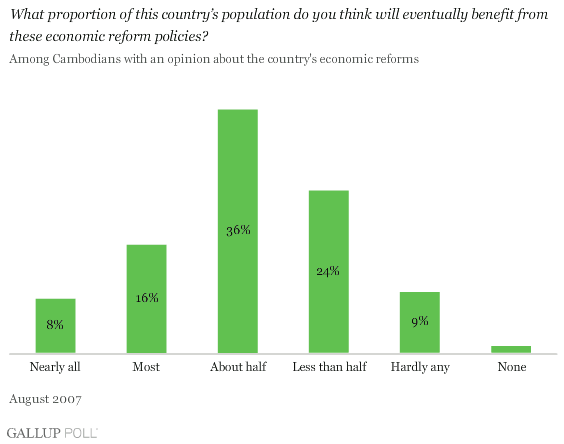 Cambodians surveyed also expressed relatively more optimism about their current and future personal situations, but to a lesser degree than they did about their nation's prospects.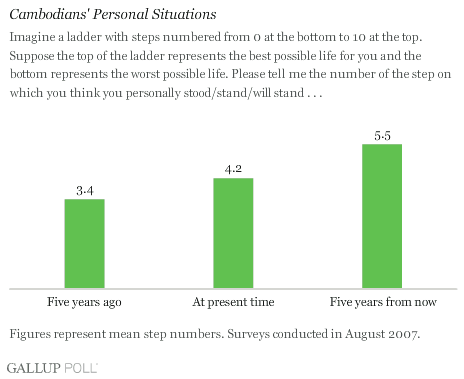 That Cambodia remains one of the poorest nations around the globe is evident in the large percentages of residents who said they struggled to afford food and to survive on their earnings -- even before inflation and food prices soared in 2008. Fifty-eight percent of Cambodians said they were unable to buy food for their families at times in the past year, which is the second-highest percentage recorded in Southeast Asia after the Philippines (64%). More than two in three Cambodians said they were finding it difficult (50%) or very difficult (17%) to get by on their household incomes.
Many Cambodians have noticed some improvement in their personal situations, however. While a majority of residents (57%) said they are dissatisfied with their standard of living -- all that they can buy and do -- they were more likely to say their standard of living was getting better (40%) rather than getting worse (23%).
Even if Hun Sen's CPP wins an easy victory Sunday, observers expect maintaining stability in the country may prove difficult given higher overall food prices and soaring inflation gripping so many Asian countries, including Cambodia.
Survey Methods
Results are based on telephone interviews with approximately 1,001 adults living in Cambodia, aged 15 and older, conducted in August 2007. For results based on the total sample of adults, one can say with 95% confidence that the maximum margin of sampling error is ±3 percentage points. In addition to sampling error, question wording and practical difficulties in conducting surveys can introduce error or bias into the findings of public opinion polls.