PRINCETON, NJ -- Rising prices, a sagging housing market, and the mortgage crisis are likely behind sharp drops in Americans' positive ratings of the real estate, banking, restaurant, grocery, airline, and retail industries compared to last year.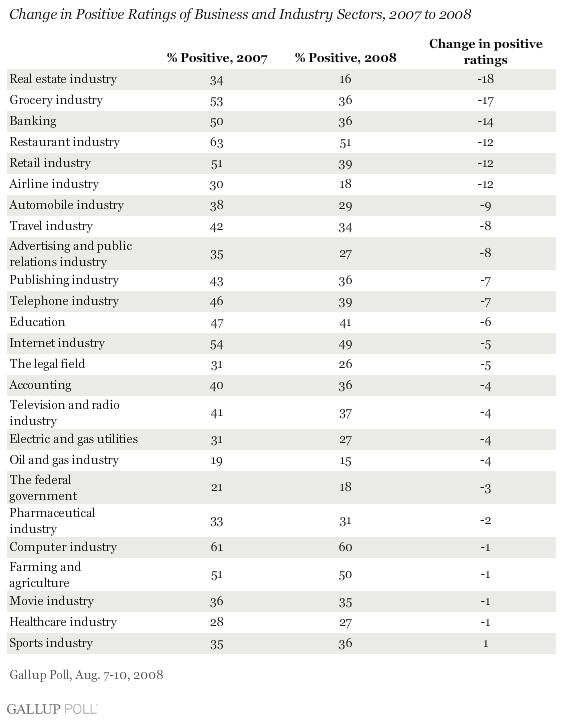 In fact, ratings of all 25 business sectors included in the Gallup ratings except for the sports industry are lower now than last year, though only drops of 6 points or more should be considered statistically meaningful.
These results are based on data from Gallup's annual Work and Education poll, conducted Aug. 7-10. Each year, Gallup asks Americans to rate each of 25 different business and industry sectors as positive, neutral, or negative.
This year's poll was conducted at a time when Americans were in a sour mood about the economy given high gas prices, the rising price of food, and ongoing problems in banking and the housing market.
Since Gallup began tracking opinion of business and industry in 2001, one-year declines of 10 points or more in positive ratings have been rare. But this year, six different industries have lost 10 points or more, and another (the automobile industry, with a 9-point drop) comes close.
One industry whose image didn't worsen much this year is the oil and gas industry (down just 4 points), but that is because its ratings have been low and at the bottom of the list for several years. However, the oil and gas industry's current 15% positive rating is notable in that it is the lowest such score for any industry in the eight years Gallup has conducted this poll.
Record Declines
The 18-point decline in Americans' positive ratings of the real estate industry is the largest one-year change Gallup has measured for any industry. That clearly results from the subprime mortgage crisis, which has led to large numbers of foreclosures and falling home values. The 17-point drop in positive ratings of the grocery industry this year also surpasses the previous high.
Prior to this year, the largest one-year decline Gallup had measured for an industry was a 16-point drop in positive ratings of accounting from 2001 (47%) to 2002 (31%), after reports that large corporations like Enron and Tyco had been filing false financial reports with the knowledge of their accounting firms.
Overall Ratings of Industries
As a result of the decline in ratings of the real estate industry (now just 16% rate it positively), it ranks with the oil and gas industry (15%) as having the lowest percentage of favorable reviews. However, even though the two industries have similarly low positive ratings, many more Americans have a neutral opinion of real estate and a negative opinion of the oil and gas industry. When a net positive score is computed by subtracting negative ratings from positive ones, oil and gas (-61) scores much worse than real estate (-40).
Joining oil and gas and real estate as the most negatively rated industries and sectors are the federal government (-42 net positive rating), airline industry (-34), healthcare industry (-30), and electric and gas utilities (-25).
At the other end of the spectrum, the most positively rated industries are computers (+50), restaurants (+39, even with the large decline in positive ratings this year), farming and agriculture (+31), Internet (+31), and accounting (+24).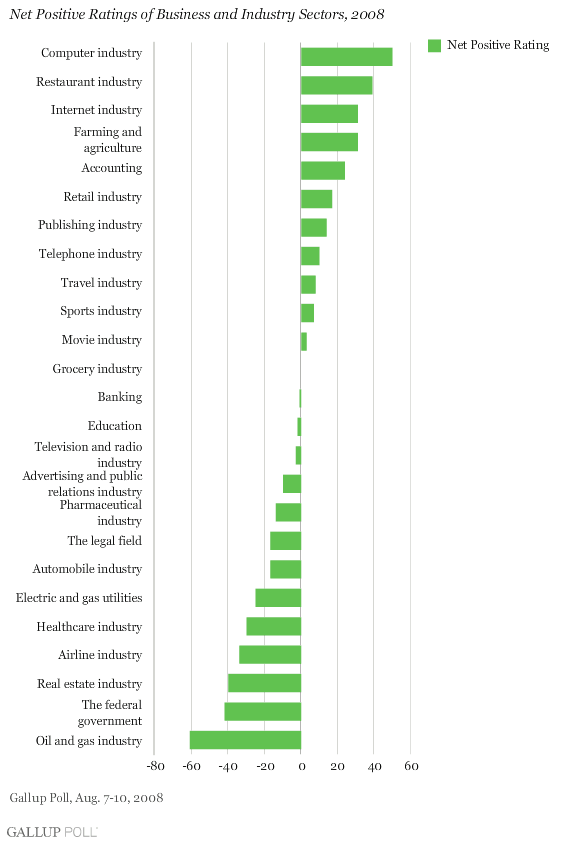 Americans have typically rated the grocery and banking industries more positively than negatively, but now about as many rate these two industries negatively as rate them positively. In addition to the restaurant industry, the retail sector remains in positive territory even with the declines this year.
Implications
Clearly, the issues plaguing the economy are affecting the way Americans view a variety of industries, in particular the ones most closely associated with rising prices (grocery, restaurant, and retail) and the mortgage crisis (banking and real estate).
Historically, Gallup has not seen many similarly steep declines in ratings of an industry from one year to the next, but the few historical examples show that an industry's ratings are about as likely to improve the year after a sharp decline as to stay the same or go down further. The example of the accounting industry is illustrative. After suffering a large one-year decline in ratings in 2002, its image has improved, though it remains below where it was before the scandal.
Just as the ratings of many industries have declined in the current negative economic climate, one might expect a sort of "rising tide" effect when the economy improves, which would lift the ratings of these industries.
Survey Methods
Results are based on telephone interviews with 510 national adults, aged 18 and older, conducted Aug. 7-10, 2008. For results based on the total sample of national adults, one can say with 95% confidence that the maximum margin of sampling error is ±5 percentage points.
Interviews are conducted with respondents on land-line telephones (for respondents with a land-line telephone) and cellular phones (for respondents who are cell-phone only).
In addition to sampling error, question wording and practical difficulties in conducting surveys can introduce error or bias into the findings of public opinion polls.
To provide feedback or suggestions about how to improve Gallup.com, please e-mail feedback@gallup.com.