PRINCETON, NJ -- Gallup Poll Daily Tracking data continue to show an upward tick in Americans' positive views of the U.S. economy. Although economic views overall are still pessimistic, the percentage of Americans Gallup classifies as having a negative view of the economy is now as low as it has been since February, dropping in recent weeks in close correspondence to the drop in gas prices.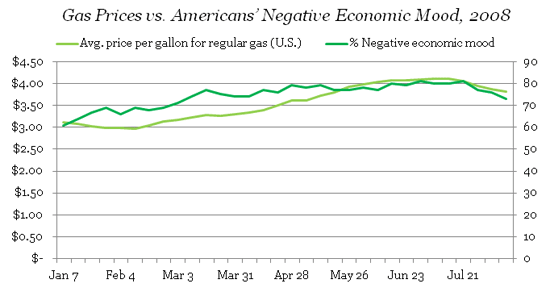 The change in consumer confidence is not a major shift. From a big-picture perspective, Americans remain very much on the negative side of the ledger when asked to rate their views of the economy.
Still, there is little question that there has been a swing in the trajectory of Americans' confidence in the economy, and after reaching an extraordinary low point in mid-July, attitudes are showing signs of increased optimism.
Gallup's overall summary measure of consumer confidence now pegs 9% of Americans as positive, 19% as mixed, and 70% as negative. Although this certainly does not represent a cheerily upbeat public, the numbers have not been this positive since February. And they certainly represent an improvement from Gallup's July 14-16 data, when Gallup classified 83% of Americans as having negative economic outlooks.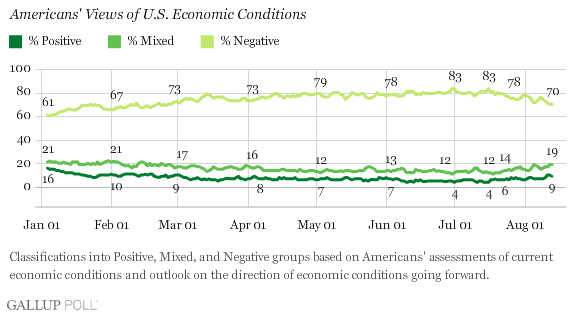 The turnaround in consumer attitudes is no doubt to a significant degree the result of declining gas prices. As seen in the graph displayed elsewhere in this article, there has been a very high correlation between overall economic mood and the average price of regular gas this year. The downward swing in the percentage of Americans with a negative economic mood in recent weeks has closely matched the downward swing in gas prices.
On a more specific measure, 19% of Americans say the U.S. economy is getting better, while 76% say it is getting worse.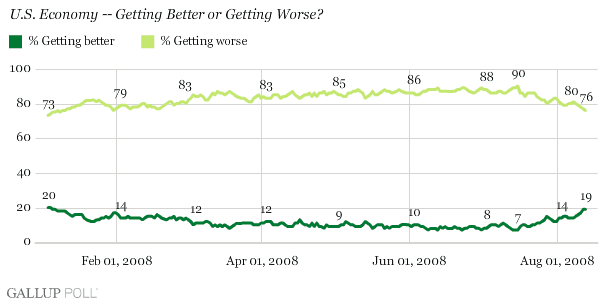 These are still fairly dismal readings, but nowhere near as negative as about one month ago, when Gallup's July 14-16 report found only 7% saying the economy was getting better and 90% saying it was getting worse. Furthermore, the last time as few as 76% said the economy was getting worse was late January of this year, and one has to go back to early January to find a time when the optimistic percentage was as high as 19%.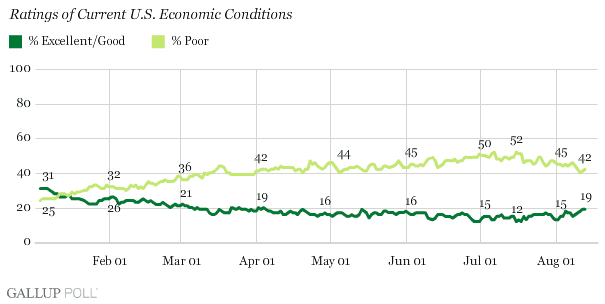 Survey Methods
For the Gallup Poll Daily tracking survey, Gallup is interviewing no fewer than 1,000 U.S. adults nationwide each day during 2008. Each day's report of Americans' economic mood is based on combined data from three days of interviewing, with the questions asked of a half sample each day. For results based on these sample sizes of approximately 1,500 national adults, the maximum margin of sampling error is ±2 percentage points.
Interviews are conducted with respondents on land-line telephones (for respondents with a land-line telephone) and cellular phones (for respondents who are cell-phone only).
In addition to sampling error, question wording and practical difficulties in conducting surveys can introduce error or bias into the findings of public opinion polls.
To provide feedback or suggestions about how to improve Gallup.com, please e-mail feedback@gallup.com.