PRINCETON, NJ -- When asked to say in all honesty how they personally feel about their pay, 51% of Americans feel they are underpaid for the work they do, 46% feel they are paid about the right amount, and 3% feel they are overpaid.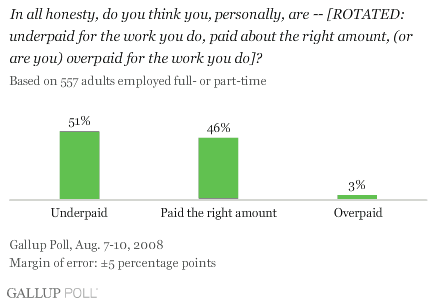 More Middle- and Lower-Income Americans Feel Underpaid
Some groups of Americans are more likely than others to say they are underpaid. Only 38% of those making $75,000 or more a year say they are underpaid, compared to 62% of those making less than $75,000. Somewhat surprisingly, the difference between men and women on this measure is much smaller, with 47% of men and 55% of women saying they are underpaid. Similarly, 59% of Democrats say they are underpaid, compared to 49% of independents and 44% of Republicans.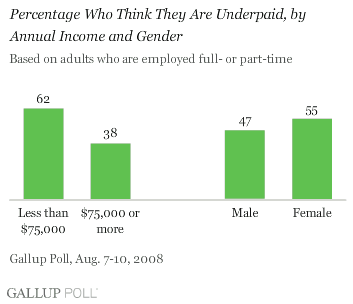 Little Difference by Race or Education
There is little difference by race or by education in perceptions of being underpaid. Fifty-one percent of both whites and nonwhites say they feel underpaid. Similarly, 49% of those with high school educations or less say they are underpaid, compared to 52% of those with at least some college education.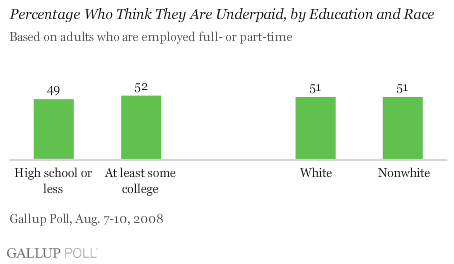 Seeking Change
Last week, the Labor Department reported the largest annual cost-of-living increase in 17 years. At the same time, the Bureau of Labor Statistics reported that the total number of people receiving jobless benefits is close to a five-year high. No wonder, then, that the Commerce Department reported that retail sales fell 0.1% in July.
Gallup's new polling shows that many consumers -- particularly those with lower and middle incomes -- are feeling underpaid for the work they do. How much of these employee perceptions result from globalization and the income compression it has produced over the past many years is hard to assess. So is the impact of declining real incomes. For example, earlier this month, the Commerce Department also reported that consumers' real disposable personal income and real consumer spending declined in June.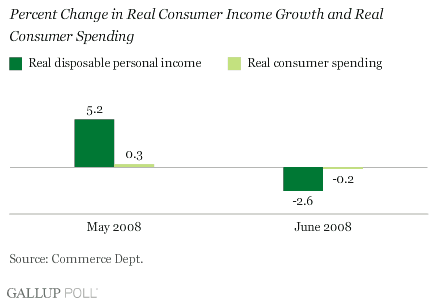 Regardless, this feeling of "unfairness" in the area of employee compensation may not play out as much in the economic as in the political arena later this year. A weak economy may not be conducive to employees seeking higher wages, but it may be conducive to seeking political change.
Survey Methods
Results are based on telephone interviews with 557 national adults, aged 18 and older and employed full- or part-time, conducted Aug. 7-10, 2008. For results based on the sample of employed adults, one can say with 95% confidence that the maximum margin of sampling error is ±5 percentage points.
Interviews are conducted with respondents on land-line telephones (for respondents with a land-line telephone) and cellular phones (for respondents who are cell-phone only).
In addition to sampling error, question wording and practical difficulties in conducting surveys can introduce error or bias into the findings of public opinion polls.
To provide feedback or suggestions about how to improve Gallup.com, please e-mail feedback@gallup.com.