PRINCETON, NJ -- Gallup's Net New Hiring Activity measure shows that U.S. workers' perceptions of the job market have been bad in recent months -- and they became distinctly worse in August.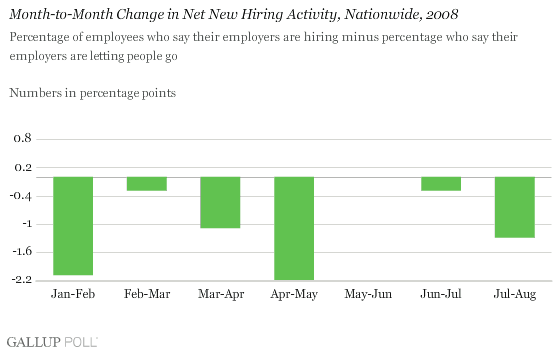 Eighth Straight Month of Job Losses in August
With the presidential election approaching at a dizzying pace, job losses may soon be vying with gas prices as the major economic issue facing the nation and the presidential candidates. According to government figures, payroll employment has declined by 463,000 jobs over the first seven months of this year. Over the past 12 months, the number of unemployed persons has increased by 1.6 million and the unemployment rate has increased by 1 full percentage point to 5.7%.
Gallup's Net New Hiring Activity measure, based on interviews with more than 8,000 employees in August, suggests the bad jobs situation of July deteriorated significantly in August. The percentage of employees saying their companies are hiring was essentially unchanged last month while the percentage saying their companies are letting people go increased by 1.6 points -- the biggest increase this year -- and consistent with Gallup's layoff report last month.
In turn, this suggests that jobs probably declined for the eighth month in a row in August and by more than the 75,000 decline economists predict, according to Bloomberg. More importantly, it also implies that the unemployment rate did not remain at 5.7% as expected, but increased to at least 5.8% in August. Whatever numbers the Bureau of Labor Statistics reports on Friday morning, these Gallup job findings, combined with declining oil and gas prices, suggest jobs and the need to address the lack of job creation in this country will become an increasingly important election issue over the coming weeks.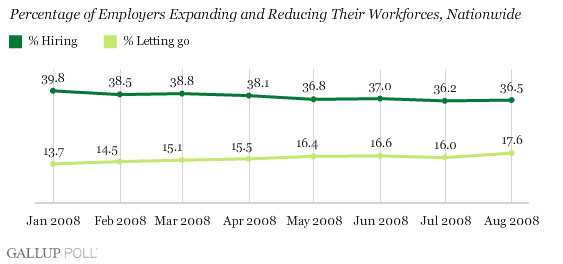 Net New Hiring Activity by Region
Net new hiring activity fell in all regions in August. It declined the most in the South and the East. Still, job-market perceptions remain highest in the South, even after its decline, and worst in the West, although this region did not show further deterioration last month.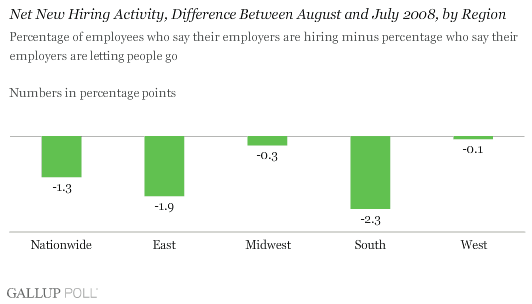 As is well known, the East is suffering economically from the continuing financial crisis. Many financial services firms announced layoffs earlier and Gallup's Net New Hiring Activity measure suggests the fallout is just now beginning to be fully realized. Still, even after its August decline, conditions in the East remain better than those in the Midwest and West.
Net new hiring activity in the Midwest is essentially unchanged over the past month, suggesting that export activity may be not only helping the overall GDP but also mitigating, at least to some degree, further declines in what appears to be a generally weak job market across the region. With ever-clearer signs that overseas economies are slowing, it remains to be seen whether Midwest job-market conditions can avoid further deterioration in the months ahead.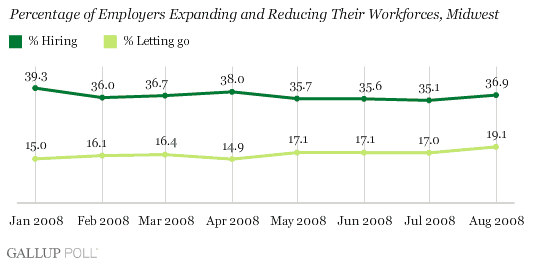 Net new hiring activity declined more in the South -- 2.3 points -- than in any other region in August. This brings net new hiring activity back below its June level and suggests the upward blip in July may have been something of an aberration. Even after its August drop, net new hiring activity in the South remains higher than in any other region.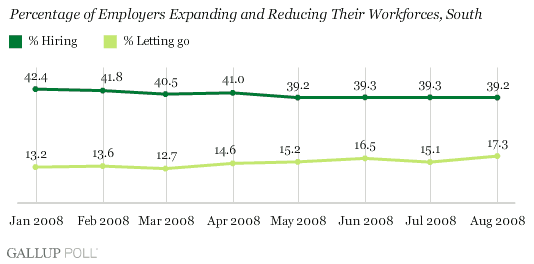 While net new hiring activity remained essentially unchanged in the West in August, it remains at the lowest level of any region. The sharp decline in home values in this region of the country continues to have a disproportionately greater impact on job-market conditions compared to the rest of the nation.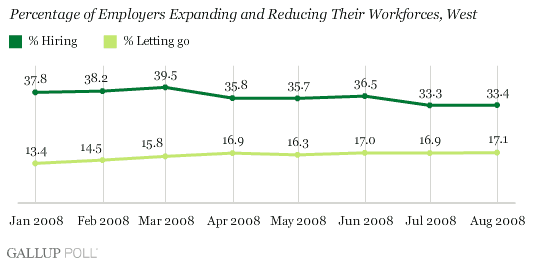 Job-Related Recession
So far this year, the U.S. economy has been slowed by surging oil and gas prices combined with a housing and financial sector debacle. As a result, the economic fallout has been spreading slowly across the economy as consumers pull back on their spending, and job-market conditions deteriorate.
However, the August Net New Hiring Activity results suggest that the economic downturn may be reaching critical mass -- at least as far as job-market conditions are concerned. The rate of job losses looks like it may increase to the six-digit range and the unemployment rate could soon reach 6%. As job losses escalate, they will tend to have their traditional impact on consumer confidence and consumer spending. In turn, the U.S. economy could go into a more traditional jobs-related recession on top of the economic slowdown already underway.
If this turns out to be the case and a traditional recession begins to take hold, it will present some significant challenges to the presidential candidates now and after the election. At this point, the Federal Reserve has done just about all it can with monetary policy. It will do well to continue to safeguard the financial system as the oil and commodities bubble bursts, and hedge funds and financial services firms experience additional losses.
Declining gas prices will help by providing consumers with more disposable income. But the continuing credit crunch, financial sector deleveraging, and increasing job losses will likely require the federal government to act to help create the necessary conditions for a solid economic recovery in 2009. The team of candidates that can best convince Americans over the next two months that they not only understand the current economic situation and identify with the pain, but also can provide a viable economic solution, may have the inside track for the November election.
Survey Methods
Gallup's Net New Hiring Activity measure was initiated in January 2008. It is an effort to assess U.S. job creation or elimination based on the self-reports of more than 8,000 individual employees each month about hiring and firing activity at their workplaces. In order to calculate this measure, Gallup asks current full-time employees whether their employers are hiring new people and expanding the size of their workforces, not changing the size of their workforces, or letting people go and reducing the size of their workforces. Net new hiring activity is computed by subtracting the "letting go and reducing" percentage from the "hiring and expanding" percentage. The assumption is that employees across the country have a good feel for what's happening in their companies, and that these insider perceptions can yield a useful summary indication of the nation's job situation.
Gallup is interviewing no fewer than 1,000 U.S. adults nationwide each day during 2008. The economic questions analyzed in this report are asked of a random half-sample of respondents each day. The results reported here are based on combined data of more than 8,000 interviews in January, February, March, April, May, June, July, and August. For results based on these samples, the maximum margin of sampling error is ±1 percentage point.
Interviews are conducted with respondents on land-line telephones (for respondents with a land-line telephone) and cellular phones (for respondents who are cell-phone only).
In addition to sampling error, question wording and practical difficulties in conducting surveys can introduce error or bias into the findings of public opinion polls.
To provide feedback or suggestions about how to improve Gallup.com, please e-mail feedback@gallup.com.