PRINCETON, NJ -- Thirty percent of Americans report that their employers have laid off employees during the past six months -- up from 22% a year ago, and the highest level since August 2003, when 34% of employees said this was the case.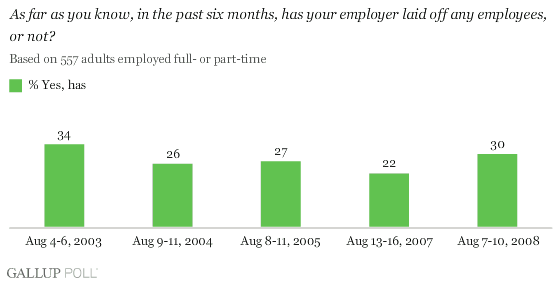 The percentage of Americans reporting job layoffs at their companies does not vary significantly by income. However, perceptions of layoffs over the past six months are greatest in the West, with 40% of employees reporting this -- more than in any other region.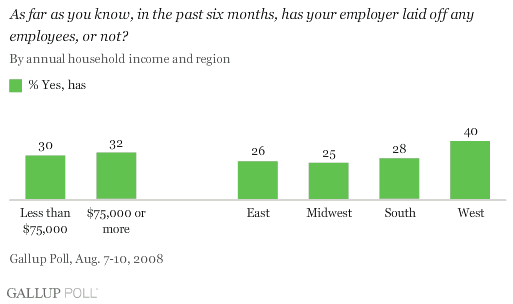 Bad Time to Find a Quality Job
Additionally, 75% of Americans believe now is a bad time to find a quality job -- a percentage that has remained essentially unchanged since April. The last few months have seen the highest level of job market pessimism since 2003.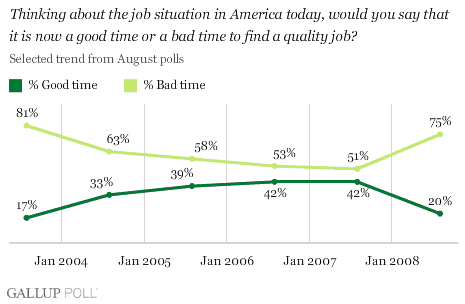 Employees' Personal Job Worries Have Not Increased
While Americans' perceptions of employer layoffs and their ability to find a quality job are at five-year lows, working Americans' worries that their wages will be reduced, that they personally will be laid off, or that their companies will move jobs overseas are not much different than they have been in recent years. Lower- and middle-income Americans are somewhat more worried than upper-income Americans that their benefits will be reduced and that their work hours will be cut.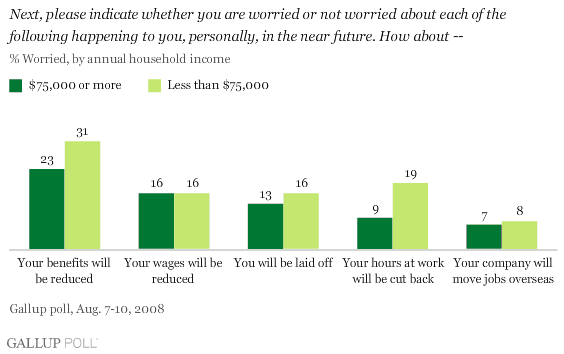 Commentary
Last week, the government's four-week moving average of first-time claims for unemployment increased to its highest level since April 2002. This suggests that job market conditions are likely to continue to deteriorate in the months ahead. Employers are unlikely to build their employee workforces given the slowing economy, the end of the tax rebates, and all of the factors potentially affecting consumer spending in a negative way -- including energy prices, housing, and the consumer credit crunch. As a result, employed Americans' worries about their personal job situations may tend to increase as the remainder of this year unfolds.
On the other hand, the sharp drop in oil and gas prices over the past 30 days has had a positive impact on consumer confidence. As a result, the real question for the economy looking ahead -- including the all-important Christmas shopping season -- seems to be whether declining gas prices, even though they remain far above year-ago levels, will be enough not only to offset further deterioration in the jobs market but also to increase consumers' real disposable incomes enough to significantly stimulate consumer spending. At this point, it appears the downward momentum in the jobs market may be hard to reverse in time for the Christmas holidays.
Survey Methods
Results based on telephone interviews with 1,009 national adults, aged 18 and older, conducted Aug. 7-10, 2008. For results based on the full sample of national adults, one can say with 95% confidence that the maximum margin of sampling error is ±3 percentage points.
For results based on interviews conducted with 557 adults employed full or part-time, one can say with 95% confidence that the maximum margin of sampling error is ±5 percentage points.
Interviews are conducted with respondents on land-line telephones (for respondents with a land-line telephone) and cellular phones (for respondents who are cell-phone only).
In addition to sampling error, question wording and practical difficulties in conducting surveys can introduce error or bias into the findings of public opinion polls.
To provide feedback or suggestions about how to improve Gallup.com, please e-mail feedback@gallup.com.