PRINCETON, NJ -- Democratic candidate Barack Obama has gained ground in the latest Gallup Poll Daily tracking average from Monday, Tuesday, and Wednesday, and now leads Republican John McCain among registered voters by a 48% to 42% margin.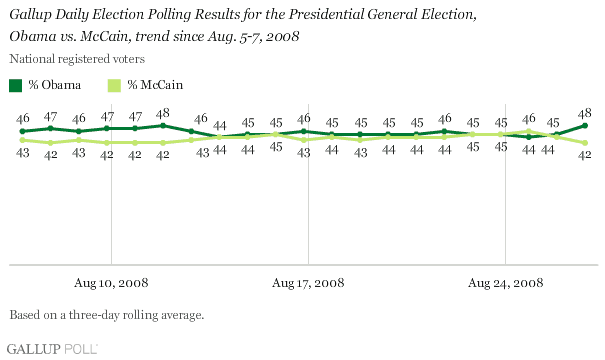 The latest three-day Gallup Poll Daily tracking average (Aug. 25-27) is directly coincident with the first three days of the Democratic National Convention in Denver, and is no doubt beginning to reflect the typical convention "bounce" that Gallup has observed in most party conventions in recent decades. There is a lag of sorts involved in the daily tracking; interviewing is conducted in most parts of the country before that evening's high-focus speeches have taken place. Thus, the current three-day average would reflect any impact of Monday night's speech by Michelle Obama, and Tuesday night's speech by Hillary Clinton, but would not completely reflect Wednesday night's lineup of speakers, such as John Kerry, former President Bill Clinton, and vice presidential nominee Joe Biden, nor the appearance on stage at the end of the evening by Barack Obama himself. (To view the complete trend since March 7, 2008, click here.)
Gallup's interviewing for last Friday through Sunday, the last three days before the convention officially began, showed the race at a 45% to 45% tie. Thus, there is already a six percentage point bounce evident in the data, although the final "official" post-convention bounce used in comparison with other recent conventions will not be tabulated by Gallup until interviewing for Friday through Sunday is completed (reported next Monday on gallup.com).
Of keen interest this year will be the dynamics of the race in the forthcoming days, as John McCain, by all accounts, will attempt to pounce on the Democrats' bounce by announcing his vice presidential running mate either Thursday night or Friday and with attention turning quickly to the Republican convention that is set to begin on Monday in St. Paul. Also in the mix this year will be an act of nature; if Tropical Storm Gustav becomes a hurricane and makes landfall on the U.S. Gulf Coast sometime on Tuesday, news coverage of the GOP convention will be diluted, and the impact of that situation (coming some three years after Hurricane Katrina) is impossible to predict. -- Frank Newport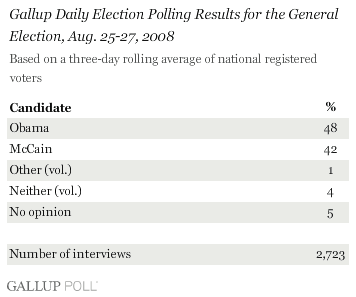 Survey Methods
For the Gallup Poll Daily tracking survey, Gallup is interviewing no fewer than 1,000 U.S. adults nationwide each day during 2008.
The general-election results are based on combined data from Aug. 25-27, 2008. For results based on this sample of 2,723 registered voters, the maximum margin of sampling error is ±2 percentage points.
Interviews are conducted with respondents on land-line telephones (for respondents with a land-line telephone) and cellular phones (for respondents who are cell-phone only).
In addition to sampling error, question wording and practical difficulties in conducting surveys can introduce error or bias into the findings of public opinion polls.
To provide feedback or suggestions about how to improve Gallup.com, please e-mail feedback@gallup.com.