WASHINGTON, D.C. -- The recent conflict between Russia and Georgia sparked a division within Ukraine's Western-leaning governing coalition that eventually contributed to its collapse in mid-September. Prior to these events, a Gallup Poll found a strong majority of Ukrainians (65%) saying their leadership is taking the country in the wrong direction and only about one in six (16%) expressing confidence in their national government.
If the governing parties do not form a new coalition in parliament within 30 days of collapse, Ukraine will face its third election in as many years. Since taking power in January 2005, President Viktor Yushchenko has pushed a pro-Western agenda, including championing a bid for his country to join NATO, a move that Russia has strongly advised against. In May 2008, only 17% of Ukrainians approved of Yushchenko's job performance and 65% disapproved.
A Gallup Poll conducted in Ukraine suggests that this low approval rating for Yushchenko may be reflective of pro-Moscow sentiment expressed by many Ukrainians. Prior to Russia's conflict with Georgia, Gallup finds that many Ukrainians favored strong relations with Russia, even if this might hurt their country's relations with the United States and the European Union. However, many Ukrainians also volunteered that it is important to have close relations with Russia and the West.
Ukrainians are more likely to approve of Russia's leadership than the leaderships of Western nations such as the France, Germany, the United Kingdom, and United States. Approval of Russia's leadership in Ukraine has increased significantly, from 45% approval in 2006 to 59% in 2008.
Conversely, Ukrainians did not express high approval for Georgia's leadership ahead of the conflict with Russia. With only 18% of Ukrainians approving, Georgia's leadership fared much worse among Ukrainians than the leaderships of powerful Western nations.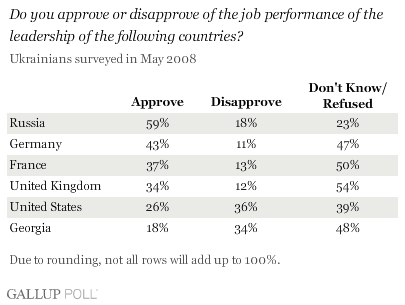 In terms of President Yushchenko's aspirations of NATO membership for Ukraine, Gallup data find Ukrainians are much more likely to associate NATO with a threat to their country than with the protection of their country.
Bottom Line
Even as Yushchenko looks to form a new coalition that shares his pro-Western ambitions, Gallup data collected prior to the Georgian conflict show many Ukrainians expressed a stronger interest in having closer ties with Russia and were less enthusiastic about NATO membership. In making public policy decisions, Ukraine's leadership would be well advised to monitor public opinion to see how it has been affected by recent events in the region.
Survey Methods
Results are based on face-to-face interviews with approximately 1,000 adults, aged 15 and older, in March 2006, May 2007, and May 2008 in Ukraine. For results based on the total sample of national adults, one can say with 95% confidence that the maximum margin of sampling error is ±3 percentage points. In addition to sampling error, question wording and practical difficulties in conducting surveys can introduce error or bias into the findings of public opinion polls.