PRINCETON, NJ -- As the Supreme Court begins a new term Monday, 50% of Americans say they approve of the job the Supreme Court is doing, similar to the ratings from last year. Thirty-nine percent disapprove.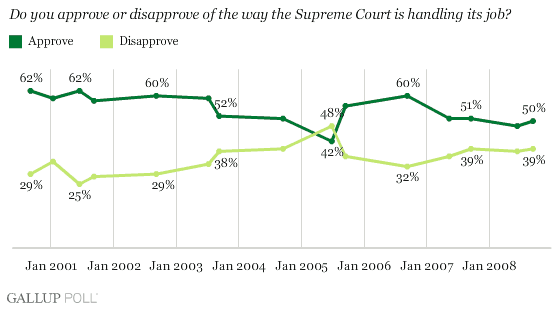 Americans had rated the Supreme Court higher earlier this decade, with close to 6 in 10 approving from 2000-2002. Approval dropped in subsequent years following controversial decisions on gay rights and the government's ability to seize private property. After a brief recovery in 2006, the ratings have declined again. The recent lower ratings for the Supreme Court may simply reflect greater frustration with government in general, as evidenced by President Bush's job approval ratings near 30% and Congress' near 20%.
Republicans (65%) are more likely than Democrats (38%) and independents (47%) to approve of the Supreme Court, according to the Sept. 8-11 Gallup Poll. This has typically been the case since 2000, when Gallup first began tracking Supreme Court approval.
However, the gap between Republicans and Democrats has widened in recent years after President Bush appointed two conservative-leaning jurists (John Roberts and Samuel Alito) to the court.
Since 1993, the plurality of Americans has expressed satisfaction with the Supreme Court's ideological orientation. In the poll, 43% of Americans say the Supreme Court is "about right," with slightly more saying it is too conservative (30%) than too liberal (21%).
Americans have been more likely to say that the Supreme Court is too conservative than too liberal since Roberts and Alito jointed the court. Prior to that, Americans were either more likely to see the court as too liberal than as too conservative, or about equally divided between the two opinions.
Currently, a majority of Republicans, and the plurality of independents, say the Supreme Court's ideology is about right. Half of Democrats, however, believe it is too conservative. Interestingly, Republicans are much more likely to believe the Supreme Court is too liberal (35%) than conservative (8%).
Survey Methods
Results are based on telephone interviews with 1,007 national adults, aged 18 and older, conducted Sept. 8-11, 2008. For results based on the total sample of national adults, one can say with 95% confidence that the maximum margin of sampling error is ±3 percentage points.
Interviews are conducted with respondents on landline telephones (for respondents with a landline telephone) and cellular phones (for respondents who are cell phone only).
In addition to sampling error, question wording and practical difficulties in conducting surveys can introduce error or bias into the findings of public opinion polls.