WASHINGTON, D.C. -- Residents of Iowa, Minnesota, and Massachusetts in the first half of 2009 reported the greatest access to basic needs optimal for a healthy life, such as medical care, a safe place to exercise, and affordable fruits and vegetables. Mississippi and West Virginia reported the least access, though there is a fairly narrow range between the top 10 and bottom 10 states.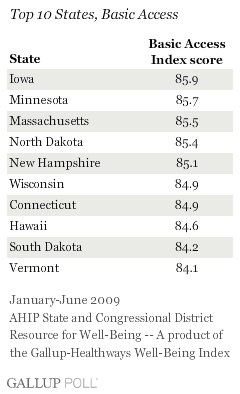 The midyear results from the AHIP State and Congressional District Resource for Wellbeing, a product of the Gallup-Healthways Well-Being Index, show the nation as a whole declining marginally in the Basic Access Sub-Index, from a score of 83.6 in 2008 to 82.0 from January-June 2009. The Basic Access Sub-Index scores for the nation and for each state are calculated based on a scale from 0 to 100, where 100 would be a perfect score.
The Basic Access Sub-Index includes 13 questions gauging access to basic needs optimal for a healthy life: clean water, medicine, a safe place to exercise, and affordable fruits and vegetables; enough money for food, shelter, and healthcare; having health insurance, having a doctor, and having visited a dentist recently; and satisfaction with the community, the community getting better as a place to live, and feeling safe walking alone at night.
A clear pattern emerges when the results are mapped, with the Southern swath of the country performing worst on this measure and the highest performers in the Midwest Plains states and the Northeast. Overall, there is not a lot of variation between the states -- just 8.9 points in the midyear data -- and all states score relatively well. (See page 2 for a complete list of state Healthy Behavior Sub-Index scores.)
When each item of the Basic Access Sub-Index is examined, particular areas of strength and weakness are revealed for the states on these measures. Massachusetts, which led the nation in the Basic Access Sub-Index in 2008 and is known for its universal requirement for healthcare coverage, is the state in which the most people say it is easy to get medicine, and is tied for first in the percentage of people who report having a personal doctor. North Dakota, a state where residents have relatively positive economic views, has the highest proportion of residents who report having enough money for food and for healthcare/medicine; it also leads the nation in the percentage of residents who say their city or area is getting better as a place to live. Mississippi, which ranks worst in basic access nationally, also has the highest proportion of residents in the nation saying there were times when they did not have enough money for food, healthcare/medicine, or shelter.
Only Alaska and Montana have shown any positive momentum on the Basic Access Sub-Index since 2008, but neither change -- 0.9 and 0.7, respectively -- represents a statistically significant improvement. North Dakota, South Dakota, Iowa, Texas, and Oklahoma have shown either negligible or no change, while the remaining states to this point appear to be trending downward. In general, much of the change from 2008 is slight and not meaningful from a statistical perspective.
While these data are preliminary and could change before the full-year findings are released, the general downward trend in basic access scores do reveal an area of potential concern as states continue to deal with economic challenges and budget shortfalls.
Gallup.com's "State of the States" series reveals state-by-state differences on political, economic, and wellbeing measures Gallup tracks each day, based on data collected between January and June 2009. To see all stories published in the midyear 2009 series, click here. New stories will be released throughout the month of August.
Survey Methods
Results are based on telephone interviews with 178,545 national adults, aged 18 and older, conducted Jan. 2-June 30, 2009, as part of the Gallup-Healthways Well-Being Index. For results based on the total sample of national adults, one can say with 95% confidence that the maximum margin of sampling error is ±0.2 percentage points.
The margin of sampling error for most states is ±1-2 percentage points, but is as high as ±4 percentage points for smaller states such as Wyoming, North Dakota, South Dakota, Delaware and Hawaii.
References to "statistically significant" change relative to 2008 scores are always based on 95% (p<.05) confidence levels.
The AHIP State and congressional district resource for wellbeing categorizes the District of Columbia as a congressional district.
Interviews are conducted with respondents on land-line telephones (for respondents with a land-line telephone) and cellular phones (for respondents who are cell-phone only).
In addition to sampling error, question wording and practical difficulties in conducting surveys can introduce error or bias into the findings of public opinion polls.
About the Gallup-Healthways Well-Being Index™
The Gallup-Healthways Well-Being Index is the first and largest survey of its kind, with 1,000 calls a day, seven days a week. It is the official statistic for Wellbeing in America, giving a daily measure of people's wellbeing at the close of every day based on the World Health Organization (WHO) definition of health as not only the absence of infirmity and disease but also a state of physical, mental and social wellbeing. The Well-Being Index will be a daily measure determining the correlation between the places where people work and the communities in which they live, and how that and other factors impact their wellbeing. Additionally, The Well-Being Index will increase the understanding of how those factors impact the financial health of corporations and communities. For additional information, go to www.well-beingindex.com.