PRINCETON, NJ -- A solid majority of Americans report being heavier than their ideal weight or say they would like to lose weight, but less than half that number (27%) are seriously trying to lose weight at this time. The gap between these percentages has existed for several years.
A report conducted by an Emory University healthcare economist and released this week projects that as many as 40% of Americans could be classified as obese by the year 2018 and that spending on healthcare related to obesity could quadruple during that time. Gallup also publishes regular updates on obesity rates among the American public as part of its daily Gallup-Healthways Well-Being Index.
"Even among those who are 20 pounds or more above their ideal weight, less than half (49%) say they are seriously trying to lose weight."
Gallup's annual Health and Healthcare poll also includes several questions about weight. The poll does not attempt to compute obesity rates but rather measures Americans' attitudes toward their weight and assesses their weight-loss behaviors. These questions have been asked each November since 2002, with some dating back further than that.
This year's poll, conducted Nov. 5-8, finds 36% of Americans currently describing themselves as "overweight," which is actually one of the lower measurements Gallup has found since 1990. The majority, 58%, say their weight is "about right," while 6% describe themselves as being "underweight."
However, when Gallup compares Americans' self-reports of their current weight to their reported ideal weight, many more, 62%, can be considered overweight.
According to the poll, the average U.S. adult weights 14 pounds more than his or her stated ideal weight (174 average actual weight versus 160 average ideal weight), with the average adult male 12 pounds heavier and the average female 16 pounds heavier than their ideal.
Gallup has computed the average difference between Americans' self-reported actual and ideal weights 11 times since 1990, and actual weights have exceeded ideal weights by no less than 11 pounds. The gap has been about 16 pounds this decade.
Therefore, it is not surprising that most Americans, 55%, tell Gallup they would like to lose weight. Most of the rest, 37%, would like to stay at their current weight, with 7% hoping to put on weight. Losing weight has been the most common response on this question since the 1990s, with no fewer than 52% of Americans expressing a desire to lose weight across this time period.
Gallup asked the same question several times in the 1950s, and during that decade, Americans were more likely to want to stay at their present weight (an average of 49% across five polls) than to lose weight (an average of 35%). (Gallup did not ask the question from 1958 to 1989.)
But wanting to lose weight and making a serious attempt at doing so are not the same thing, and Gallup finds about half as many Americans saying they are seriously trying to lose weight (27%) as saying they would like to do so (55%).
This in part may reflect a lack of will but also may reflect a lack of perceived necessity. About 24% of Americans (or roughly 4 in 10 of those whose actual weight exceeds their ideal) weigh 1 to 10 pounds more than they think they should, and these people may not see shedding the few extra pounds as worth the effort.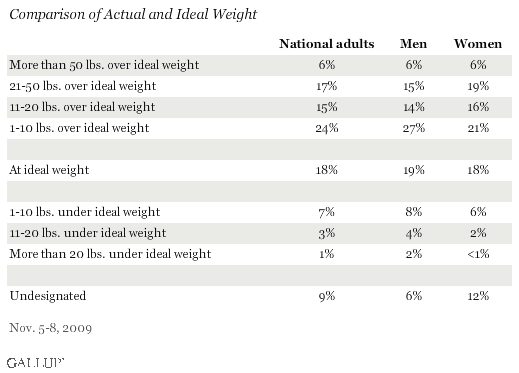 But motivation or willpower cannot be dismissed as an explanation -- even among those who are 20 pounds or more above their ideal weight, less than half (49%) say they are seriously trying to lose weight at this time.
Bottom Line
Gallup recently found obesity rates now above 30% in several states and documented a continuing rise in the percentage of Americans diagnosed with diabetes, one of the most common health problems associated with obesity.
Diet and exercise are the primary ways to for Americans to lose weight and reduce the incidence of obesity in the U.S. Though many Americans express the desire to shed pounds, about half of those with that desire are following through at this time.
Survey Methods
Results are based on telephone interviews with 1,008 national adults, aged 18 and older, conducted Nov. 5-8, 2009. For results based on the total sample of national adults, one can say with 95% confidence that the maximum margin of sampling error is ±4 percentage points.
Interviews are conducted with respondents on land-line telephones (for respondents with a land-line telephone) and cellular phones (for respondents who are cell-phone only).
In addition to sampling error, question wording and practical difficulties in conducting surveys can introduce error or bias into the findings of public opinion polls.