WASHINGTON, D.C. -- For three consecutive months, fewer American adults reported having the flu compared with the corresponding months from one year ago, according to data from the Gallup-Healthways Well-Being Index. This pattern extended into January as 2.4% of respondents reported having experienced the flu on any given day, slightly lower than the 2.9% average from January 2009.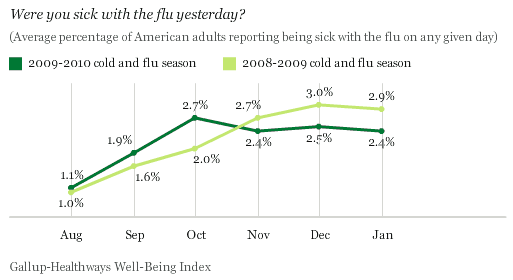 The Gallup-Healthways Well-Being Index surveys a random sample of at least 1,000 adults each day, or roughly 30,000 adults a month, on a wide range of topics related to health and wellbeing. One of the questions asked each day is, "Were you sick with any of the following yesterday?" The question specifies four illnesses: the flu, a cold, a headache, and allergies. Respondents are not asked to indicate whether they had received a clinical diagnosis of H1N1 or other types of influenza by a healthcare professional.
The President's Council of Advisers on Science and Technology estimated in late August that as many as 50% of all Americans, including children, could contract the H1N1 virus this season (compared with 5% to 20% who get some form of influenza in a typical year). While the Gallup-Healthways data cannot estimate the cumulative percentage of Americans who have the flu, the average daily numbers clearly indicate that there has not been a dramatic increase this year relative to the same months from the 2008-2009 cold and flu season.
The reported daily prevalence of colds also continues to track lower than one year ago, with a daily average of 8.4% of American adults self-reporting having a cold in January, down from 9.2% in January 2009.
The measurement of colds vs. the flu in a survey research environment is complex because of the overlapping symptoms of the two disease conditions and misunderstanding by many Americans regarding what symptoms constitute "the flu" versus "a cold." Still, the opportunity for year-over-year comparisons with the 2008-2009 cold and flu season data serving as a pre-H1N1 "control group" provides useful insight into the self-reported prevalence of each condition relative to the other, as well as their respective changes with the previous year. In general, the percentage of Americans that report having a cold yesterday is roughly three times the percentage that report having the flu, which has thus far remained unchanged in the 2009-2010 cold and flu season.
Decline in Flu Cases Since October Greatest for Women, Households With Children
The likelihood of having a cold or the flu varies among demographic groups. Women are typically somewhat more likely to report having the flu and a cold than are men, although these gaps have essentially disappeared since November. Additionally, men and women living in households without children are usually about a third less likely on any given day to have the flu and are a fourth less likely to have a cold than are households with children. Each of these groups saw a decline in self-reported flu cases in January compared with the peak month (so far) of October, with households that include children dropping the most.
Daily Reports of Flu Cases Remain Highest Among Hispanics, Asians
Gallup's data also find that Hispanic Americans have been consistently more than twice as likely to report having the flu or a cold than whites, blacks, and Asians. This pattern continued in January, with at least 6% of Hispanics reporting having had the flu yesterday for the fourth consecutive month. Flu cases among Asians, in the meantime, has climbed since the overall peak in October, making Asians the only major race/ethnic group with more self-reported flu cases in January than four months ago.
Daily Reports of Flu Cases Drop for Americans Under 45 in January
Among the major age groups, 18- to 29-year-olds had the biggest one-month decline in January, with about a third fewer reporting having had the flu on any given day than the month before, and dropping under a 3% average per day for the first time since the start of the cold and flu season. Flu cases among adults aged 18 to 29 and 30 to 44 are down by more than one percentage point compared with October's peak, while those 45 and older -- including seniors -- continue to report low and steady levels of flu occurrences.
Bottom Line
Three straight months of little change in the percentage of flu cases reported in the U.S. is now solidifying the survey-based evidence that flu occurrence has flattened nationally. These results continue to track fairly closely with ongoing results compiled by the Centers for Disease Control and Prevention regarding the H1N1 virus, which has reported little change in the rates of reported cases of swine flu per 1 million persons since mid-November. Still, three more months of the cold and flu season remain.
Many factors may be contributing to the encouraging decrease in flu/cold cases since October, starting with the rollout of large-scale H1N1 vaccinations nationwide that have now become widely available to the general American public. An elevated awareness and sensitivity to contracting the flu may have simultaneously increased those seeking out vaccinations for regular seasonal influenza. Schools and community public health officials have also undertaken large-scale efforts to encourage behaviors of more conscientious hygiene such as hand washing and coughing in to shirt sleeves rather than in to hands, as well as preemptive measures such as providing disinfectant wipes at grocery stores and disseminating face masks at clinics and doctors' offices.
The ominous predictions of H1N1's spread that were made last summer by public health officials created substantial concerns among political, business, and community leaders alike regarding, among other things, the potential affect of workplace absenteeism and lost productivity on a global economy struggling to recover from worldwide recession. So far, these concerns continue to appear to be unsupported by the evidence collected by Gallup.
Gallup will continue to track the self-reported cases of colds and flu over the coming months to gauge the real-time affect of flu season.
Learn more about the Gallup-Healthways Well-Being Index.
Survey Methods
January results are based on telephone interviews with 29,483 national adults aged 18 and older. All monthly samples are near 30,000 per month. For monthly results based on the total sample of national adults, one can say with 95% confidence that the maximum margin of sampling error is ±0.6 percentage point.
Sample sizes for the reported demographics groups from January 2010 are shown in the following graph.
Interviews are conducted with respondents on landline telephones (for respondents with a landline telephone) and cellular phones (for respondents who are cell phone only and cell phone mostly).
In addition to sampling error, question wording and practical difficulties in conducting surveys can introduce error or bias into the findings of public opinion polls.
About the Gallup-Healthways Well-Being Index™
The Gallup-Healthways Well-Being Index measures the daily pulse of U.S. wellbeing and provides best-in-class solutions for a healthier world. To learn more, please visit well-beingindex.com.