PRINCETON, NJ -- President Obama gets higher ratings for the job he did on the healthcare reform process over the past year than either congressional party does, though none of the three primary political actors receives positive reviews from a majority of Americans.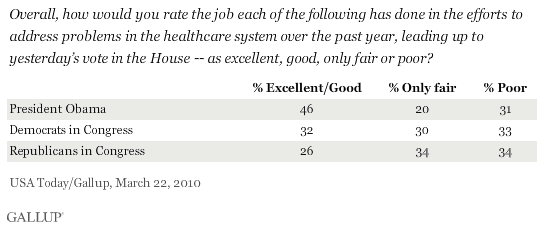 These results are based on a March 22 USA Today/Gallup poll conducted after the House of Representatives passed historic healthcare legislation. Americans' initial reaction to the bill's passage was more positive than negative, but the fact that less than half of Americans give any of the three major players positive ratings underscores the divisive nature of the debate.
Gallup over the past year found Americans expressing more confidence in Obama on healthcare reform than in either congressional delegation. These findings are consistent with Americans' general tendency to give presidents higher ratings than Congress on matters such as political trust and job performance.
Support for the healthcare legislation is strongly related to political party affiliation, so Democrats' and Republicans' ratings of the three primary political actors follow predictable patterns.
Independents, on the other hand, divide evenly on the merits of the legislation, and their ratings of the president and Congress on healthcare could have implications for how they vote in November's midterm elections. At this point, independents give more positive ratings to the Republicans in Congress (and President Obama) than to the Democrats in Congress, in terms of how each has handled problems with the healthcare system.
Survey Methods
Results are based on telephone interviews with a random sample of 1,005 national adults, aged 18 and older, conducted March 22, 2010. For results based on the total sample of national adults, one can say with 95% confidence that the maximum margin of sampling error is ±4 percentage points.
Interviews are conducted with respondents on land-line telephones (for respondents with a land-line telephone) and cellular phones (for respondents who are cell-phone only).
In addition to sampling error, question wording and practical difficulties in conducting surveys can introduce error or bias into the findings of public opinion polls.
Polls conducted entirely in one day, such as this one, are subject to additional error or bias not found in polls conducted over several days.