WASHINGTON, D.C. -- Americans who report having been diagnosed with high blood pressure, high cholesterol, or diabetes are roughly twice as likely to report a cancer diagnosis as those who have not been diagnosed with these conditions, according to Gallup-Healthways Well-Being Index data.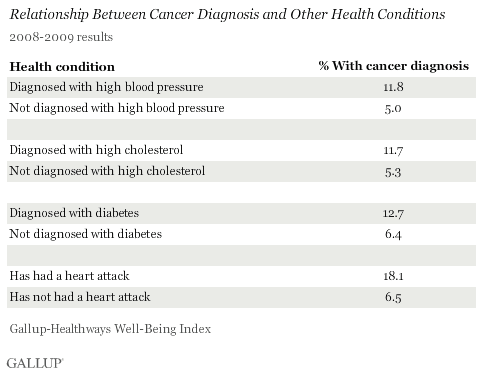 Americans who have experienced a heart attack are nearly three times more likely than those without a history of heart attack to have been diagnosed with cancer (18.1% to 6.5%).
While each of these chronic health conditions become more common with age, the inter-relationships noted previously exist within every age bracket (18-29, 30-44, 45-64, and 65+), and are thus preserved when controlling for age. Some of the conditions, however, are particularly pronounced when looking at specific age groups, most notably regarding heart attacks among respondents that are younger than 45.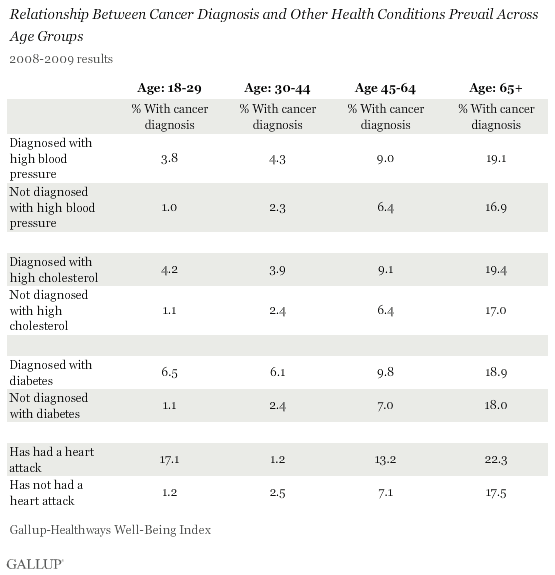 Implications
These measured links between health conditions do not necessarily imply that one directly causes the other, but can instead simply reflect shared high-risk behaviors. For example, tobacco smoke is considered a major risk factor of heart attack and lung cancer, and it can thus serve as a vanguard of both conditions at the same time. Cholesterol, in contrast, may be an example of a substance that is not a carcinogen, but rather something that may enhance the effects of carcinogens, thus resulting in some of the positive relationships that have been measured.
Independent research in recent years has uncovered data that appear to link excess cholesterol to colon cancer and testicular cancer, while lower total cholesterol may reduce the risk of prostate cancer. Diabetes, too, has been clinically linked to some cancers, including liver, colon, and pancreatic cancer. However, researchers continue to investigate the directionality of the relationship. For example, as research has found that those with prolonged, long-standing diabetes appear to be more likely to also have pancreatic cancer, others who develop diabetes after age 50 are much more likely to be subsequently diagnosed with it.
The Gallup-Healthways Well-Being Index does not determine the type of cancer that respondents have been diagnosed with. The resulting relationships between all cancer diagnoses cumulatively and other health conditions, however, remain inescapable and compelling.
Learn more about the Gallup-Healthways Well-Being Index.
Survey Methods
Results are based on telephone interviews with more than 350,000 national adults, aged 18 and older, each year, conducted between Jan. 2-Dec. 30, 2008, and Jan. 2-Dec. 29, 2009. For most results in this article, one can say with 95% confidence that the maximum expected sampling error is no more than ±1.0 percentage point.
Interviews are conducted with respondents on landline telephones (for respondents with a landline telephone) and cellular phones (for respondents who are cell phone only and cell phone mostly).
The survey question asked respondents: "Have you ever been told by a physician or nurse that you have any of the following, or not? How about [in rotation]: cancer, high blood pressure, high cholesterol, diabetes, heart attack, depression."
The diabetes incidence survey question that is asked does not differentiate between Type 1 (juvenile) and Type 2 (adult onset) diabetes.
In addition to sampling error, question wording and practical difficulties in conducting surveys can introduce error or bias into the findings of public opinion polls.
About the Gallup-Healthways Well-Being Index™
The Gallup-Healthways Well-Being Index measures the daily pulse of U.S. wellbeing and provides best-in-class solutions for a healthier world. To learn more, please visit well-beingindex.com.