WASHINGTON, D.C. -- More Americans report exercising at a high frequency every month so far this year compared with 2009. This is a turnaround from last year, when the percentage of Americans who reported exercising frequently was down during each month compared with 2008. Even with the increase, however, 2010 levels still remain below those from 2008.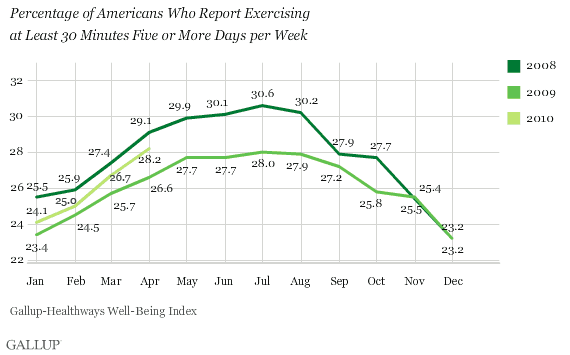 As part of the Gallup-Healthways Well-Being Index, Gallup asks 1,000 American adults each night on how many days, in the past seven days, they exercised for at least 30 minutes. Americans typically report exercising most frequently during the summer months and less so in the winter.
According to the Centers for Disease Control and Prevention's "2008 Physical Activity Guidelines," adults need at least 150 minutes of "moderate-intensity aerobic activity" per week and "muscle-strengthening activity" on two or more days each week. While the Gallup-Healthways question cannot measure the specific type or total number of minutes of exercise, it does provide a consistent and always up-to-date broad gauge of physical activity levels in America.
Yearly averages from 2008, 2009, and 2010 so far reveal a general consistency in exercise frequency. On average, slightly less than a third of Americans say they do not exercise for at least 30 minutes on any day in a given week, slightly more than 40% report exercising for at least 30 minutes on one to four days per week, and about a quarter exercise on five or more days.
The number of Americans who do not exercise for at least 30 minutes on any days of the week is up about one percentage point since 2008, while the number who report exercising five or more days per week is down by close to two percentage points. However, more people are now falling into the one-to-four day range than did so two years ago.
The averages for 2010 so far will most likely change in accordance with the seasonal trends in exercise. Because Americans exercise more in the spring and summer months and frequent exercise is already on the upswing compared with last year, the complete data for 2010 will likely show a positive increase in exercise on five or more days per week.
Learn more about the Gallup-Healthways Well-Being Index.
Survey Methods
Results are based on telephone interviews with approximately 30,000 national adults, aged 18 and older, per month. For monthly results based on the stated total sample of national adults, one can say with 95% confidence that the maximum margin of sampling error is ±0.6 percentage points.
More than 350,000 surveys were completed in 2008 and in 2009, yielding percentages with maximum expected error range of ±0.2%.
Interviews are conducted with respondents on landline telephones (for respondents with a landline telephone) and cellular phones (for respondents who are cell phone only and cell phone mostly).
In addition to sampling error, question wording and practical difficulties in conducting surveys can introduce error or bias into the findings of public opinion polls.
About the Gallup-Healthways Well-Being Index™
The Gallup-Healthways Well-Being Index measures the daily pulse of U.S. well-being and provides best-in-class solutions for a healthier world. To learn more, please visit well-beingindex.com.