PRINCETON, NJ -- Exactly half of Americans in May said they were feeling better about their financial situation -- a key measure of financial well-being. That's fewer than said so in April, and the deterioration is holding so far in June.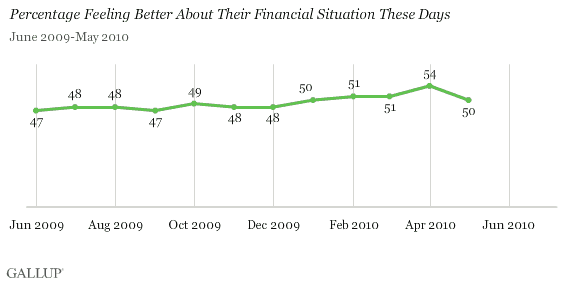 Several Key Financial Well-Being Measures Unchanged
Several other key measures of individual financial well-being remain essentially the same in May and early June as in April:
The percentage of Americans having more than enough money to do what they want to do stood at 34% in May, matching April, and remains at that level in early June.
Seventy-seven percent of Americans in May and 76% during the first week of June say they have enough money to buy the things they need -- similar to the 78% who said so in April.
The percentage of Americans saying they worried that they spent too much money yesterday is at 21% in May and the first week of June, which is essentially the same as the 20% who said the same in April.
Gallup's Standard of Living Index remains at 34 in May and early June -- unchanged from the 33% of April. The percentage of Americans saying their standard of living is "getting better" also remains at 47% in May and early June, matching April.
Improvements in Americans' Financial Well-Being Waning
Gallup's continuous tracking of attitudinal economic data suggests Americans' financial well-being was improving in April as was economic confidence and the jobs situation. In particular, consumers were feeling that their financial situations -- their personal balance sheets -- were getting better in response to their past efforts to reduce their debt and spending. The benefits of such an improved consumer psychology were evident a month later, with many upper-income consumers increasing their discretionary spending significantly on things such as restaurants, entertainment, and travel -- even as government reports showed that overall retail spending had declined.
In May, however, the stock market had its worst month in 40 years as the European financial crisis worsened and conditions in the Gulf of Mexico continued to deteriorate. Not surprisingly, Americans became less comfortable with their financial situation, and contrary to the Reuters/University of Michigan consumer sentiment, Gallup data showed that economic confidence worsened in late May and early June.
It may be that fewer consumers feel their financial situation is getting better because of a loss of wealth associated with the decline in the stock market. Some consumers could even be worried about the financial crisis in Europe. Regardless, it appears that Americans' financial well-being is waning somewhat this summer, which is not good news for the U.S. economy.
Complete trend data are always available to view and export in the following charts:
Daily: Employment, Economic Confidence and Job Creation, Consumer Spending
Weekly: Employment, Economic Confidence, Job Creation, Consumer Spending
Read more about Gallup's economic measures.
Survey Methods
For Gallup Daily tracking, Gallup interviews approximately 1,000 national adults, aged 18 and older, each day. The Gallup consumer spending results are based on random half-samples of approximately 500 national adults, aged 18 and older, each day. Results for the week ending June 6, 2010, are based on telephone interviews with more than 700 adults. For these results, one can say with 95% confidence that the maximum margin of sampling error is ±4 percentage points. Results for the various breakouts reported here are based on interviews with more than 1,000 respondents, with a maximum margin of error of ±3 percentage points. Interviews are conducted with respondents on landline telephones and cellular phones. In addition to sampling error, question wording and practical difficulties in conducting surveys can introduce error or bias into the findings of public opinion polls.