WASHINGTON, D.C. -- Obese Americans, a group already grappling with many physical health problems, are also suffering in terms of their emotional well-being. The more than one in four American adults who are obese are significantly more likely than those who are normal weight or overweight to report having been diagnosed with depression and experiencing stress, worry, anger, and sadness.
The disparity in depression diagnoses is even more severe, with 23.2% of obese Americans reporting having been diagnosed with the condition compared with 14.3% of those who are a normal weight reporting the same.
Carrying some extra weight does not appear to have the same effect as being obese, as negative emotion levels among those who are overweight are about the same as among those who are a normal weight. On the other hand, not weighing enough does link to higher levels of negative emotions. Underweight Americans' emotional health is about on par or slightly worse than that of obese individuals, underscoring the clear benefits of maintaining a relatively healthy weight. At 1.7%, however, underweight Americans make up a small percentage of the adult population in the United States.
These data, collected January-September 2010 as part of the Gallup-Healthways Well-Being Index, encompass more than 250,000 interviews. The survey asks respondents if they experienced each of the emotions "yesterday" and if they have ever been diagnosed with depression. Body Mass Index (BMI) scores are based on respondents' self-reported height and weight. A BMI of 30 or greater is considered obese, 25.0 to 29.9 is overweight, 18.5 to 24.9 is normal weight, and less than 18.5 is underweight. The analysis finds that the majority of Americans are either overweight (36.3%) or obese (26.7%) and 35.3% are a normal weight.
Obese Americans also report less happiness and enjoyment versus those who are normal or overweight, although a large majority in each group report experiencing these positive emotions. Underweight Americans again report similar levels of positive emotions as obese Americans, while those who are overweight are similar to normal weight individuals.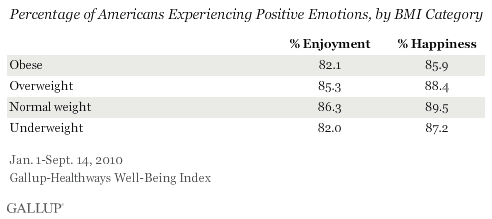 While obesity is higher among low-income and middle-aged Americans, the differences between the obese and non-obese in negative and positive emotions persist regardless of income or age.
Bottom Line
The Gallup-Healthways Well-Being Index data reveal a clear connection between obesity and increased negative emotions, higher rates of diagnosed depression, and decreased positive emotions/experiences. However, the direction of the relationship is not clear. It is possible that Americans with a history of diagnosed depression or who are more worried or stressed are more likely to become obese. But it could also be that those who are obese experience a decrease in their emotional well-being as a consequence of their personal weight situation. Most likely, the results reflect a combination of both possibilities.
Either way, the obese population is clearly burdened by abnormally high levels of diagnosed depression and negative emotions. High levels of stress, worry, anger, sadness, and depression in particular decrease a person's quality of life and can have an impact on his or her engagement in society and work. To add to the problem, the average number of Americans classified as obese is up to 26.7% so far in 2010, compared with 25.5% in 2008 when Gallup started tracking obesity levels. With such a sizeable obese population, the broader affect of this group's decreased emotional well-being on communities and businesses is important and could be potentially costly in terms of healthcare and productivity.
Learn more about the Gallup-Healthways Well-Being Index.
Survey Methods
Results are based on telephone interviews conducted as part of Gallup-Healthways Well-Being Index survey Jan. 1- Sept. 14, 2010, with a random sample of more than 250,187 adults, aged 18 and older, living in all 50 U.S. states and the District of Columbia, selected using random-digit-dial sampling.
For results based on the total sample of national adults, one can say with 95% confidence that the maximum margin of sampling error is ±1 percentage point.
Interviews are conducted with respondents on landline telephones and cellular phones, with interviews conducted in Spanish for respondents who are primarily Spanish-speaking. Each daily sample includes a minimum quota of 150 cell phone respondents and 850 landline respondents, with additional minimum quotas among landline respondents for gender within region. Landline respondents are chosen at random within each household on the basis of which member had the most recent birthday.
Samples are weighted by gender, age, race, Hispanic ethnicity, education, region, adults in the household, cell phone-only status, cell phone-mostly status, and phone lines. Demographic weighting targets are based on the March 2009 Current Population Survey figures for the aged 18 and older non-institutionalized population living in U.S. telephone households. All reported margins of sampling error include the computed design effects for weighting and sample design.
In addition to sampling error, question wording and practical difficulties in conducting surveys can introduce error or bias into the findings of public opinion polls.
For more details on Gallup's polling methodology, visit https://www.gallup.com/.
About the Gallup-Healthways Well-Being Index
The Gallup-Healthways Well-Being Index measures the daily pulse of U.S. well-being and provides best-in-class solutions for a healthier world. To learn more, please visit well-beingindex.com.