PRINCETON, NJ -- Despite a terrific September on Wall Street, Gallup's Economic Confidence Index averaged -33 over the first four weeks of September, essentially matching readings in July and August. There is thus little sign that the rising stock market has been met by a concomitant rise in Americans' confidence in the economy.
The Economic Confidence Index is now more negative than the -23 of September 2009, but better than the -50 of September 2008. The Economic Confidence Index consists of the average of two consumer ratings: one involving current economic conditions and the other involving the economic outlook.
Many Continue to Rate the U.S. Economy "Poor"
Over the first four weeks of September, 47% of Americans called current economic conditions "poor" -- identical to July and August.
Consumer ratings of current economic conditions are running slightly worse now than they were in September 2009, when 44% gave current conditions a "poor" rating, and are not much different than September 2008's 46%.
Six in 10 Say the Economy Is "Getting Worse"
So far in September, 62% of consumers say economic conditions are "getting worse." These future expectations for the economy are essentially the same as those of July and August -- the 2010 lows -- and substantially worse than the 54% in September 2009.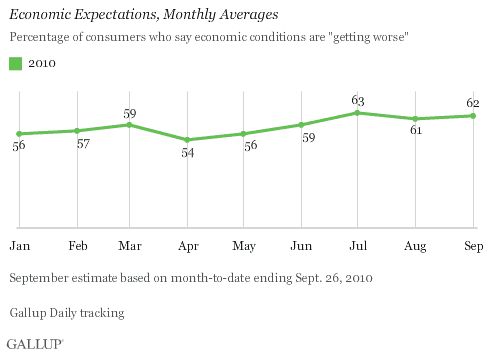 Economic Confidence Not Improving
Gallup's Economic Confidence Index during the first four weeks of September remains essentially at July's low level and not much different from August's. In turn, this implies that the Conference Board's Consumer Confidence Index that improved in August will fall back to its July level when the September reading is announced on Tuesday. Similarly, Friday's Reuters/University of Michigan Consumer Sentiment Index is likely to match its July level. However, given the differences in sampling methodologies between Gallup and these other organizations, and the marginal changes that have taken place over the past three months, there is an unusually high degree of uncertainty associated with the Consumer Sentiment Index and Consumer Confidence Index reports this week.
Gallup's confidence data also suggest that Americans' perceptions of the economy continue to diverge from those on Wall Street. Economists' declaration that the recession was over as of mid-2009 -- and the perception that this eliminated the possibility of a double-dip -- may have encouraged investors, who drove the Dow up to what may be its best September in 70 years. However, this seems to have done little to change perceptions on Main Street with the 82% who before the pronouncement saw the recession as ongoing.
The possibility of further quantitative easing by the Federal Reserve as well as higher resource prices may also have a positive impact on Wall Street expectations in the short term. But until such Fed actions result in jobs, they are unlikely to have a similarly positive impact on Main Street economic expectations or to be of much help to incumbents in the midterm congressional elections.
Gallup.com reports results from these indexes in daily, weekly, and monthly averages and in Gallup.com stories. Complete trend data are always available to view and export in the following charts:
Daily: Employment, Economic Confidence and Job Creation, Consumer Spending
Weekly: Employment, Economic Confidence, Job Creation, Consumer Spending
Read more about Gallup's economic measures.
Survey Methods
For Gallup Daily tracking, Gallup interviews approximately 1,000 national adults, aged 18 and older, each day. The Gallup economic confidence results are based on random half-samples of approximately 500 national adults, aged 18 and older, each day. Weekly results are based on telephone interviews with approximately 3,000 adults.
For these results, one can say with 95% confidence that the maximum margin of sampling error is ±3 percentage points.
Interviews are conducted with respondents on landline telephones and cellular phones, with interviews conducted in Spanish for respondents who are primarily Spanish-speaking. Each daily sample includes a minimum quota of 150 cell phone respondents and 850 landline respondents, with additional minimum quotas among landline respondents for gender within region. Landline respondents are chosen at random within each household on the basis of which member had the most recent birthday.
Samples are weighted by gender, age, race, Hispanic ethnicity, education, region, adults in the household, cell phone-only status, cell phone-mostly status, and phone lines. Demographic weighting targets are based on the March 2009 Current Population Survey figures for the aged 18 and older non-institutionalized population living in U.S. telephone households. All reported margins of sampling error include the computed design effects for weighting and sample design.
In addition to sampling error, question wording and practical difficulties in conducting surveys can introduce error or bias into the findings of public opinion polls.
For more details on Gallup's polling methodology, visit https://www.gallup.com/.