PRINCETON, NJ -- Continuing a change in attitudes first seen last year, Americans remain split on the issue of whether it is the federal government's responsibility to make sure all Americans have healthcare coverage. At the same time, 61% prefer a healthcare system based mostly on private insurance rather than a government-run system.
These latest results, from the Nov. 4-7 Gallup Health and Healthcare update, come as the debate over the government's role in providing healthcare remains a central issue confronting Congress. The new healthcare reform bill passed into law last March quickly became a symbol for many Republicans of an overextension of government power into Americans' lives. Republican leaders have vowed to repeal the law in the next session of Congress -- although recent Gallup polling shows mixed public sentiments on that front.
These two broad questions on the government's role in healthcare trend back to the early 2000s, and are not designed to measure reactions to the healthcare reform bill per se. They do, however, provide valuable insights into the attitudinal context surrounding the continuing debate about healthcare reform legislation.
Americans for the first time shifted against the "government responsibility" stance last year, as the debate about the form and substance of healthcare reform was accelerating.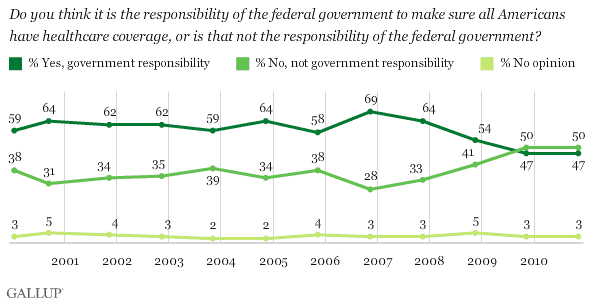 This question does not ask about direct government provision of healthcare, but rather about government responsibility for ensuring that Americans have healthcare coverage. It would in theory be possible for one to agree that the government should make sure all Americans have healthcare without favoring a government-run system -- in similar fashion to the way the government requires motorists to have automobile liability insurance, even though it does not directly provide such insurance.
Majority Favor a Private Health Insurance-Based System
Gallup has asked Americans since 2001 if they preferred a government-run healthcare system or a private insurance-based system. Prior to this year, the question asked about "replacing" the current system with a government-run system. This year, the question was modified to ask more generally which type of system Americans prefer. Despite this change in wording, this year's results are essentially identical to last year's, with 61% preferring a system based on private health insurance. Before 2009, Gallup's annual November updates showed some fluctuation in responses, although preference for a private health insurance-based system has always outpaced preference for a government-run system.
Implications
Support is not strong in America today for a broad, government-run healthcare system similar to those in operation in Canada, as well as Great Britain and other European countries. A clear majority of Americans continue to support the idea of a healthcare system based on private insurance.
In that sense, the healthcare reform bill is in sync with American public opinion. In the end, supporters backed off from including in the broader bill a "government option" health plan that was advocated by some who wanted expanded government coverage. At the same time, some opponents of the bill continue to argue that taken as a whole, it moves the country significantly closer to a type of government-run system.
The healthcare bill did mandate, in various ways, expanding healthcare coverage to tens of millions of Americans who otherwise would not be covered. That type of government action to ensure that Americans have healthcare coverage would be applauded by about half of Americans, but at this point, about the same percentage would argue that it is not the government's role to see that all Americans are covered.
Survey Methods
Results for this Gallup poll are based on telephone interviews conducted Nov. 4-7, 2010, with a random sample of 1,021 adults, aged 18 and older, living in the continental U.S., selected using random-digit-dial sampling.
For results based on the total sample of national adults, one can say with 95% confidence that the maximum margin of sampling error is ±4 percentage points.
Interviews are conducted with respondents on landline telephones (for respondents with a landline telephone) and cellular phones (for respondents who are cell phone-only). Each sample includes a minimum quota of 150 cell phone-only respondents and 850 landline respondents, with additional minimum quotas among landline respondents for gender within region. Landline respondents are chosen at random within each household on the basis of which member had the most recent birthday.
Samples are weighted by gender, age, race, education, region, and phone lines. Demographic weighting targets are based on the March 2009 Current Population Survey figures for the aged 18 and older non-institutionalized population living in continental U.S. telephone households. All reported margins of sampling error include the computed design effects for weighting and sample design.
In addition to sampling error, question wording and practical difficulties in conducting surveys can introduce error or bias into the findings of public opinion polls.
View methodology, full question results, and trend data.

For more details on Gallup's polling methodology, visit www.gallup.com.