WASHINGTON, D.C. -- U.S. Internet users would likely welcome a "Do Not Track" measure like the one the Federal Trade Commission is currently considering to keep advertisers from tracking their movements online. Gallup finds Internet users largely aware that advertisers use their online browsing history to target ads to their interests, but largely opposed to such tactics -- even if they help to keep websites free.
The results, from a USA Today/Gallup poll conducted Dec. 10-12, 2010, come as the Federal Trade Commission considers a measure that would allow Internet users to essentially opt out of online tracking, as they do with the telemarketing "Do Not Call" list. AdWeek in a recent editorial said such a measure would amount to an "apocalypse" for online advertisers, particularly for the fast-growing $1.1 billion industry that relies on these tactics to target content to users.
In the Gallup survey, 50% of Americans reported using the Internet for more than an hour per day, including 68% of 18- to 34-year-olds, 55% of 35- to 54-year-olds, and 69% of those making at least $75,000 per year. These highly sought-after Internet users are slightly more likely than the oldest and least affluent users to say tracking tactics should be allowed, though they are still largely opposed.
Internet users send a mixed message about how much these ads are influencing them. On the one hand, more than 6 in 10 say they have noticed that some ads are targeted specifically to them based on websites they have previously visited. On the other, 9 in 10 say they pay little or no attention to online ads. These assessments vary little by age and income.
One bright spot for advertisers is that when given the choice, at least a plurality of both young and affluent Americans say they would prefer to allow the advertisers of their choosing to target ads to them -- rather than allow all or no advertisers to do so. The oldest and least affluent Americans are the most likely to say they would prefer that no advertisers be allowed to target ads to them.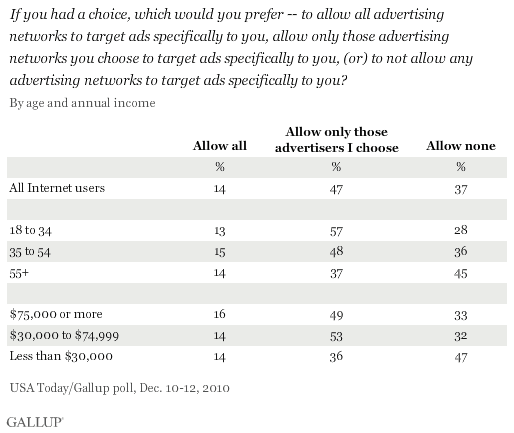 Implications
Internet users are overwhelmingly negative about whether it is OK for advertisers to use their online browsing history to target ads to them, suggesting they would largely welcome regulation to limit the use of such tactics. The vast majority of Internet users -- including the young and the affluent -- say they do not pay much attention to online ads, though many will admit they have noticed the specific, customized nature of the content.
Internet users' attitudes do, however, provide useful intelligence for the online advertising industry to chart a more positive -- and perhaps more influential -- course of action. Because young and affluent Internet users appear amenable to targeted advertising from the advertisers they specifically choose, advertisers may be best advised to consciously ask users if they are willing to get customized advertisements from them. Doing so would limit ads to those users want to see, thus likely increasing the amount of attention users pay to them and decreasing their displeasure with advertisers more broadly.
If the FTC moves forward with a "Do Not Track" measure that is voluntary for advertisers, Internet users' clear desire is for online advertisers to sign up -- and leave decisions about who can track them squarely in users' hands.
Survey Methods
Results for this USA Today/Gallup poll are based on telephone interviews conducted Dec. 10-12, 2010, with a random sample of 1,019 adults, aged 18 and older, living in the continental U.S., selected using random-digit-dial sampling.
For results based on the total sample of national adults, one can say with 95% confidence that the maximum margin of sampling error is ±4 percentage points.
For results based on the total sample of 840 Internet users, one can say with 95% confidence that the maximum margin of sampling error is ±4 percentage points.
Interviews are conducted with respondents on landline telephones (for respondents with a landline telephone) and cellular phones (for respondents who are cell phone-only). Each sample includes a minimum quota of 150 cell phone-only respondents and 850 landline respondents, with additional minimum quotas among landline respondents for gender within region. Landline respondents are chosen at random within each household on the basis of which member had the most recent birthday.
Samples are weighted by gender, age, race, education, region, and phone lines. Demographic weighting targets are based on the March 2009 Current Population Survey figures for the aged 18 and older non-institutionalized population living in continental U.S. telephone households. All reported margins of sampling error include the computed design effects for weighting and sample design.
In addition to sampling error, question wording and practical difficulties in conducting surveys can introduce error or bias into the findings of public opinion polls.
View methodology, full question results, and trend data.

For more details on Gallup's polling methodology, visit www.gallup.com.