WASHINGTON, D.C. -- A Gallup poll conducted in Pakistan after the death of Osama bin Laden reveals many Pakistanis believe their intelligence services did not know where bin Laden was before U.S. forces killed him. Nearly half of Pakistanis (49%) who were aware of the U.S. action did not believe Pakistani intelligence (ISI) knew bin Laden's location, while a sizable 31% said at least some members knew.
Questions about what Pakistan's military and political leadership did or did not know continue to swirl more than two weeks after bin Laden was killed less than a mile from a military academy near Abbottabad. U.S. Defense Secretary Robert Gates said at a press conference Wednesday that it was likely "somebody" inside Pakistan knew, but that he had not seen any evidence that top army and political officers had prior knowledge.
Pakistan's army commanders acknowledged "shortcomings in developing intelligence on the presence of Osama bin Laden in Pakistan," and are investigating how the ISI could have failed to detect him. At the time of the survey, 44% of all Pakistanis said they were confident in the ISI, and 41% said they were not, which suggests the intelligence agency could be on somewhat shaky ground with the public.
The military's overall image is on much firmer footing; 78% of Pakistanis expressed confidence in the armed forces. Confidence in the military in Pakistan historically has been about that high, which suggests this incident has not had any perceivable negative effect on the image the military enjoys among the Pakistani public.
Pakistanis Unconvinced Government Did Not Know About Operation
Pakistanis are less likely to believe their government's claims that it had no prior knowledge of the U.S. raid. Nearly two-thirds of Pakistanis who were aware that the operation took place said they do not believe the U.S. could have conducted it without the knowledge of the Pakistani government or intelligence services.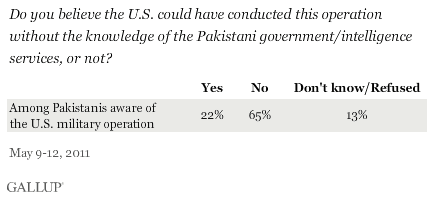 Low approval of President Asif Ali Zardari's reaction to the U.S. operation also likely does not help the government's credibility. Although Zardari has been defending Pakistan and its efforts to fight terrorism in the press, 75% of Pakistanis who were aware of the incident said they disapproved of his reaction to the U.S. operation. Even among Pakistanis who said they approved of their national leadership, 15% approved of his reaction.
Implications
When the Pakistani parliament convened on May 13 in a closed, joint session to review the U.S. military operation, it focused largely on the breach of sovereignty and efforts required to prevent that from happening again, rather than the question of how bin Laden could have stayed inside Pakistan undetected for more than five years. Pakistan's next steps -- and whether it provides the public with answers to how this could have happened -- will likely be crucial to regaining some of the trust the civilian government has lost among its own citizenry and abroad.
For complete data sets or custom research from the more than 150 countries Gallup continually surveys, please contact SocialandEconomicAnalysis@gallup.com or call 202.715.3030.
Survey Methods
Results are based on face-to-face interviews conducted between May 9-12, 2011, with approximately 1,000 adults, aged 15 and older covering both urban and rural areas across all four provinces in Pakistan. Federally administered areas and Azad Jammu Kashmir were excluded from this study. For results based on the total sample, one can say with 95% confidence that the maximum margin of sampling error is ±4 percentage points.
For more complete methodology and specific survey dates, please review Gallup's Country Data Set details.