PRINCETON, NJ -- Rick Perry and Herman Cain continue to generate the most intensely positive favorable ratings from Republicans familiar with them in Gallup Daily tracking conducted over the past two weeks -- prior to Monday night's CNN/Tea Party Republican presidential debate in Florida. Perry's Positive Intensity Score of 24 is holding near the upper boundary of his scores since he entered the race, similar to the 25 recorded in the prior two weeks. Cain's 22, however, is on the low end of his recent scores, and down five percentage points since late August.
Mitt Romney is the only announced candidate whose Positive Intensity Score has improved significantly in recent weeks. His current 16 is up from 11 in late August and is his highest rating since mid-July, thus narrowing the gap with Perry. Rudy Giuliani, who has yet to decide if he will run, still edges out Romney with an 18.
Sarah Palin and Michele Bachmann have seen significant declines in their Positive Intensity Scores since late August. Palin, who has also not decided whether to run, is down six points, from 16 to 10, and Bachmann is down three points, from 13 to 10. Both women are now at new lows for the year, with Bachmann's score cut in half since early August.
Newt Gingrich's score remains slightly better than the low single digits he registered for most of the summer, but shows no signs of recovering to the mid-teens, where he was when he entered the race earlier this year. Ron Paul's 7 score is consistent with his readings since early June.
Gallup computes Positive Intensity Scores by subtracting the percentage of Republicans with highly unfavorable views of each candidate from the percentage with highly favorable views, based on those who say they have heard of the candidate. The results are reported on the basis of continuous two-week rolling averages. The Aug. 29-Sept. 11 field period for the latest results includes four days of interviewing after the Sept. 7 Republican presidential debate held at the Ronald Reagan Library.
Palin and Giuliani Remain the Biggest Names
Despite missing out on the media attention brought by participation in candidate debates like those recently held in Tampa and Simi Valley, Palin and Giuliani remain the most well-known of the 10 possible Republican presidential candidates Gallup tracks. Ninety-seven percent of Republicans nationwide say they are familiar with Palin and 89% with Giuliani.
With roughly 84% to 86% name recognition among Republicans, Gingrich, Romney, and Bachmann all now approach the high recognition Giuliani enjoys, while Paul is not far behind with 81%. Perry still lags on this measure, recognized by 75%, but that is after an early August surge in recognition from his initial 55% reading. Perry is well ahead of Rick Santorum (54%), Herman Cain (48%), and Jon Huntsman (46%).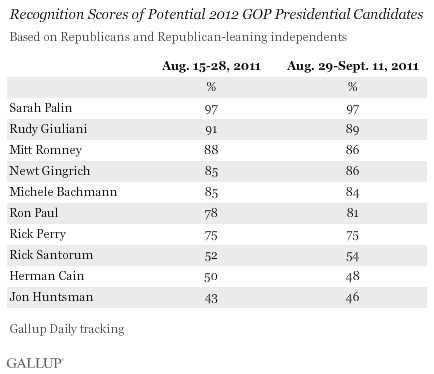 Bottom Line
With just under five months remaining before Republican primary voters start casting ballots for the 2012 Republican nomination, Perry continues to generate more positive intensity from Republicans who know him than any other announced or potential candidate Gallup tracks. This is particularly notable because Perry has managed to maintain a strong Positive Intensity Score as his recognition among Republicans has expanded from 55% in July to 75% today. Romney, however, remains better known, and has recently seen his sagging Positive Intensity Score rebound, although he still lags significantly behind Perry on this measure.
The news is not as good for Bachmann, who has lost much of the passionate support she generated as recently as early August. Positive intensity for Palin among national Republicans has also slipped to a new low for the year.
Republicans' views of Paul, Gingrich, Santorum, and Huntsman all seem to be in a holding pattern at levels seemingly keeping these men out of serious contention for the nomination. Huntsman does particularly poorly in Republicans' eyes, and is the only candidate tracked whose Positive Intensity Score is a net negative, meaning that more Republicans who know him have a strongly unfavorable opinion than have a strongly favorable opinion.
Cain continues to be an anomaly, scoring high in positive intensity among those who know him, yet unable to push his recognition above the 50% level, and scoring low in trial-heat ballot measures.
With three more debates between now and mid-October, all of the candidates will have an opportunity to change their images among Republicans. They all certainly tried to advance their positions in the recent debates, and the extent to which they were successful should be evident in Gallup's Sept. 5-18 positive intensity update.
Survey Methods
Results are based on telephone interviews conducted as part of Gallup Daily tracking Aug. 29-Sept. 11, 2011, with random samples of Republicans and Republican-leaning independents, aged 18 and older, living in all 50 U.S. states and the District of Columbia. Questions asking about the 10 potential candidates measured in this research were rotated among randomly selected samples of Republicans each night; over the 14-day period (with no interviewing on Labor Day, Sep. 5), each candidate was rated by a minimum of 1,400 Republicans and Republican-leaning independents.
For the overall ratings of each potential candidate among Republicans and Republican-leaning independents, including recognition scores, one can say with 95% confidence that the maximum margin of sampling error is ±3 percentage points. For the Positive Intensity Score for each candidate, the maximum margin of sampling error varies depending on the size of the group recognizing the candidate.
Interviews are conducted with respondents on landline telephones and cellular phones, with interviews conducted in Spanish for respondents who are primarily Spanish-speaking. Each sample includes a minimum quota of 400 cell phone respondents and 600 landline respondents per 1,000 national adults, with additional minimum quotas among landline respondents by region. Landline telephone numbers are chosen at random among listed telephone numbers. Cell phone numbers are selected using random-digit-dial methods. Landline respondents are chosen at random within each household on the basis of which member had the most recent birthday.
Samples are weighted by gender, age, race, Hispanic ethnicity, education, region, adults in the household, and phone status (cell phone only/landline only/both, cell phone mostly, and having an unlisted landline number). Demographic weighting targets are based on the March 2010 Current Population Survey figures for the aged 18 and older non-institutionalized population living in U.S. telephone households. All reported margins of sampling error include the computed design effects for weighting and sample design.
In addition to sampling error, question wording and practical difficulties in conducting surveys can introduce error or bias into the findings of public opinion polls.
For more details on Gallup's polling methodology, visit www.gallup.com.