PRINCETON, NJ -- U.S. registered voters, by 46% to 38%, continue to say they are more likely to vote for the Republican presidential candidate than for Barack Obama in the 2012 presidential election. The generic Republican led by the same eight-percentage-point margin in September, and also held a lead in July. The August update, conducted just after an agreement to raise the federal debt limit, had Obama with a slight edge.
The current results are based on a Gallup poll conducted Oct. 6-9. The eight-point lead for the Republican candidate persists, 50% to 42%, when taking into account the leanings of undecided voters.
Gallup has used the generic ballot in years prior to a presidential election when an incumbent was running for re-election and the opposition did not have an obvious front-runner for its presidential candidate, including 1991 and 2003. In October 1991, George H.W. Bush was leading a generic Democratic candidate by 17 points (49% to 32%), though his lead would shrink in subsequent polls and he ultimately lost to Bill Clinton in the 1992 election. In October 2003, George W. Bush had a slight edge over a generic Democratic candidate, 46% to 43%. He won re-election narrowly over John Kerry in 2004.
Obama looks a bit stronger than he does on the generic ballot when he is matched against actual Republican presidential candidates. Gallup found the president essentially tied with Mitt Romney and with Rick Perry in its most recent update, from mid-September. In mid-August, Obama was also competitive with the leading Republican contenders at that time.
Obama's stronger performance versus actual Republican candidates than on the generic ballot indicates the Republican candidates are perhaps underperforming, which may show a general lack of enthusiasm for the party's leading presidential contenders among the electorate.
On the generic ballot, Republicans overwhelmingly say they will vote for the Republican candidate in 2012. Democrats favor Obama by a wide margin, but they support their party's candidate to a lesser degree than Republicans support theirs. Independents currently favor the Republican candidate by 43% to 30%.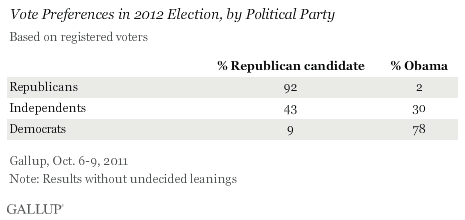 Independents have generally shown greater support for the generic Republican than for Obama. One hopeful sign for Obama is that a significant proportion of independents are undecided.
The pattern of greater independent voter support for the Republican is consistent with what Gallup has found in trial-heat matchups of Obama versus Romney and most other Republican candidates. For example, in the mid-September poll, independent registered voters preferred Romney to Obama by 55% to 37%.
Implications
The Republican lead on the generic presidential ballot is an indication that the current political environment -- including historically low levels of satisfaction with national conditions and below-average approval ratings for President Obama -- favors the Republican Party. However, the fact that Obama remains competitive with the leading Republican contenders in head-to-head matchups is a positive sign for the Democratic Party, and perhaps some evidence that the Republican field of candidates is not generating a lot of voter excitement.
But voters' minds are far from settled, and the ultimate choice of the Republican nominee, the health of the economy, and the months of campaigning between now and November 2012 will help shape the election outcome.
Survey Methods
Results for this Gallup poll are based on telephone interviews conducted Oct. 6-9, 2011, with a random sample of 876 registered voters, aged 18 and older, living in all 50 U.S. states and the District of Columbia.
For results based on the total sample of registered voters, one can say with 95% confidence that the maximum margin of sampling error is ±4 percentage points.
Interviews are conducted with respondents on landline telephones and cellular phones, with interviews conducted in Spanish for respondents who are primarily Spanish-speaking. Each sample includes a minimum quota of 400 cell phone respondents and 600 landline respondents per 1,000 national adults, with additional minimum quotas among landline respondents by region. Landline telephone numbers are chosen at random among listed telephone numbers. Cell phone numbers are selected using random-digit-dial methods. Landline respondents are chosen at random within each household on the basis of which member had the most recent birthday.
Samples are weighted by gender, age, race, Hispanic ethnicity, education, region, adults in the household, and phone status (cell phone only/landline only/both, cell phone mostly, and having an unlisted landline number). Demographic weighting targets are based on the March 2010 Current Population Survey figures for the aged 18 and older non-institutionalized population living in U.S. telephone households. All reported margins of sampling error include the computed design effects for weighting and sample design.
In addition to sampling error, question wording and practical difficulties in conducting surveys can introduce error or bias into the findings of public opinion polls.
View methodology, full question results, and trend data.
For more details on Gallup's polling methodology, visit www.gallup.com.