PRINCETON, NJ -- Americans' assessments of the job market improved markedly in March with 19% saying now is a "good time" to find a quality job, up from 13% in February -- and the highest level of optimism since September 2008. Although 78% still say it is a "bad time" to find a quality job, this is the lowest rating since September 2008.
Still, the percentage of Americans who currently say it is a good time to find a quality job remains below the 26% of February 2008 -- a time when the worst recession since the Great Depression was just getting underway. And this March 2012 reading is far below the pre-recession 45% of February 2007. The highest percentage of Americans saying it is a good time to find a quality job in Gallup trends dating back to 2001 was 48% in January 2007. The best ratings of 2011 were in April, when 17% said it was a good time to find a quality job and 81% said it was a bad time.
Men, Young Adults, and Postgraduates Most Optimistic
Americans aged 18 to 29 are the most positive about being able to find a quality job right now, with 29% saying it is a good time to do so. Men (23%) tend to be more optimistic about the current job market than women (15%).
Democrats (22%) and independents (21%) give a more positive assessment to finding a quality job than do Republicans (12%). Postgraduates (22%) are slightly more optimistic about the job market than are Americans with less formal education.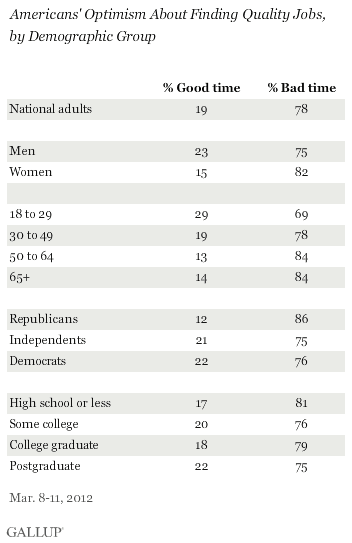 Implications
The increase in the percentage of Americans who say now is a good time to find a quality job to its highest level since September 2008 is consistent with many of Gallup's other behavioral economic measures of the economy. Economic confidence has also improved to 2008 levels, as has Gallup's measure of job creation.
Americans' perceptions of the job market are likely related to the U.S. government's recent positive unemployment report, which showed that more than 200,000 jobs were added to the economy and the unemployment rate held at 8.3% in February, continuing the good news from January. The government also reported that workers are returning to the workforce and that more than 600,000 Americans joined the workforce in February alone.
Still, even though quality job perceptions have improved compared with 2008, it is important to remember that the U.S. economy was experiencing a severe recession and financial crisis at that time. In 2008, it was a better time for job creation and economic confidence than at any time during the intervening years, but still a long way from pre-recession levels.
It is good news for the economy and the Obama administration that more Americans are becoming optimistic about the availability of quality jobs. While the U.S. economy is improving slowly, however, it is not clear that the current rate of economic growth is commensurate with the creation of a large number of new high-quality jobs in the near future.
Gallup.com reports results from these indexes in daily, weekly, and monthly averages and in Gallup.com stories. Complete trend data are always available to view and export in the following charts:
Daily: Employment, Economic Confidence, Job Creation, Consumer Spending
Weekly: Employment, Economic Confidence, Job Creation, Consumer Spending
Read more about Gallup's economic measures.
View our economic release schedule.
Survey Methods
Results for this Gallup poll are based on telephone interviews conducted March 8-11, 2012, with a random sample of 1,024 adults, aged 18 and older, living in all 50 U.S. states and the District of Columbia.
For results based on the total sample of national adults, one can say with 95% confidence that the maximum margin of sampling error is ±4 percentage points.
Interviews are conducted with respondents on landline telephones and cellular phones, with interviews conducted in Spanish for respondents who are primarily Spanish-speaking. Each sample includes a minimum quota of 400 cell phone respondents and 600 landline respondents per 1,000 national adults, with additional minimum quotas among landline respondents by region. Landline telephone numbers are chosen at random among listed telephone numbers. Cell phone numbers are selected using random-digit-dial methods. Landline respondents are chosen at random within each household on the basis of which member had the most recent birthday.
Samples are weighted by gender, age, race, Hispanic ethnicity, education, region, adults in the household, and phone status (cell phone only/landline only/both, cell phone mostly, and having an unlisted landline number). Demographic weighting targets are based on the March 2011 Current Population Survey figures for the aged 18 and older non-institutionalized population living in U.S. telephone households. All reported margins of sampling error include the computed design effects for weighting and sample design.
In addition to sampling error, question wording and practical difficulties in conducting surveys can introduce error or bias into the findings of public opinion polls.
View methodology, full question results, and trend data.
For more details on Gallup's polling methodology, visit www.gallup.com.