PRINCETON, NJ -- Fifty percent of Americans believe same-sex marriages should be recognized by law as valid, with the same rights as traditional marriages -- down slightly from 53% last year, but marking only the second time in Gallup's history of tracking this question that at least half of Americans have supported legal same-sex marriage. Forty-eight percent say such marriages should not be legal.
These results -- based on Gallup's annual Values and Beliefs poll, conducted May 3-6 -- come at a time when Vice President Joe Biden's remarks on "Meet the Press" Sunday have at least temporarily brought the issue of same-sex marriage back into the news spotlight. Biden said he was "absolutely comfortable" with the idea that same-sex couples and heterosexual couples are "entitled to the same exact rights, all the civil rights, all the civil liberties." President Obama, however, has stopped short of saying that he favors legalizing same-sex marriage.
Last's year's Values and Beliefs survey marked the first time in Gallup's history of tracking this issue that a majority favored legalization. Prior to last year, the highest level of support had been 46%, measured in 2007. In 1996, when Gallup first asked the question, 27% supported it, while 68% were opposed.
The issue of same-sex marriage sharply divides the American public along political and religious lines. Almost two-thirds of Democrats support legalizing it, compared with 57% of independents and 22% of Republicans.
Catholics are right at the overall average in their views on same-sex marriage. The Catholic Church officially opposes same-sex marriage and Biden himself is Catholic. Significantly less than half of Protestants approve, while those who identify with no religion overwhelmingly approve.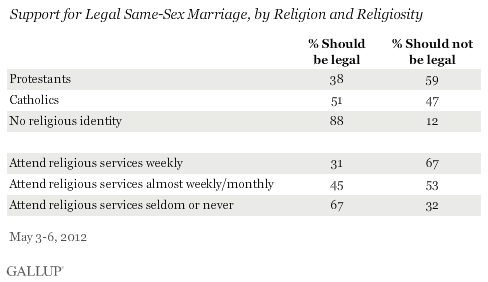 Implications
The trend on Americans' attitudes on same-sex marriage has not followed an entirely consistent trajectory. While the percentage in favor increased to 46% in 2007, it slipped to 40% in the following two years. In somewhat similar fashion, last year's increase to 53% support has edged back down slightly this year to 50% -- not a statistically significant change, but not a continued increase, either.
This year's results underscore just how divided the nation is on this issue. As a result, President Obama's campaign strategy team obviously is continuing to grapple with how to handle it -- with the vice president on the one hand essentially endorsing legalized gay marriage, while the administration on the other hand stops just short of the same pronouncement. Obama's core constituency of Democrats strongly supports the issue, as do the majority of the important election group of independents. The president has said his view on the issue is "evolving," so it is possible he will eventually go on record as supporting gay marriage, but for now, he officially remains opposed.
Survey Methods
Results for this Gallup poll are based on telephone interviews conducted May 3-6, 2012, with a random sample of 1,024 adults, aged 18 and older, living in all 50 U.S. states and the District of Columbia.
For results based on the total sample of national adults, one can say with 95% confidence that the maximum margin of sampling error is ±4 percentage points.
Interviews are conducted with respondents on landline telephones and cellular phones, with interviews conducted in Spanish for respondents who are primarily Spanish-speaking. Each sample includes a minimum quota of 400 cell phone respondents and 600 landline respondents per 1,000 national adults, with additional minimum quotas among landline respondents by region. Landline telephone numbers are chosen at random among listed telephone numbers. Cell phone numbers are selected using random-digit-dial methods. Landline respondents are chosen at random within each household on the basis of which member had the most recent birthday.
Samples are weighted by gender, age, race, Hispanic ethnicity, education, region, adults in the household, and phone status (cell phone only/landline only/both, cell phone mostly, and having an unlisted landline number). Demographic weighting targets are based on the March 2011 Current Population Survey figures for the aged 18 and older non-institutionalized population living in U.S. telephone households. All reported margins of sampling error include the computed design effects for weighting and sample design.
In addition to sampling error, question wording and practical difficulties in conducting surveys can introduce error or bias into the findings of public opinion polls.
View methodology, full question results, and trend data.
For more details on Gallup's polling methodology, visit www.gallup.com.