PRINCETON, NJ -- The slight majority of American adults, 54%, consider gay or lesbian relations morally acceptable. Public acceptance of gay/lesbian relations as morally acceptable grew slowly but steadily from 38% in 2002 to 56% in 2011 and is now holding at the majority level.
This Gallup trend mirrors the growth in public support for legalizing gay marriage, which has risen from 42% support in 2004 to 50% or greater support in the last two years. Americans' support for gay rights on both questions leveled off in this year's Values and Beliefs poll, conducted May 3-6.
Gallup's longer-term question measuring U.S. attitudes about gays asks whether gay or lesbian relations should or should not be legal. The 63% now saying gay relations should be legal nearly matches the record-high 64% of a year ago, which came after a long-term increase in support for legality from 32% in 1986.
Across all three questions, women, adults aged 18 to 34, and Democrats are more supportive of gay rights than their counterparts. Nonreligious Americans are much more supportive than Christians. Among Christians, Catholics are more supportive than Protestants. Residents of the South are far less supportive than those in the East, Midwest, and West.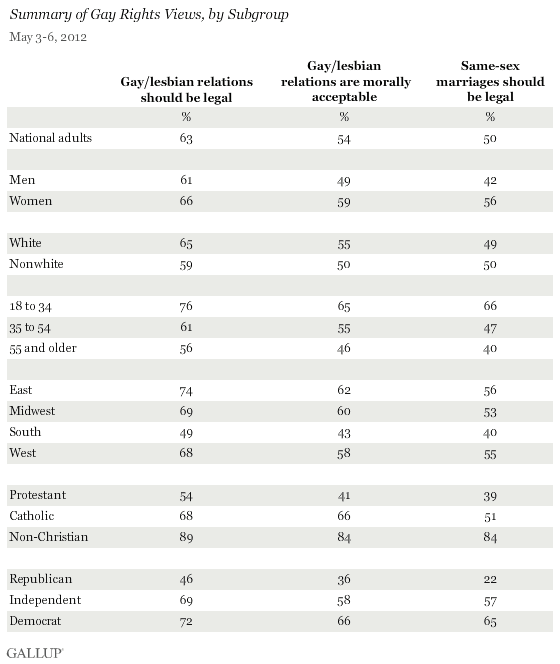 In response to another long-term trend question, Gallup finds a close division between those who believe being gay or lesbian is a trait a person is born with (40%) and those saying it is due to upbringing and other environmental factors (35%). Americans' views on the "nature vs. nurture" question have been largely steady over the past decade, but prior to 2001, significantly more Americans believed that homosexuality was a product of upbringing.
Bottom Line
Americans' acceptance of gays and lesbians as equal members of society has increased steadily in the past decade to the point that half or more now agree that being gay is morally acceptable, that gay relations ought to be legal, and that gay or lesbian couples should have the right to legally marry. While public support has been trending upward, support on all three measures was slightly higher in 2011 than in the new 2012 poll, suggesting attitudes may be leveling off -- at least for the time being. However, they are stabilizing at a point that makes President Obama's decision to publicly support gay marriage much less controversial than it would have been even four years ago. Significant pockets of resistance remain -- namely Republicans, those 55 and older, Protestants, residents of the South, and, in some respects, men -- but majorities of other groups have grown comfortable with gay rights.
Survey Methods
Results for this Gallup poll are based on telephone interviews conducted May 3-6, 2012 with a random sample of 1,024 adults, aged 18 and older, living in all 50 U.S. states and the District of Columbia.
For results based on the total sample of national adults, one can say with 95% confidence that the maximum margin of sampling error is ±4 percentage points.
Interviews are conducted with respondents on landline telephones and cellular phones, with interviews conducted in Spanish for respondents who are primarily Spanish-speaking. Each sample includes a minimum quota of 400 cell phone respondents and 600 landline respondents per 1,000 national adults, with additional minimum quotas among landline respondents by region. Landline telephone numbers are chosen at random among listed telephone numbers. Cell phone numbers are selected using random-digit-dial methods. Landline respondents are chosen at random within each household on the basis of which member had the most recent birthday.
Samples are weighted by gender, age, race, Hispanic ethnicity, education, region, adults in the household, and phone status (cell phone only/landline only/both, cell phone mostly, and having an unlisted landline number). Demographic weighting targets are based on the March 2011 Current Population Survey figures for the aged 18 and older non-institutionalized population living in U.S. telephone households. All reported margins of sampling error include the computed design effects for weighting and sample design.
In addition to sampling error, question wording and practical difficulties in conducting surveys can introduce error or bias into the findings of public opinion polls.
View methodology, full question results, and trend data.

For more details on Gallup's polling methodology, visit www.gallup.com.