PRINCETON, NJ -- Aside from the presidency, the U.S. societal institutions sparking the most divergent reactions from Republicans and Democrats are big business, organized labor, and the police. The percentages by party saying they have a "great deal" or "fair amount" of confidence in these differ by at least 20 points, with Republicans expressing more confidence in big business and the police, and Democrats expressing more confidence in organized labor.
Additionally, Republicans express somewhat greater confidence than Democrats in the church/organized religion, banks, the military, the U.S. Supreme Court, and small business. Democrats, on the other hand, express somewhat greater confidence than Republicans in TV news, newspapers, and public schools.
Despite these differences, majorities of both major parties have high confidence in the military, small business, and the police. Both groups also express very low confidence in Health Maintenance Organizations (HMOs) and Congress.
Independents' views are closer to Democrats' with respect to big business, the police, organized religion, banks, the military, and the Supreme Court. They are closer to Republicans' views with respect to newspapers, TV news, organized labor, and the presidency. Independents, though, have less confidence than both major-party groups when it comes to small business, the medical system, the criminal justice system, and HMOs.
These findings are from Gallup's 2012 update of its annual Confidence in Institutions poll, conducted June 7-10. On the whole, Americans' confidence in several institutions is steady or down this year compared with 2011, with the biggest one-year declines seen for TV news and public schools.
Trust in TV News Down Among Republicans, Independents
Republicans and independents lost confidence in TV news this year, while Democrats' confidence in TV news has not changed appreciably. Longer term, Gallup trends show that confidence in TV news has declined fairly steadily among Republicans and independents over the past decade -- from 30% or 33% to 17%. Democrats' confidence, however, generally declined through 2005, spiked in 2006 (a midterm election year, and the height of the Iraq war), then sharply declined in 2007 before recovering in 2009. It has since held steady.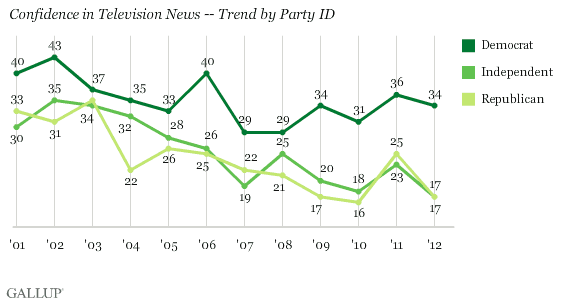 Partisans' Trust in Public Schools Varies by Time Period
The decline in confidence in public schools since last year is owing to declining confidence among Republicans and Democrats alike, with essentially no change among independents. However, longer term, Gallup trends show that Democrats' confidence in public schools generally declined during the second half of the George W. Bush administration and rose at the start of the Barack Obama administration in 2009, before dipping this year. By contrast, Republicans' and independents' confidence in public schools was steady near 35% during the Bush administration and has dipped below that level only at points during the Obama administration.
Bottom Line
Although Republicans' and Democrats' rankings of 16 major U.S. political and societal institutions are similar, some significant differences exist that highlight the differing political perspectives of the two groups. Republicans show more confidence in institutions related to capitalism, law and order, and conservative values. This includes big business, small business, banks, the police, the military, the Supreme Court, and organized religion. Democrats, on the other hand, show more confidence in institutions related to labor unions, including organized labor, broadly, and public schools, as well as news organizations (TV news and newspapers), and -- not surprisingly, with a Democrat in the White House -- the presidency.
Survey Methods
Results for this Gallup poll are based on telephone interviews conducted June 7-10, 2012, with a random sample of 1,004 adults, aged 18 and older, living in all 50 U.S. states and the District of Columbia.
For results based on the total sample of national adults, one can say with 95% confidence that the maximum margin of sampling error is ±4 percentage points.
Interviews are conducted with respondents on landline telephones and cellular phones, with interviews conducted in Spanish for respondents who are primarily Spanish-speaking. Each sample includes a minimum quota of 400 cell phone respondents and 600 landline respondents per 1,000 national adults, with additional minimum quotas among landline respondents by region. Landline telephone numbers are chosen at random among listed telephone numbers. Cell phone numbers are selected using random-digit-dial methods. Landline respondents are chosen at random within each household on the basis of which member had the most recent birthday.
Samples are weighted by gender, age, race, Hispanic ethnicity, education, region, adults in the household, and phone status (cell phone only/landline only/both, cell phone mostly, and having an unlisted landline number). Demographic weighting targets are based on the March 2011 Current Population Survey figures for the aged 18 and older non-institutionalized population living in U.S. telephone households. All reported margins of sampling error include the computed design effects for weighting and sample design.
In addition to sampling error, question wording and practical difficulties in conducting surveys can introduce error or bias into the findings of public opinion polls.
For more details on Gallup's polling methodology, visit www.gallup.com.