PRINCETON, NJ -- While more than nine in 10 Americans would vote for a presidential candidate who is black, a woman, Catholic, Hispanic, or Jewish, significantly smaller percentages would vote for one who is an atheist (54%) or Muslim (58%). Americans' willingness to vote for a Mormon (80%) or gay or lesbian (68%) candidate falls between these two extremes.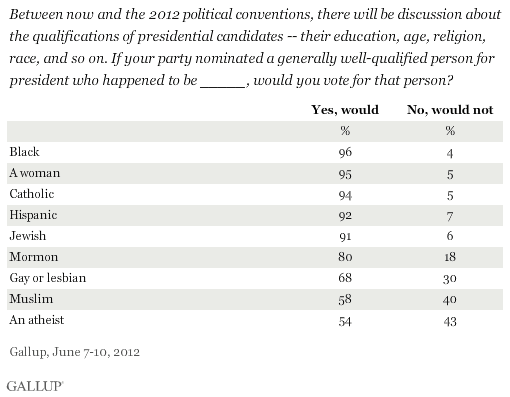 The results are based on a June 7-10 Gallup poll, updating a question Gallup first asked in 1937 in reference to a female, Jewish, or Catholic candidate and has asked periodically since then, with additional candidate characteristics added to the list. The question has taken on added relevance in recent years as a more diverse group of candidates has run for president. This year, Mitt Romney is poised to become the first Mormon to win a major-party presidential nomination. However, Americans' willingness to vote for a Mormon has changed little in 45 years.
Notwithstanding the Mormon trend, Gallup's history on this question shows growing acceptance for all other types of candidates over time. That includes atheists, whose acceptability as candidates surpassed 50% for the first time last summer but have typically ranked at the bottom of the list whenever the question has been asked.
In 1937, less than half of Americans said they would vote for a Jewish or female presidential candidate; now 90% or more would. The same applies to voting for a black candidate compared with 1958. Over time, Americans' acceptance of blacks and women as candidates has increased the most.
Republicans, Democrats Differ Most on Gay, Muslim, Mormon Candidates
Americans of all political party affiliations are nearly unanimous in saying they would vote for a black, female, Catholic, Hispanic, or Jewish president. Democrats are significantly more likely than Republicans to say they would vote for a presidential candidate who is gay, Muslim, or an atheist. Republicans, in turn, are more likely to say they would vote for a Mormon.
Republicans' willingness to vote for a Mormon for president is higher this year, likely because their presidential candidate is of the Mormon faith. When Gallup asked the same question in February 1999, Republicans were only slightly more likely than Democrats, 81% to 75%, to say they would vote for a Mormon for president. There was a similar six-percentage-point party gap (72% Republican, 66% Democrat) in a February 2007 poll, in the early stages of the 2008 presidential campaign and Romney's first run for president.
Gallup also finds wide differences in support for various presidential candidates by age. At least seven in 10 young adults, those under age 30, would vote for a presidential candidate of any background. However, fewer than half of senior citizens would vote for a candidate who is gay, an atheist, or Muslim.
Implications
Americans over time have generally become more accepting of presidential candidates from various backgrounds. However, there are still certain types of candidates -- specifically atheists and Muslims -- that Americans would have a harder time supporting. Even so, a majority of Americans say they would vote for such candidates.
Support for a Mormon candidate has been relatively flat over time, suggesting there may be a ceiling on acceptance of presidential candidates with certain background characteristics. Even with a Mormon poised to be the nominee of a major political party, Americans' willingness to vote for a Mormon is not significantly greater now than in the past. That suggests that it may take more than simply having a prominent future candidate who is gay, Muslim, or an atheist to bring Americans' acceptance of candidates from those backgrounds up to near-unanimous levels.
Survey Methods
Results for this Gallup poll are based on telephone interviews conducted June 7-10, 2012, with a random sample of 1,004 adults, aged 18 and older, living in all 50 U.S. states and the District of Columbia.
For results based on the total sample of national adults, one can say with 95% confidence that the maximum margin of sampling error is ±4 percentage points.
Interviews are conducted with respondents on landline telephones and cellular phones, with interviews conducted in Spanish for respondents who are primarily Spanish-speaking. Each sample includes a minimum quota of 400 cell phone respondents and 600 landline respondents per 1,000 national adults, with additional minimum quotas among landline respondents by region. Landline telephone numbers are chosen at random among listed telephone numbers. Cell phone numbers are selected using random-digit-dial methods. Landline respondents are chosen at random within each household on the basis of which member had the most recent birthday.
Samples are weighted by gender, age, race, Hispanic ethnicity, education, region, adults in the household, and phone status (cell phone only/landline only/both, cell phone mostly, and having an unlisted landline number). Demographic weighting targets are based on the March 2011 Current Population Survey figures for the aged 18 and older non-institutionalized population living in U.S. telephone households. All reported margins of sampling error include the computed design effects for weighting and sample design.
In addition to sampling error, question wording and practical difficulties in conducting surveys can introduce error or bias into the findings of public opinion polls.
View methodology, full question results, and trend data.
For more details on Gallup's polling methodology, visit www.gallup.com.