PRINCETON, NJ -- Just 34% of Americans correctly say U.S. President Barack Obama is a Christian, while 44% say they don't know Obama's religion and 11% say he is a Muslim.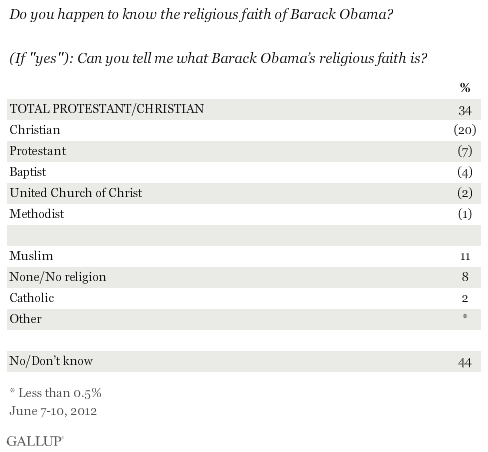 Obama is a Christian and has labeled himself as such in his writings and interviews, and while living in Chicago he attended the Trinity United Church of Christ. Since moving into the White House, Obama has attended several different Christian churches.
Americans are indeed more likely to say Obama is a Christian -- mostly a generic "Christian" or "Protestant" -- than to say he identifies with any other religion. In addition to those who name a specific religion or don't offer a guess, 8% say he does not have a religious affiliation.
Americans are more likely to know Mitt Romney's religion than Obama's religion, with most Americans correctly saying Romney is a Mormon and a smaller 33% saying they don't know.
Eighteen Percent of Republicans Say Obama Is a Muslim
Democrats are more likely than Republicans to be able to name a religious faith for Obama, and are more likely to say Obama is a Christian. Just 3% of Democrats say Obama is a Muslim.
Republicans are less likely than Democrats to say what Obama's faith is and are more likely to say Obama is a Muslim. It is unclear whether the 18% of Republicans who say Obama is a Muslim do so because they truly believe this is his religion, or because it is a politically charged idea.
Independents are generally more akin to Republicans than to Democrats in their views of Obama's religion.
Implications
President Obama has been very open about his Christian faith since moving into the public spotlight. In fact, his past attendance at the Trinity United Church of Christ in Chicago, with its controversial minister, the Rev. Jeremiah Wright, itself became a heated point of political discussion during the 2008 presidential campaign. Still, just 34% of Americans say Obama is a Christian when asked what his religion is. Forty-four percent say they don't know his religion, while 11% -- mostly Republicans and independents -- say he is a Muslim.
Both Obama's religion and his birthplace have been points of controversy in his public career. These data show that in terms of his religion, most Americans do not adhere to the belief that he is a Muslim. However, the fact that almost one in five Republicans do hold this belief suggests the potential for continuing controversy on this issue in the months ahead.
Survey Methods
Results for this Gallup poll are based on telephone interviews conducted June 7-10, 2012, with a random sample of 1,004 adults, aged 18 and older, living in all 50 U.S. states and the District of Columbia.
For results based on the total sample of national adults, one can say with 95% confidence that the maximum margin of sampling error is ±4 percentage points.
Interviews are conducted with respondents on landline telephones and cellular phones, with interviews conducted in Spanish for respondents who are primarily Spanish-speaking. Each sample includes a minimum quota of 400 cell phone respondents and 600 landline respondents per 1,000 national adults, with additional minimum quotas among landline respondents by region. Landline telephone numbers are chosen at random among listed telephone numbers. Cell phone numbers are selected using random-digit-dial methods. Landline respondents are chosen at random within each household on the basis of which member had the most recent birthday.
Samples are weighted by gender, age, race, Hispanic ethnicity, education, region, adults in the household, and phone status (cell phone only/landline only/both, cell phone mostly, and having an unlisted landline number). Demographic weighting targets are based on the March 2011 Current Population Survey figures for the aged 18 and older non-institutionalized population living in U.S. telephone households. All reported margins of sampling error include the computed design effects for weighting and sample design.
In addition to sampling error, question wording and practical difficulties in conducting surveys can introduce error or bias into the findings of public opinion polls.
View methodology, full question results, and trend data.
For more details on Gallup's polling methodology, visit www.gallup.com.