PRINCETON, NJ -- Americans who watched the third presidential debate on Oct. 22 are significantly more likely to say Barack Obama did a better job than Mitt Romney, by 56% to 33%. This is the second debate win for Obama. Romney overwhelmingly was seen as the winner of the first debate.
The third, and last, debate was held on the campus of Lynn University in Boca Raton, Fla., and dealt exclusively with foreign policy topics. The second debate included mixed topics asked by uncommitted voters recruited from the area around Hofstra University in New York, and the first debate at the University of Denver was focused on domestic issues.
Sixty-nine percent of Americans Gallup interviewed Oct. 23-24, the two nights after the third debate, said they watched the debate, while about half of the rest said they saw news coverage of it. This self-reported viewership is about the same as Gallup measured in the two days after the first debate on Oct. 3, but the first and third debates had lower viewership than the 76% who reported watching the second, town hall-style debate on Oct. 16.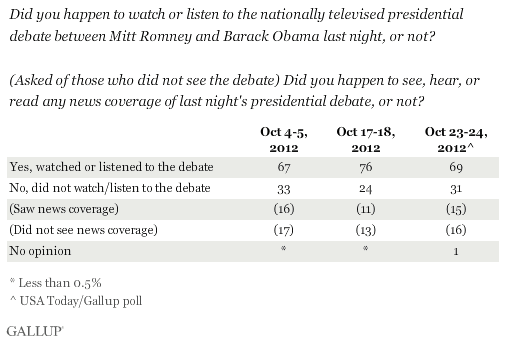 There is little difference in the self-reported viewing of partisan groups; Democrats and Republicans were about equally likely to watch the third debate, while independents lagged behind both.
Debate watchers' assessments of who did the better job in each debate are not based on immediate reactions, but rather represent evaluations rendered up to two days later, and thus can reflect the impact of media news reports and the assessments of various commentators.
As would be expected, Democrats say Obama did the better job in the third debate, while Republicans say Romney did better. But Obama scores higher overall for two reasons. First, 16% of Republicans say Obama did the better job, compared with only 4% of Democrats who say Romney did the better job. Second, independents give Obama a 56% to 27% edge over Romney.
Democrats are the most certain in their choice, with only 2% not indicating a preference. Republicans and independents are significantly more likely to say both candidates did equally well, or to say neither candidate won, or to simply not be able to respond.
When asked a more general question about their view of who did the "better job overall in all three debates," Americans essentially break even, with 46% saying Romney and 44% Obama.
Thus, it appears that overall, in their summation of the debate "season" in this year's campaign, Americans may be giving as much weight to Romney's strong performance in the first debate as to their perceptions that Obama won two of the three debates.
Implications
Despite his poorly rated performance in the first debate, Obama came back and was rated the "winner" in the second and third debates. These two victories appear to have enabled him to neutralize the impact of his poor outing in the first debate, with the two candidates ending up in a virtual draw when Americans judge all three debates together. This mirrors the closeness of the race overall.
There are no more presidential debates left, and no more major public events in the 12 days left before Election Day. Both candidates are campaigning ceaselessly, and voters in selected swing states in particular continue to be inundated with direct mail, phone calls, and Internet entreaties, and to be exposed to almost continuous television and radio commercials for the two candidates. The debates no doubt played an important role in the unfolding of the 2012 presidential campaign, the ultimate outcome of which remains to be determined.
Sign up to get Election 2012 news stories from Gallup as soon as they are published.
Survey Methods
Results for this USA Today/Gallup poll are based on telephone interviews conducted Oct. 23-24, 2012, on the Gallup Daily tracking survey, with a random sample of 1,033 adults, aged 18 and older, living in all 50 U.S. states and the District of Columbia.
For results based on the total sample of national adults, one can say with 95% confidence that the maximum margin of sampling error is ±4 percentage points.
For results based on the total sample of 746 debate watchers, one can say with 95% confidence that the maximum margin of sampling error is ±4 percentage points.
Interviews are conducted with respondents on landline telephones and cellular phones, with interviews conducted in Spanish for respondents who are primarily Spanish-speaking. Each sample includes a minimum quota of 400 cell phone respondents and 600 landline respondents per 1,000 national adults, with additional minimum quotas among landline respondents by region. Landline telephone numbers are chosen at random among listed telephone numbers. Cell phone numbers are selected using random-digit-dial methods. Landline respondents are chosen at random within each household on the basis of which member had the most recent birthday.
Samples are weighted by gender, age, race, Hispanic ethnicity, education, region, adults in the household, and phone status (cell phone only/landline only/both, cell phone mostly, and having an unlisted landline number). Demographic weighting targets are based on the March 2011 Current Population Survey figures for the aged 18 and older non-institutionalized population living in U.S. telephone households. All reported margins of sampling error include the computed design effects for weighting and sample design.
In addition to sampling error, question wording and practical difficulties in conducting surveys can introduce error or bias into the findings of public opinion polls.
View methodology, full question results, and trend data.
For more details on Gallup's polling methodology, visit www.gallup.com.