WASHINGTON, D.C. -- Slightly over half of U.S. voters have the same ideological views as either Democratic President Barack Obama or Republican challenger Mitt Romney (50%), or both (4%), while 17% perceive both Obama and Romney as more liberal than they are, and 11% perceive both candidates as more conservative than they are.
These calculations are based on a comparison of voters' perceptions of the two candidates' ideological positions with their own personal ideology. Overall, 23% of U.S. voters describe their views as liberal or very liberal, 31% moderate, and 42% conservative or very conservative. This conservative tilt of voters in today's American electorate helps explain the finding that Americans are more likely to see both candidates as more liberal than they themselves are, rather than more conservative.
Overall, about one in four (27%) U.S. voters have the same ideology as they perceive Obama has, and an equal percentage have the same personal ideological position as Republican challenger Romney has.
Voters' ratings of their own ideology compared with their ratings of the two candidates' ideologies give a sense of how close the candidates are to the voters they are trying to represent.
Taken individually, 37% of voters see Obama's politics as a lot more liberal than their own -- which Gallup defines as being three to four positions to the left of them on its five-point ideology scale. Another 14% put Obama's views as somewhat more liberal than their own -- defined as one or two positions to the left. A combined 16% believe Obama to be more conservative than they are -- that is, one to four steps to the right.
Overall perceptions of Romney fall into a similar pattern, though in the opposite direction: 23% see him as a lot more conservative than they are and 16% say he is somewhat more conservative. Twenty-four percent judge Romney to be a lot more liberal or somewhat more liberal than they are.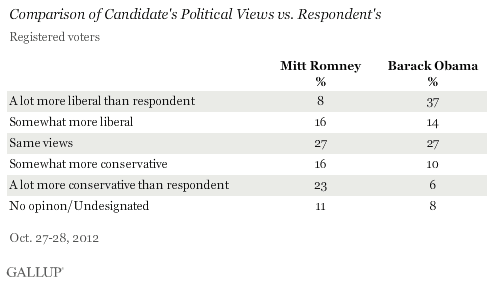 Overall, Obama Viewed as Liberal, Romney as Conservative
Not surprisingly, voters perceive stark differences between Obama and Romney: 60% describe Obama's political views as liberal or very liberal, while the same percentage believe Romney is conservative or very conservative. Both men are more likely to be associated with their party's dominant ideology now than they were among national adults in December 2007, when they were running for their respective parties' 2008 presidential nominations.
Voters Are More Conservative, but Result May Not Be Decided by Ideology
U.S. voters' perceptions of the candidates' ideology no doubt inform vote preferences, but to what degree is unclear. While a plurality of voters (42%) hold conservative or very conservative views -- just as they did in surveys conducted before the 2004 and 2008 presidential elections -- the candidate viewed as conservative or very conservative has not always won the election.
For instance, in 2008, 62% of the electorate judged John McCain to be conservative or very conservative, yet he lost in convincing fashion to Obama -- a candidate an overwhelming amount of voters (62%) believed to be liberal or very liberal. In 2004, by contrast, the candidate seen as more conservative, President George W. Bush, won over challenger John Kerry.
At least since the politics of "triangulation," as practiced by former President Bill Clinton, another piece of political conventional wisdom is the need to appear as a moderate or non-ideological in order to win the critical support of independents and swing voters. However, in the 2004 election, Kerry lost, despite being the candidate a larger percentage of voters viewed as a moderate, 32%, versus 18% for Bush.
Implications
Although voters believe Romney and Obama hold very different political beliefs, a little more than half say one or the other, or both, has the same ideological views as they do, while the rest do not see either candidate as matching their own individual political philosophy.
While this suggests that some voters may have a hard time selecting a candidate to support in Tuesday's presidential election, previous elections demonstrate that candidates whose ideological image is more out of step with the public's political views can nonetheless win. In other words, factors other than ideological agreement, such as performance evaluations or basic favorability, may matter more. Still, for some Americans, their vote will be determined by whom they disagree with less.
Sign up to get Election 2012 news stories from Gallup as soon as they are published.
Survey Methods
Results for this Gallup poll are based on telephone interviews conducted Oct. 27-28, 2012, on the Gallup Daily election tracking survey, with a random sample of 1,063 adults, aged 18 and older, living in all 50 U.S. states and the District of Columbia.
For results based on the total sample of national adults, one can say with 95% confidence that the maximum margin of sampling error is ±4 percentage points.
For results based on the total sample of registered voters, one can say with 95% confidence that the maximum margin of sampling error is ±4 percentage points.
Interviews are conducted with respondents on landline telephones and cellular phones, with interviews conducted in Spanish for respondents who are primarily Spanish-speaking. Each sample includes a minimum quota of 250 cell phone respondents and 250 landline respondents per 500 national adults, with additional minimum quotas among landline respondents by region. Landline telephone numbers are chosen at random among listed telephone numbers. Cell phone numbers are selected using random-digit-dial methods. Landline respondents are chosen at random within each household on the basis of which member had the most recent birthday.
Samples are weighted by gender, age, race, Hispanic ethnicity, education, region, adults in the household, population density, and phone status (cell phone only/landline only/both, cell phone mostly, and having an unlisted landline number). Demographic weighting targets are based on the March 2011 Current Population Survey figures for the aged 18 and older non-institutionalized U.S. population. All reported margins of sampling error include the computed design effects for weighting.
In addition to sampling error, question wording and practical difficulties in conducting surveys can introduce error or bias into the findings of public opinion polls.
View methodology, full question results, and trend data.
For more details on Gallup's polling methodology, visit www.gallup.com.