PRINCETON, NJ -- U.S. small-business owners' net capital spending intentions for the next 12 months plunged to -14 in November, the lowest level in more than two years, according to the Wells Fargo/Gallup Small Business Index. This is down from net capital spending intentions of -1 in July and suggests the nation's small-business owners are likely to pull back on their business investments even more, given their negative expectations for the next 12 months.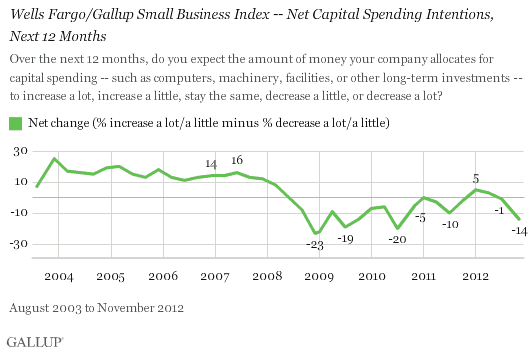 The Wells Fargo/Gallup quarterly survey, conducted Nov. 12-16, 2012, with a random sample of 607 U.S. small-business owners, found them the most pessimistic they have been since the third quarter of 2010. Capital spending is one of six components in the Future Expectations component of the index, all of which declined compared with the third quarter of 2012.
The -14 November score is based on 20% of small-business owners saying they expect to increase their capital spending over the next 12 months and 34% saying expecting to decrease their capital spending. The 20% "increase" reading is down from 23% in July and the lowest level since July 2010. The 34% "decrease" reading is the highest since July 2010. In the current survey, 45% of owners expect no change in their capital spending.
The current negative net capital spending intentions mark a significant shift from the positive double-digit scores seen prior to 2008. Positive net spending intentions reflect how small-business owners usually expect to grow their businesses and take advantage of advancing technologies to help them do so. However, this has not been the case since the recession and financial crisis of 2008-2009, with net capital spending intentions reaching a low of -23 in November 2008. Small-business-owner capital spending expectations were slightly positive during the first two quarters of 2012, before turning neutral in July, and then plunging in November. The last time net capital spending intentions were lower than they are today was in July 2010, at -20.
Owners' Net Capital Spending Down Over Past 12 Months
The survey also asks small-business owners to report on their capital spending over the past 12 months. In November, more owners reported decreasing their capital spending (40%) than increasing (18%) it, resulting in a net capital spending score of -22. This is down from the -11 of July and the similar prior two quarterly measurements of 2012. Net capital spending over the past 12 months is now about where it was in October 2011, at -24.
The 18% of small-business owners who in November reported increasing their company's capital spending over the past 12 months is about the same as the 19% who voiced the same opinion a year ago. Similarly, the 40% reporting a decrease in capital spending over the past 12 months is just slightly lower than the 43% of October 2011. These numbers suggest that small-business' owners reported capital spending has not matched their expectations, even as capital spending intentions have deteriorated.
Implications
The November Wells Fargo/Gallup Small Business Index shows small-business owners are pessimistic about their future operating environment. Consistent with these negative expectations, owners' intentions are to reduce their capital spending plans and their hiring intentions over the months ahead.
Capital spending is by its nature relatively long-term. As a result, capital spending plans tend to be something business owners can defer when operating conditions are difficult. In the past, periods of significant weakness in the U.S. economy have been relatively brief -- meaning owners who delayed capital investments were able to catch up on their deferred capital spending projects relatively quickly.
This was not the case after the 2008-2009 recession and financial crisis. The last time there was a double-digit difference in the percentage of small-business owners intending to increase vs. decrease their capital spending -- the pre-recession normal -- was in December 2007. In turn, this suggests that many small businesses have experienced multiple capital spending deferrals and as a result are falling behind their competition, not only in capital improvements, but also in the use of new technologies. The longer this capital investment squeeze continues, the more of a threat it poses to the ultimate survival of any company in today's intensely competitive operating environment.
On the other hand, many years of deferring capital investments also suggest there must be an enormous level of pent-up demand for such investments. Many small-business owners likely have long lists of capital investments they would like to make in their businesses when operating conditions allow. As a result, there is the potential for explosive capital spending by the nation's small businesses whenever the U.S. economy can return to a sustainable growth path that permits owners and lenders to grow their companies.
About the Wells-Fargo Small Business Index
Since August 2003, the Wells Fargo/Gallup Small Business Index has surveyed small-business owners on current and future perceptions of their business financial situations.
Survey Methods
Results for the total dataset are based on telephone interviews with 607 small-business owners, conducted Nov. 12-16, 2012. For results based on the total sample of small-business owners, one can say with 95% confidence that the maximum margin of sampling error is ±4 percentage points.
Sampling is done on a random-digit-dial basis using Dun & Bradstreet sampling of small businesses having $20 million or less of sales or revenues. The data are weighted to be representative of U.S. small businesses within this size range nationwide.
In addition to sampling error, question wording and practical difficulties in conducting surveys can introduce error or bias into the findings of public opinion polls.
For more details on Gallup's polling methodology, visit www.gallup.com.