PRINCETON, NJ -- While the majority of Americans continue to believe it is a "bad time to find a quality job," the 25% saying it is a "good time" is the highest Gallup has measured since March 2008.
Americans have been very negative about the job market since the recession began and the U.S. unemployment rate climbed. From 2009 through 2011, an average of 11% of Americans said it was a good time to find a quality job. Those sentiments generally improved in 2012, including a 24% reading in November, one percentage point below the current level.
Gallup has asked the quality job question at least monthly since October 2001. The best assessment of the job market during that time came in January 2007, when 48% of Americans said it was a good time to find a quality job. In fact, that is the only time in the Gallup trend when the percentage saying it was a bad time (47%) did not exceed the percentage saying it was a good time (48%). This suggests that, in general, Americans may have a tendency to view the job market negatively.
This general tendency may not hold during an economic boom, however. Data collected in the late 1990s by the University of Connecticut and Rutgers University using the same question Gallup uses found upward of seven in 10 Americans who were employed or unemployed but looking for work saying it was then a good time to find a quality job. By comparison, 26% of Americans who are working or looking for work now say it is a good time to find a quality job in the new Gallup survey.
Democrats, Nonwhites, and Young Most Upbeat About Job Market
Among political groups, Republicans are most pessimistic about the job market, with 12% saying it is a good time to find a quality job. That compares with 33% of Democrats and 29% of independents. Liberals are about twice as likely as conservatives to express optimism about the job market. Gallup sees this typical pattern on several measures of the economy and overall U.S. satisfaction.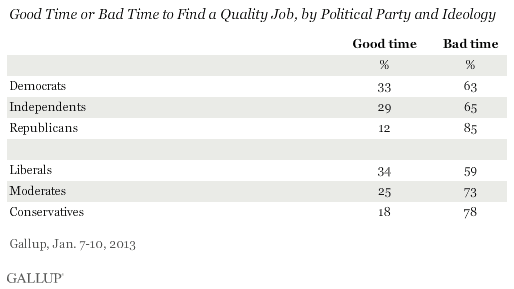 Two subgroups that are left leaning politically -- namely nonwhites (40%) and adults between the ages of 18 and 29 (36%) -- rate the job market most positively among key subgroups. Views of the job market differ little by gender, region, or education.
Implications
With unemployment still high from a historical perspective, it is not surprising that Americans continue to give a much more negative than positive evaluation of the U.S. job market. However, their assessments are clearly becoming more positive, especially compared with 2009 through 2011, when eight in 10 and sometimes nine in 10 Americans said it was a bad time to find a quality job.
Americans' increasingly positive perceptions of the job market are also apparent in the declining percentage who say unemployment is the most important problem facing the U.S. Now, more mention the federal budget deficit and dissatisfaction with government as the nation's biggest challenge.
Clearly, economic growth and the unemployment rate in the coming months will be major factors in determining if Americans' optimism about the job market continues to grow.
Survey Methods
Results for this Gallup poll are based on telephone interviews conducted Jan. 7-10, 2013, with a random sample of 1,011 adults, aged 18 and older, living in all 50 U.S. states and the District of Columbia.
For results based on the total sample of national adults, one can say with 95% confidence that the maximum margin of sampling error is ±4 percentage points.
Interviews are conducted with respondents on landline telephones and cellular phones, with interviews conducted in Spanish for respondents who are primarily Spanish-speaking. Each sample of national adults includes a minimum quota of 50% cellphone respondents and 50% landline respondents, with additional minimum quotas by region. Landline telephone numbers are chosen at random among listed telephone numbers. Cellphones numbers are selected using random-digit-dial methods. Landline respondents are chosen at random within each household on the basis of which member had the most recent birthday.
Samples are weighted to correct for unequal selection probability, nonresponse, and double coverage of landline and cell users in the two sampling frames. They are also weighted to match the national demographics of gender, age, race, Hispanic ethnicity, education, region, population density, and phone status (cellphone only/landline only/both, cellphone mostly, and having an unlisted landline number). Demographic weighting targets are based on the March 2012 Current Population Survey figures for the aged 18 and older U.S. population. Phone status targets are based on the July-December 2011 National Health Interview Survey. Population density targets are based on the 2010 census. All reported margins of sampling error include the computed design effects for weighting.
In addition to sampling error, question wording and practical difficulties in conducting surveys can introduce error or bias into the findings of public opinion polls.
View methodology, full question results, and trend data.

For more details on Gallup's polling methodology, visit https://www.gallup.com/.