PRINCETON, NJ -- Given a choice, Americans would by a modest margin tell their representatives in Congress to vote to pass legislation this week that would avoid the scheduled March 1 sequestration (45%) rather than let the budget sequestration go into effect as planned (37%). Democrats prefer the legislative option that would avoid sequestration and independents tilt that way, but Republicans are essentially divided on the question.
These data are from Gallup Daily tracking conducted Feb. 25-26 as it was becoming clear that a deal to avert sequestration is highly unlikely.
Despite Democratic leaders' clear preference for avoiding sequestration, less than half of rank-and-file Democrats across the country take this position, reflecting in part that 19% of Democrats do not have an opinion on the issue. The no opinion response is equally as high among Americans as a whole.
Separately, 60% of Americans say they are following news about sequestration very or somewhat closely. This nearly matches Americans' average level of attention to the more than 200 news events that Gallup has measured in this fashion over the years.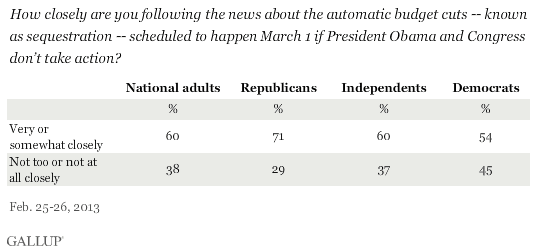 In terms of the current news about sequestration, Republicans are the most attentive, with 71% saying they are following the news very or somewhat closely, and Democrats much less, at 54%
Those who are following the situation very or somewhat closely are more likely to want Congress to pass legislation to avoid sequestration. Those who are not following the situation closely are much more likely to have no opinion on the issue, but those who do have an opinion prefer avoiding sequestration.
Obama Gets Highest Approval for His Handling, Republicans in Congress the Lowest
None of the three major players involved in the sequestration debate -- President Barack Obama, Democrats in Congress, and Republicans in Congress -- get majority approval ratings for their handling of the situation, and none has a higher approval than disapproval rating. Still, on a relative basis, Obama does best, with a 45% approval rating, compared with 37% for Democrats in Congress and 25% for Republicans in Congress. The contrast perhaps most relevant to the politics of the sequester battle is between Obama and the Republicans, and the president clearly comes out on top in that comparison.
Obama's 45% approval rating for handling this situation, although the highest of the three political players, is eight percentage points below his overall approval rating of 53% as measured by Gallup Daily tracking in the same two nights of interviewing. This likely reflects Americans' broad displeasure with the looming sequester, making it difficult to credit anyone's performance in the political dealings leading up to it.
Implications
Americans on average would rather see leaders in Congress take action to avoid the sequestration than to let it occur as scheduled on Friday, although sentiment in that direction is not particularly strong. Underscoring that this does not appear to be a matter of critical importance to Americans is the fact that they are paying only an average amount of attention to the situation, and almost one in five have no opinion about what should be done.
It is clear that President Obama's public position is that sequestration will produce negative consequences for the country, while at least some Republican leaders in Washington may be in favor of letting sequestration happen to pressure Obama to go along with more reductions in government spending. Still, while rank-and-file Democrats are more in favor of averting sequestration than others, rank-and-file Republicans also do not favor the sequestration taking place.
A key question is whether this latest budget struggle will produce political winners and losers. While President Obama gets higher approval ratings than Republicans in Congress for his handling of the sequestration matter at this point, the fact that his approval on the issue is subpar relative to his overall approval rating provides a cautionary note. Americans may not be happy with anyone involved if -- or more likely when -- sequestration occurs.
Survey Methods
Results are based on telephone interviews conducted as part of Gallup Daily tracking survey Feb. 25-26, 2013, with a random sample of 1,017 adults, aged 18 and older, living in all 50 U.S. states and the District of Columbia.
For results based on the total sample of national adults, one can say with 95% confidence that the margin of sampling error is ±4 percentage points.
Interviews are conducted with respondents on landline telephones and cellular phones, with interviews conducted in Spanish for respondents who are primarily Spanish-speaking. Each sample of national adults includes a minimum quota of 50% cellphone respondents and 50% landline respondents, with additional minimum quotas by region. Landline telephone numbers are chosen at random among listed telephone numbers. Cellphones numbers are selected using random digit dial methods. Landline respondents are chosen at random within each household on the basis of which member had the most recent birthday.
Samples are weighted to correct for unequal selection probability, nonresponse, and double coverage of landline and cell users in the two sampling frames. They are also weighted to match the national demographics of gender, age, race, Hispanic ethnicity, education, region, population density, and phone status (cellphone only/landline only/both, cellphone mostly, and having an unlisted landline number). Demographic weighting targets are based on the March 2012 Current Population Survey figures for the aged 18 and older U.S. population. Phone status targets are based on the July-December 2011 National Health Interview Survey. Population density targets are based on the 2010 census. All reported margins of sampling error include the computed design effects for weighting.
In addition to sampling error, question wording and practical difficulties in conducting surveys can introduce error or bias into the findings of public opinion polls.
View methodology, full question results, and trend data.

For more details on Gallup's polling methodology, visit https://www.gallup.com/.