WASHINGTON, D.C. -- Hawaii residents remained the least likely in the U.S. to say they felt stressed on any given day in 2012, at 32.1%. West Virginia residents, on average, were the most likely to report feeling stress, at 47.1%.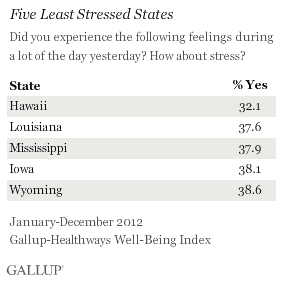 These state-level data are based on daily surveys conducted from January through December 2012 and encompass more than 350,000 interviews as part of the Gallup-Healthways Well-Being Index. Nationwide, 40.6% of Americans reported feeling stressed "yesterday" in 2012, similar to past years.
Gallup has measured daily stress in its tracking survey since 2008. Hawaii has ranked as the state with the lowest percentage of residents reporting stress on the prior day all five years and is the only state to rank in the top five consistently since 2008. West Virginia, Kentucky, and Utah, have each ranked within the top five most stressed states for the past five years. West Virginia ranked as the most stressed state in 2012, Kentucky was the top state for stress in 2008 and 2011, and Utah was the top state for stress in 2009 and 2010.
For all of the states, stress levels were statistically unchanged in 2012 compared with 2011. Regionally, states with stress levels at or above 42% were clustered in the Northeast and Midwest, but also included Utah, Oregon, and Washington.
Lowest Stress States Report Most Enjoyment
Two of the five states with the lowest stress levels, Hawaii and Wyoming, also boasted the highest levels of enjoyment in 2012. In Hawaii, 89.7% of residents said they experienced enjoyment the day before the survey and 88.8% said so in Wyoming.
Rhode Island residents were the least likely to report feeling enjoyment the previous day, at 80.4%, although that is still high on an absolute basis. Residents in other high-stress states, Kentucky and West Virginia, were also among the least likely to experience enjoyment. Both of these states have appeared among the bottom five states for experiencing enjoyment at least three times since Gallup began reporting this measure, including 2012. Utah is unique in that it is routinely ranked among both the highest stress and highest enjoyment states, appearing among the top five in enjoyment in 2008, 2011, and 2012, suggesting a complex relationship between stress and other emotions.
Nationally, 84.9% of Americans reported feeling enjoyment "yesterday" in 2012. States with relatively lower enjoyment levels, below 84%, were primarily clustered in the Northeast and South, but also included Ohio. The states where enjoyment was higher than 86% were located mainly in the Midwest and West, including Hawaii and Alaska.
Bottom Line
For the past five years, Hawaii has consistently ranked as the least stressed state, while West Virginia, Kentucky, and Utah have been among the most stressed states. Despite this, Utah residents join Hawaii residents in reporting among the highest levels of enjoyment in the U.S., while West Virginia and Kentucky residents report some of the lowest levels of enjoyment.
While the relationship between stress and enjoyment is not clear, states with the highest stress levels tend to report less daily enjoyment. Further investigation into what drives stress, how it impacts people, and ways to mitigate its effects are important, as 40% of American adults consistently report experiencing it a lot of the day "yesterday."
About the Gallup-Healthways Well-Being Index
The Gallup-Healthways Well-Being Index tracks well-being in the U.S. and provides best-in-class solutions for a healthier world. To learn more, please visit well-beingindex.com.
Survey Methods
Results are based on telephone interviews conducted as part of the Gallup-Healthways Well-Being Index survey Jan. 1-Dec. 31, 2012, with a random sample of 353,564 adults, aged 18 and older, living in all 50 U.S. states and the District of Columbia, selected using random-digit-dial sampling.
For results based on the total sample of national adults, one can say with 95% confidence that the maximum margin of sampling error is ±1 percentage point.
The margin of sampling error for most states is ±1 to ±2 percentage points, but is as high as ±4 points for states with smaller population sizes such as Alaska, Rhode Island, Vermont, Wyoming, North Dakota, South Dakota, Delaware, and Hawaii.
Interviews are conducted with respondents on landline telephones and cellular phones, with interviews conducted in Spanish for respondents who are primarily Spanish-speaking. Each sample includes a minimum quota of 400 cell phone respondents and 600 landline respondents per 1,000 national adults, with additional minimum quotas among landline respondents by region. Landline telephone numbers are chosen at random among listed telephone numbers. Cell phone numbers are selected using random-digit-dial methods. Landline respondents are chosen at random within each household on the basis of which member had the most recent birthday.
Samples are weighted by gender, age, race, Hispanic ethnicity, education, region, adults in the household, and phone status (cell phone only/landline only/both, cell phone mostly, and having an unlisted landline number). Demographic weighting targets are based on the March 2012 Current Population Survey figures for the aged 18 and older non-institutionalized population living in U.S. telephone households. All reported margins of sampling error include the computed design effects for weighting.
In addition to sampling error, question wording and practical difficulties in conducting surveys can introduce error or bias into the findings of public opinion polls.
For more details on Gallup's polling methodology, visit www.gallup.com.