WASHINGTON, D.C. -- Heart attacks appear to be emotionally tougher on women in the U.S. than men. American women who say they have experienced a heart attack at some point in their lives have an average Emotional Health Index score of 73, much lower than the average of 81 for women who have not had a heart attack -- a difference of eight points. Men who have had a heart attack do lag their counterparts who have not had one in emotional health, but not as much -- 77 vs. 81, a difference of four points.
These findings are based on 353,492 interviews conducted with Americans aged 18 and older from Jan. 1-Dec. 31, 2012, collected as part of the Gallup-Healthways Well-Being Index. The survey asks each respondent whether they experienced the following a lot the previous day: treated with respect, smiled or laughed, learned something, experienced enjoyment, experienced physical pain, worry, sadness, stress, anger, and happiness. These 10 items comprise the Emotional Health Index.
In 2012, 3.8% of women reported ever being diagnosed with a heart attack versus 6.4% of men. Self-reported incidence of a heart attack was stable across age groups, with women consistently reporting lower rates of heart attacks than men. The findings presented in this article hold true when controlling for age.
Heart Attacks Emotionally Hard on Women of All Income Levels
Women who have suffered a heart attack, regardless of their income level, report lower emotional health than women who have not. The same is not true for men. Higher-income men see almost no effect after a heart attack on their emotional health. However, low-income men who have had a heart attack experience a decline in emotional health similar to that of low-income women.
Emotional Impact of Heart Attack Comes in the Form of Worry, Sadness, and Stress for Women
Women are more likely than men to report experiencing negative emotions after a heart attack. Whereas men who have had a heart attack are four percentage points more likely to report experiencing sadness than other men, women who have had a heart attack are 14 points more likely than other women to report experiencing sadness -- a 10-point difference between genders. A 10-point difference between men and women was also found for self-reports of pain.
In addition, women who have had a heart attack are more likely than women who have not to report having ever been diagnosed with depression by 19 points, while the difference for men is eight points. Women who have had a heart attack are also more likely than men who have had one to report lower levels of enjoyment after a heart attack.
One exception is happiness, with both genders reporting equally lower levels of happiness if they have had a heart attack.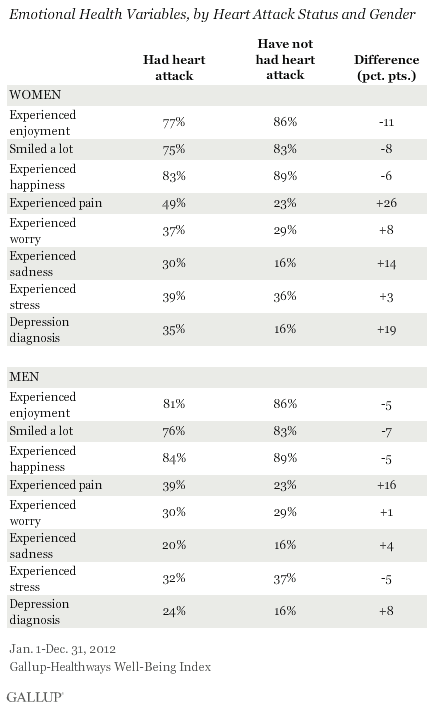 Implications
Heart disease is the No. 1 killer of women in the U.S. While women are less likely to have heart attacks than men, women are twice as likely as men to die within a few weeks of the event, according to the Women's Heart Foundation.
But, for those women who survive a heart attack, the Gallup-Healthways Well-Being Index data show that emotional health is a significant issue and thus the process of recovery may require more social and mental health support.
Still, the analysis does not prove causality. For example, it may be that women who have worse emotional health are more susceptible to heart attacks. However, other research suggests that women do have worse outcomes than men following a heart attack. Research published in Issues in Mental Health Nursing in 2006 finds that after a heart attack, middle-aged women report lower satisfaction with life and decreased mental health, with almost 50% of these women experiencing depression. The same report also reveals that for women who have had a heart attack, religion, family, and friends are important coping mechanisms in their recovery.
The disparity in Emotional Health Index scores among high-income men and women who have survived a heart attack calls into question the relationship between income and emotional well-being. Research by Gallup Senior Scientists Daniel Kahneman and Angus Deaton, published in 2010, examined Gallup-Healthways Well-Being Index data from 450,000 respondents and found that higher income is not a predictor of high emotional well-being once yearly income reaches $75,000. This finding aligns with the analysis in the article and suggests that, while women in general may have a harder time coping than men after they experience a heart attack, having a higher income is associated with an even greater gender disparity in emotional health outcomes after a heart attack.
In addition, Kahneman and Deaton suggest that health, caregiving, and loneliness are strong predictors of daily emotions. If indeed social and mental health support are important for women during recovery from a heart attack, healthcare workers who assist in the treatment of women after the diagnosis of a heart attack should consider integrating social and family-focused practices into recovery plans. The inclusion of a social support mechanism into care plans could decrease the likelihood of depression and other negative emotional states and, in turn, increase the likelihood of positive treatment outcomes.
Gallup has found that emotional health is also lower for women who have suffered other diseases or conditions, such as cancer and diabetes when compared to women without these conditions. In light of these findings, future articles will examine the emotional impact of disease on women.
About the Gallup-Healthways Well-Being Index
The Gallup-Healthways Well-Being Index tracks well-being in the U.S. and provides best-in-class solutions for a healthier world. To learn more, please visit well-beingindex.com.
Survey Methods
Results are based on telephone interviews conducted as part of the Gallup Healthways Well-Being Index survey Jan. 1-Dec. 31, 2012, with a random sample of 353,492 adults, aged 18 and older, living in all 50 U.S. states and the District of Columbia.
For results based on the total sample of national adults, one can say with 95% confidence that the maximum margin of sampling error is ±1 percentage points.
Interviews are conducted with respondents on landline telephones and cellular phones, with interviews conducted in Spanish for respondents who are primarily Spanish-speaking. Each sample includes a minimum quota of 400 cellphone respondents and 600 landline respondents per 1,000 national adults, with additional minimum quotas among landline respondents by region. Landline telephone numbers are chosen at random among listed telephone numbers. Cellphones numbers are selected using random digit dial methods. Landline respondents are chosen at random within each household on the basis of which member had the most recent birthday.
Samples are weighted by gender, age, race, Hispanic ethnicity, education, region, adults in the household, and phone status (cellphone-only/landline only/both, cellphone mostly, and having an unlisted landline number). Demographic weighting targets are based on the March 2011 Current Population Survey figures for the aged 18 and older non-institutionalized population living in U.S. telephone households. All reported margins of sampling error include the computed design effects for weighting and sample design.
In addition to sampling error, question wording and practical difficulties in conducting surveys can introduce error or bias into the findings of public opinion polls.
For more details on Gallup's polling methodology, visit https://www.gallup.com/.