WASHINGTON, D.C. -- Americans' satisfaction with the way things are going in the United States is at 28% in July, similar to the 27% in June, but up from 24% in May.
The July 10-14 Gallup survey finds that the large majority of Americans, 68%, remain dissatisfied with the way things are going. There has been no clear trend in satisfaction this year, with the percentage satisfied fluctuating between a low of 21% in March and a high of 30% in April.
Americans' average satisfaction thus far for 2013 is 26%, exactly the same as it was in 2012, and well below the historical average of 38% that Gallup has found since it started asking the question in 1979.
The highest level of annual satisfaction on record is 60%, found in 1986, 1998, and 2000. Americans' average annual satisfaction fell to its lowest point of 15% in 2008.
Democrats', Republicans' Satisfaction Up
Democrats' satisfaction rose to 44% in July, from 41% in June and 37% in May. Republicans' satisfaction is up as well, to 14% now, from 12% last month and 9% in May. Independents' satisfaction is 25% in July, unchanged from June but up slightly from 22% in May.
Democrats have been the most satisfied with the direction of the country since President Barack Obama took office, with their satisfaction peaking at 64% during last fall's presidential campaign. Prior to that, while George W. Bush was president, Republicans' satisfaction routinely was higher than Democrats'.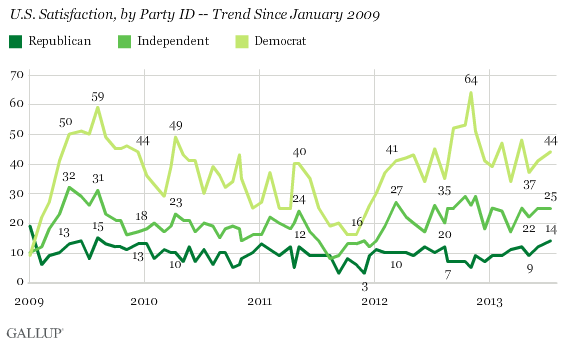 Bottom Line
Americans grew slightly more satisfied in June and July with the way things are going in the country. But their satisfaction remains low from a historical perspective, particularly compared with the years prior to the 2008 recession. Americans continue to be down on Congress, and the U.S. has yet to make a robust recovery from the recession, likely contributing to their lingering frustrations with the nation's direction.
Survey Methods
Results for this Gallup poll are based on telephone interviews conducted July 10-14, 2013, with a random sample of 2,027 adults, aged 18 and older, living in all 50 U.S. states and the District of Columbia.
For results based on the total sample of national adults, one can say with 95% confidence that the margin of sampling error is ±3 percentage points.
Interviews are conducted with respondents on landline telephones and cellular phones, with interviews conducted in Spanish for respondents who are primarily Spanish-speaking. Each sample of national adults includes a minimum quota of 50% cellphone respondents and 50% landline respondents, with additional minimum quotas by region. Landline and cell telephone numbers are selected using random-digit-dial methods. Landline respondents are chosen at random within each household on the basis of which member had the most recent birthday.
Samples are weighted to correct for unequal selection probability, nonresponse, and double coverage of landline and cell users in the two sampling frames. They are also weighted to match the national demographics of gender, age, race, Hispanic ethnicity, education, region, population density, and phone status (cellphone only/landline only/both, and cellphone mostly). Demographic weighting targets are based on the March 2012 Current Population Survey figures for the aged 18 and older U.S. population. Phone status targets are based on the July-December 2011 National Health Interview Survey. Population density targets are based on the 2010 census. All reported margins of sampling error include the computed design effects for weighting.
In addition to sampling error, question wording and practical difficulties in conducting surveys can introduce error or bias into the findings of public opinion polls.
View methodology, full question results, and trend data.

For more details on Gallup's polling methodology, visit www.gallup.com.