WASHINGTON, D.C. -- After headlines have often trumpeted news of a continuing federal budget deficit, persistently high unemployment, and a slow-to-recover housing market in the U.S. in recent years, the prevailing wisdom might be that these developments are affecting Americans' satisfaction with their lives. Yet Americans report high levels of satisfaction with many aspects of life, from housing to standard of living to the opportunities they have to succeed, and are even more satisfied with their safety and leisure time than they were in the economic boom of the late 1990s. Americans have, however, become less satisfied with their future and their finances over the past 15 years.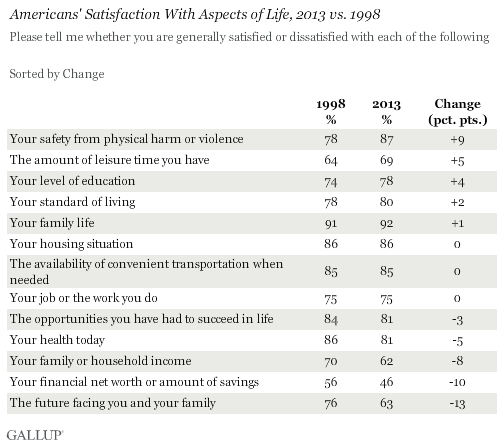 These most recent results are from a Sept. 21-24 poll in which Gallup asked Americans about 13 areas of their lives. Gallup asked the same questions in 1998, which coincided with a period of general economic prosperity in the United States.
Americans' satisfaction with their safety from personal harm or violence has increased the most since 1998, followed by their satisfaction with their leisure time and education level. In contrast, satisfaction with future prospects for themselves and their families has declined most over the past 15 years, followed by satisfaction with financial net worth or savings.
Financial net worth, at 46% satisfied, is the only aspect with which fewer than six in 10 Americans express satisfaction. In only a handful of major subgroups do a majority say they are satisfied with their net worth, including Democrats (52%), those aged 65 and older (62%), those making at least $60,000 a year (59%), and college graduates (59%).
Americans' relatively high satisfaction in 2013 compared with 1998 is notable because of the differing economic situations in these years. In 1998, unemployment was in the 4% range, while it is in the 7% range in 2013. The United States was also operating with a budget surplus in fiscal year 1998, but now has one of the largest deficits in its history. Americans' lower levels of satisfaction with their income, net worth, and future may be attributable, in part, to the tougher economic situation in 2013.
Bottom Line
Despite a slow recovery from the 2008-2009 economic recession, Americans' general level of satisfaction with various aspects of their lives remains high. Satisfaction with one's future prospects, household income, and financial net worth have declined, yet in Gallup trends dating back as far as the 1960s, satisfaction in these three areas was at or near record highs in 1998. This suggests that the booming economy of 15 years ago may have been a factor in Americans' satisfaction with these economic aspects of life.
This may mean that in individual families and communities, satisfaction in certain areas remains strong despite political or economic turbulence. Additionally, various aspects of the American experience -- such as family, transportation, and education -- may be impervious to fluctuations in economic, political, or social factors.
In an upcoming analysis, Gallup will explore 50-year historical trends of Americans' satisfaction with various life aspects.
Survey Methods
Results for this Gallup poll are based on telephone interviews conducted Sept. 21-24, 2013, on the Gallup Daily tracking survey, with a random sample of 2,031 adults, aged 18 and older, living in all 50 U.S. states and the District of Columbia.
For results based on the total sample of national adults, one can say with 95% confidence that the margin of sampling error is ±3 percentage points.
Interviews are conducted with respondents on landline telephones and cellular phones, with interviews conducted in Spanish for respondents who are primarily Spanish-speaking. Each sample of national adults includes a minimum quota of 50% cellphone respondents and 50% landline respondents, with additional minimum quotas by region. Landline and cell telephone numbers are selected using random-digit-dial methods. Landline respondents are chosen at random within each household on the basis of which member had the most recent birthday.
Samples are weighted to correct for unequal selection probability, nonresponse, and double coverage of landline and cell users in the two sampling frames. They are also weighted to match the national demographics of gender, age, race, Hispanic ethnicity, education, region, population density, and phone status (cellphone only/landline only/both, and cellphone mostly). Demographic weighting targets are based on the March 2012 Current Population Survey figures for the aged 18 and older U.S. population. Phone status targets are based on the July-December 2011 National Health Interview Survey. Population density targets are based on the 2010 census. All reported margins of sampling error include the computed design effects for weighting.
In addition to sampling error, question wording and practical difficulties in conducting surveys can introduce error or bias into the findings of public opinion polls.
For more details on Gallup's polling methodology, visit www.gallup.com.