PRINCETON, NJ -- Americans' approval of the way Congress is handling its job has dropped to 9%, the lowest in Gallup's 39-year history of asking the question. The previous low point was 10%, registered twice in 2012.
These results are from a Gallup poll conducted Nov. 7-10.
Congress approval fell to 11% in October, during the U.S. government shutdown. Although the shutdown is now history, Americans' views of Congress have not recovered, but instead have edged lower. By contrast, Americans' confidence in the economy has begun to improve in the last several weeks. The continuing depression in Americans' views of Congress has occurred even though the troubles with the rollout of President Barack Obama's signature Affordable Care Act are now dominating U.S. political news.
Public displeasure with Congress is equally rampant across political groups, with Republicans (9%), independents (8%), and Democrats (10%) giving the institution similarly low approval ratings.
Twenty percent of Democrats approved of Congress in September, but their approval plummeted to 5% in October during the shutdown. This month, Democrats' approval improved slightly, but is still well below levels measured earlier this year.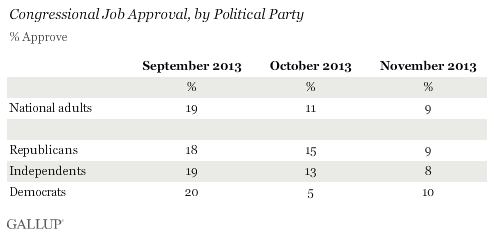 Yearly Congressional Approval on Track to Be Lowest Ever
Congressional approval for the first 11 months of 2013 is 14%, on track to be the lowest yearly average in Gallup history, one percentage point below last year's 15% average.
Americans have rarely been highly positive about Congress, which has an average approval rating of 33% since 1974. Congressional approval on an annual basis was highest in 2001 at 56%, reflecting the rally effect after the 9/11 terrorist attacks. But since the 2008 financial crisis, approval has been particularly low, with the exception of the months after Obama's first inauguration in 2009.
Implications
The government shutdown in October clearly didn't help Congress' image, and it appears that the impact of that incident may linger, given the record-low approval this month. This no doubt reflects the rancorous partisanship and bickering that characterized the shutdown -- the top reasons given by those who disapprove of Congress. Having a divided Congress -- with Republicans controlling the House and Democrats controlling the Senate -- means there are complaints among partisans on both sides, reflected in similarly low congressional approval ratings among Republicans and Democrats.
Survey Methods
Results for this Gallup poll are based on telephone interviews conducted Nov. 7-10, 2013, with a random sample of 1,039 adults, aged 18 and older, living in all 50 U.S. states and the District of Columbia.
For results based on the total sample of national adults, one can say with 95% confidence that the margin of sampling error is ±4 percentage points.
Interviews are conducted with respondents on landline telephones and cellular phones, with interviews conducted in Spanish for respondents who are primarily Spanish-speaking. Each sample of national adults includes a minimum quota of 50% cellphone respondents and 50% landline respondents, with additional minimum quotas by region. Landline and cell telephone numbers are selected using random-digit-dial methods. Landline respondents are chosen at random within each household on the basis of which member had the most recent birthday.
Samples are weighted to correct for unequal selection probability, nonresponse, and double coverage of landline and cell users in the two sampling frames. They are also weighted to match the national demographics of gender, age, race, Hispanic ethnicity, education, region, population density, and phone status (cellphone only/landline only/both, and cellphone mostly). Demographic weighting targets are based on the March 2012 Current Population Survey figures for the aged 18 and older U.S. population. Phone status targets are based on the July-December 2011 National Health Interview Survey. Population density targets are based on the 2010 census. All reported margins of sampling error include the computed design effects for weighting.
In addition to sampling error, question wording and practical difficulties in conducting surveys can introduce error or bias into the findings of public opinion polls.
View methodology, full question results, and trend data.
For more details on Gallup's polling methodology, visit www.gallup.com.