WASHINGTON, D.C. -- About half of all racial and ethnic minority students (50%) say they plan to start their own business, compared with 37% of white students, according to recent findings from the Gallup-Hope Index.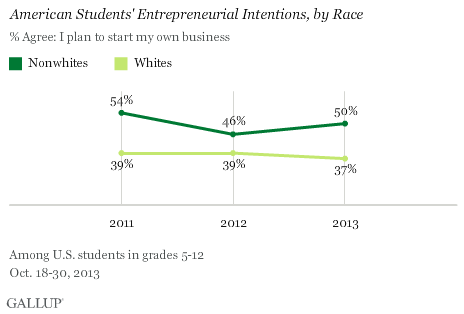 The results are based on a telephone survey conducted Oct. 18-30, 2013, with a nationally representative sample of 1,009 U.S. students in grades 5-12.
Older Students Less Likely Than Younger Ones to Have Entrepreneurial Intentions
Students' desire to start their own business is lower among high schoolers than middle schoolers, and, more generally, decreases with each grade level. Roughly half of students in grades 5-8 (51%) say they plan to start their own business, compared with a third (33%) of those in grades 9-12.
Overall, four in 10 U.S. students express plans to start a business. Slightly fewer (38%) say they will invent "something that changes the world." Students' interest in starting their own business is similar to the level found in 2012, but down from 2011. Their belief that they will invent something world-changing declined in 2013 after holding steady in 2012.
Students Express Lack of Opportunities to Match Entrepreneurial Aspirations
Relatively few students report participating in workplace activities that could give them valuable workplace skills and experience. Seventeen percent of all middle school and high school students say they work at least one hour weekly. With little exposure to the workforce, few youth have any experience at all in the workforce or that would help them build a business later in their lives.
The majority of students do appear to have opportunities at school to gain at least some preparation for the business world. In 2013, more than half (55%) of students said their school teaches them about money and banking, and slightly fewer, 47%, said their school offers classes on how to start or run a business. Additionally, students widely agree that the more education they attain, the more money they will make.
Implications
American youth have an incredible amount of economic energy. They have the hope and desire to jump-start the U.S. economy. There are essentially 1.5 million students with the potential to build all-important small to medium-sized businesses. But according to the Gallup-Hope Index, less than half are learning about how to start and run their own business at their school. It is crucial to identify these students early and cultivate their entrepreneurial energy, if Americans expect to maintain the global advantage in entrepreneurship the U.S. has enjoyed. Creating opportunities for young minority entrepreneurs may provide a much-needed foundation for helping such businesses flourish.
Small business is frequently the entry point for entrepreneurs, and the impact could be magnified if the nation could prepare its young innovators to capitalize on their ideas. Though larger businesses had the highest net gain in job creation in the last quarter of 2012, the smallest businesses (those with one to 49 employees) created nearly twice the number of jobs. The smallest businesses tend to close at a higher rate than larger establishments, but their potential is seen in the sheer number of employees they hired at the end of 2012. The power of these small businesses to affect the economy is enormous if they can maintain profitability and their employee levels. Simply put, if U.S. communities are to be thriving places to live and learn well into the future, America needs a strategy that includes investment in its youngest and most hopeful members -- its youth.
To bolster these numbers, identifying these students and increasing their educational opportunities may increase entrepreneurship. Educators, community and business leaders, and policymakers all have a role in formulating plans to encourage students' entrepreneurial aspirations. Through advisory boards and individual programs, leaders can develop local efforts that help students connect with mentors in their community, with learning opportunities such as workshops or internships, and with jobs that help them unite their entrepreneurial intentions with the experiences they need to bring their innovative ideas to life.
At no other time in the recent past has it been more important for America to invest in tomorrow's entrepreneurs.
To learn more about the entrepreneurial aspirations and energy of American students, read The 2013 Gallup-Hope Index report.
About the Gallup-Hope Index
The Gallup-HOPE Index is a first-of-its-kind survey that creates an annual benchmark of the economic energy of the nation's young people. So far, it suggests the U.S. is failing to recognize and maximize entrepreneurial talent and aspiration in its young people. But the data also tell a story of hope, shining a light on the path that educators, policymakers, and community leaders must navigate to build and sustain thriving communities.
Methodology
The Gallup-HOPE Index findings are based on results from a nationally representative telephone survey of 1,009 students in grades 5-12. Telephone interviews were conducted from Oct. 18-30, 2013. Participants were selected based on eligibility criteria determined from previous contact on the Gallup Daily tracking survey and based on their consent to be recontacted. Gallup contacted respondents who indicated they had children under the age of 18 and screened for the appropriate grade level and garnered consent from the parent or guardian to allow their children to participate. The weighted subset of households with parents of school-aged children in grades 5 through 12 who granted permission to be recontacted served as the sampling frame for this study.