WASHINGTON, D.C. -- Greeks' lackluster confidence in their country's leadership, coupled with only meager signs of improvement in their economy, suggests they are primed for a political showdown in Sunday's general elections. Beleaguered by years of economic hardship stemming from a financial crisis turned currency crisis, fewer than one in five Greeks (18%) approved of their country's leadership in 2014 -- one of the lowest approval ratings in the European Union.
Bleak Economic Outlook and Employment Conditions
Arguably, no other European country has been as hard hit by the economic downturn as Greece. Four years after the EU bailout of Greece's economy, 10% of Greeks see their economy as getting better. While still low, this is the first time this percentage has been in double digits since 2007.
Since the bailout, the Greek government has had to implement harsh austerity measures that have hurt employment. In 2014, Greece had the highest unemployment rate that Gallup recorded for any EU country, at 29% -- triple the 9% recorded in 2009.
Gallup reports unemployment as a percentage of the workforce, rather than the total population. Gallup defines the "workforce" as adults who are working or are actively looking for work and available for employment. On top of record-high unemployment, Greece also had the lowest workforce participation rate for any EU country, at 53%. Across the entire adult population, 37% were doing any kind of work in 2014.
Rise of Left-Wing Political Parties and Approval of EU Leadership
These economic hardships have been felt in the political system: This upcoming snap parliamentary election will be the third since the crisis began in 2009. Current polls suggest the far-left Syriza party is leading its political rivals, meaning it could win a mandate to form the next government. Many analysts fear that parties such as Syriza, with their populist rhetoric, could usher in domestic policies that conflict with EU regulations. These "protest parties" are also challenging the existing political establishment in Spain and Italy. In Spain, the nascent Podemos party is surging in public support, and in Italy, the Five Star Movement is in second place in the polls, with 21.5% support.
One source of appeal for these parties has been anti-austerity and anti-establishment campaign messages that have found support among audiences that disapprove of the EU's leadership. Greeks in particular express little love for the EU -- likely because they blame it for the tough measures that are part of the country's economic bailout packages. Six in 10 Greeks in 2014 disapproved of the EU's leadership, which is down from a high of 67% disapproval in 2013, but still higher than their Mediterranean neighbors in Italy and Spain, which have also had their share of major economic troubles.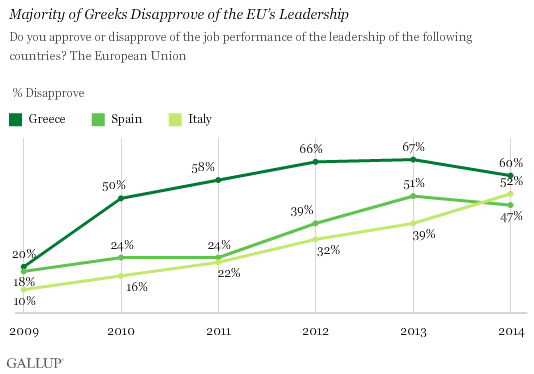 Still, Greeks' approval of their leadership is even lower than their approval of the EU's leadership and the leadership of Germany (29% in 2014), a nation that has been one of the biggest supporters of austerity measures for countries such as Greece.
Bottom Line
The Greek elections will test whether the low approval of the EU and continuing pessimism regarding the country's leadership and economy are enough for the left-wing party, Syriza, to win a plurality of support and be asked to form a government. While no one knows exactly what will happen should Syriza prove triumphant, it could be an event that throws the troubled eurozone into greater turmoil.
As the European Central Bank readies the implementation of its recently announced quantitative easing program to battle looming deflationary pressure, the political and financial instability in Greece is adding uncertainty to the region's economic outlook.
Survey Methods
Results are based on face to face and telephone interviews with 1,000 to 2,000 adults, aged 15 and older, conducted from April 14-Oct. 9, 2014, in Greece, Spain and Italy. For results based on the total sample of national adults, the margin of sampling error is ±3.5 to ±3.9 percentage points at the 95% confidence level. All reported margins of sampling error include computed design effects for weighting.
For more complete methodology and specific survey dates, please review Gallup's Country Data Set details. Learn more about how the Gallup World Poll works.