Story Highlights
Americans most favorable toward country's strongest allies
Favorability of France exceeds highest recorded level
Russia less popular than at any time since fall of Soviet Union
WASHINGTON, D.C. -- Americans' current views of foreign nations range from highly positive evaluations of Canada (92% favorable) and Great Britain (90%) to highly negative ratings of Iran (11%) and North Korea (9%).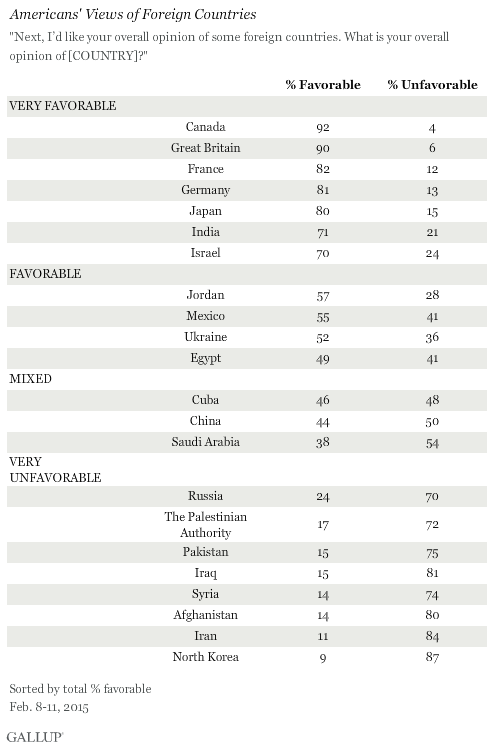 In Gallup's Feb. 8-11 World Affairs survey, Gallup asked Americans if their overall view of various prominent countries on the world stage is very favorable, mostly favorable, mostly unfavorable or very unfavorable. Based on the ratings, these 22 nations can be divided into four groups: very favorable, favorable, mixed and very unfavorable.
Americans' views of foreign countries generally follow the contours of American foreign policy, with the country's longtime allies ranking highly and countries with which the U.S. has difficult relationships ranking lower. Fellow Western countries and NATO allies are rated higher than all other countries measured, with Canada (92%), Great Britain (90%), France (82%) and Germany (81%) perceived most favorably. Also rated positively are several important strategic and economic partners of the U.S., including Japan (80%), India (71%) and Israel (70%). Notably, Saudi Arabia is viewed unfavorably by a majority of Americans, despite the country's historically strong ties with the U.S. Americans previously rated Saudi Arabia more positively, but those attitudes soured after the 9/11 terrorist attacks, given that many of the attackers were Saudis.
At the opposite end of the spectrum, longtime U.S. adversaries North Korea and Iran have frequently been among the countries with the lowest favorability ratings. Opinions of Iran have been largely stable at low levels since Gallup first began measuring them in 1989 and haven't received a bump despite a recent thaw in relations. North Korea, most recently in the news for issuing its seemingly perennial call to prepare for war with the U.S., is viewed favorably by fewer than one in 10 Americans (9%).
Favorability of France at Record High; Russia Lowest Since Fall of Soviet Union
At 82% in 2015, American favorability toward France has reached its highest level since this question was first asked in 1991. In the aftermath of January's Charlie Hebdo terror attack, Secretary of State John Kerry brought musician James Taylor to Paris to sing "You've Got a Friend" to the French people, the surest sign yet that Franco-American relations are in a solid state. Americans' views of their nation's oldest ally have been steadily on the mend since the two countries had a falling out in 2003 over the U.S.-led invasion of Iraq, when only 34% rated France favorably.
With relations heading in the opposite direction in recent years, Vladimir Putin's Russia is now viewed favorably by just 24% of Americans, Russia's lowest rating since Gallup first began measuring American favorability of the Soviet Union in 1989. U.S.-Russia relations remain strained as a result of disagreement on a number of key issues, most notably Moscow's support of ethnic Russian rebels in Ukraine's civil war, a stance that has led the U.S. and its European allies to issue economic sanctions against Russia in the past year.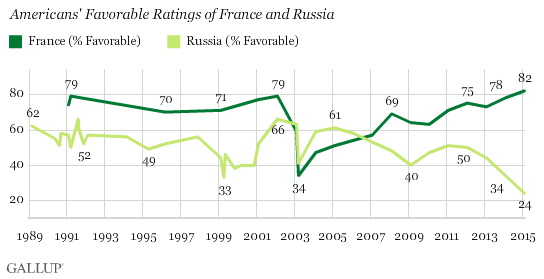 Americans' Views of India Remain Largely Positive
Americans continue to offer warm views of India, with favorability ratings of the world's biggest democracy largely steady in recent years, standing at 71% in 2015. In Indian Prime Minister Narendra Modi's short time in office, he has established friendly working relations with President Barack Obama, a partnership the U.S. is keen to advance. As India's growing economy is gradually accompanied by increased influence in the region, the U.S.-India relationship is expected to take on added importance, highlighted by January's long-awaited pact allowing American companies to supply India with civilian nuclear technology.
Recent Shifts in Favorability
While Russia's 10-percentage-point drop in favorability marks the steepest fall over the past year, several countries have experienced a recent boost in goodwill. Following the historic normalization of relations with the U.S., nearly half of Americans (46%) now have a favorable view of Cuba, an eight-point jump since 2014 and Cuba's highest rating since Gallup began measuring its favorability in 1996.
Americans' opinions of traditional Arab allies Egypt and Jordan have seen some improvement as well. Favorability toward Egypt has increased for the second year in a row, up four points to 49% in 2015. Americans have historically held warm feelings toward the Arab nation, although favorability fell from 58% in 2010 to 40% in 2011 in reaction to instability brought on by the Arab Spring. As the political situation in Egypt continues to stabilize behind President Abdel Fattah el-Sisi's authoritarian rule, U.S. opinions of Egypt may climb nearer to previous levels.
Americans are even more positive toward Jordan, expressing favorable views of the country by a 2-to-1 margin (57% favorable vs. 28% unfavorable), a seven-point increase in favorability since 2011. At the time of February's survey, the Jordanian government was heavily bombing ISIS targets in Syria in retaliation for the group's gruesome execution of Jordanian air force pilot Moaz Kasasbeh, a campaign likely to draw considerable support from the American public.
Bottom Line
The American public's views of foreign nations largely reflect the countries' relationships with the U.S., with U.S. allies rating highly and countries seen as enemies viewed largely unfavorably. Nonetheless, as evidenced by Americans' relatively dim views of steadfast ally Saudi Arabia, the status of diplomatic relations is not the only factor in determining favorability toward foreign countries. While public opinion of most nations remains relatively steady year after year, favorability ratings are susceptible to changes in response to real-world events, as in the case of rapprochement with Cuba and the deterioration of relations with Russia.
Survey Methods
Results for this Gallup poll are based on telephone interviews conducted Feb 8-11, 2015, on the Gallup U.S. Daily survey, with a random sample of 837 adults, aged 18 and older, living in all 50 U.S. states and the District of Columbia. For results based on the total sample of national adults, the margin of sampling error is ±4 percentage points at the 95% confidence level. All reported margins of sampling error include computed design effects for weighting.
Each sample of national adults includes a minimum quota of 50% cellphone respondents and 50% landline respondents, with additional minimum quotas by time zone within region. Landline and cellular telephone numbers are selected using random-digit-dial methods.
View complete question responses and trends.
Learn more about how Gallup Poll Social Series works.