Story Highlights
Half in U.S. view her favorably, similar to March and April
Nearly half now view her unfavorably, up from 39% in March
Diminished majority view Bill Clinton favorably, now 59%
PRINCETON, N.J. -- Hillary Clinton's favorable rating from the American people has been steady -- near 50% -- all spring, but her unfavorable rating has inched higher and is now 46%, up from 39% in March. At the same time, the percentage of Americans with no impression of the former first lady, U.S. senator and secretary of state has gone down.
The last three months have been an important time for Clinton. Since officially launching her presidential campaign in mid-April, she has been deflecting criticism of her exclusive use of a private email address while secretary of state, and more recently, partisan charges of possible conflicts of interest stemming from the Clinton Foundation's reliance on foreign donors. Separately, Clinton is scheduled to testify before the House Select Committee on Benghazi next week.
Against the backdrop of the press swirling around these stories, it may be comforting to the Clinton team as they focus on sewing up the Democratic nomination that most of the increase in her unfavorable rating has occurred among Republicans, not Democrats or political independents. Nearly nine in 10 Republicans now view her unfavorably, up from 75% in March. Over the same period, her unfavorable rating has increased only three percentage points among independents and Democrats, hardly significant except that it has held at this slightly higher level for two months.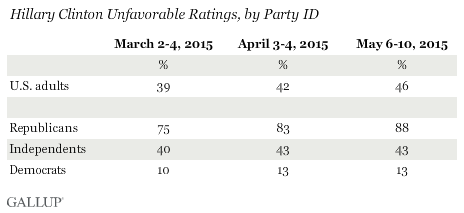 Bill Clinton Retains Positive Image
Bill Clinton -- whose speaking fees and foundation finances have recently drawn some criticism -- is the subject of a renewed debate about whether he is an asset or liability to his wife's campaign. He has lower favorable ratings today than a year ago, but his image remains solidly positive. Currently, 59% of Americans view him favorably and 38% unfavorably. Last June, the figures were 64% favorable and 34% unfavorable -- among the most positive for Clinton since he left office in 2001.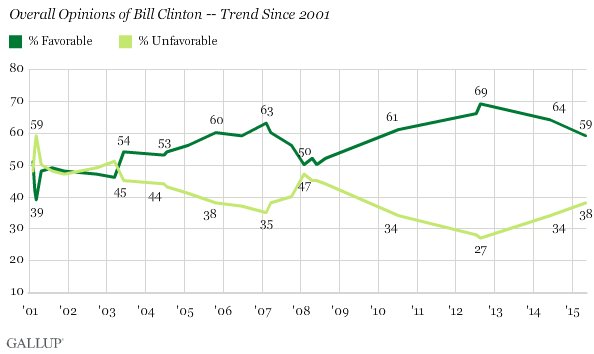 Although Hillary Clinton trails Bill Clinton in public favorability by nine points, the gap is narrower among women, nonwhites and seniors, and they are viewed equally positively by Democrats. Hillary Clinton's biggest image deficits relative to her husband are among Republicans, adults under 50 years of age and men.
Bottom Line
Hillary Clinton has thus far weathered the political storms swirling around her fairly well, with her favorable rating staying close to 50% since March, even as her unfavorable score has edged up, particularly among Republicans. Clinton still has to appear before the House Select Committee on Benghazi and may face further scrutiny over her email practices while secretary of state now that a federal judge has reopened a case probing the matter. For now, her supporters appear to be holding firm. But, should she be looking for ways to burnish her image among independents and Republicans, she might consider more strategic use of her husband on the campaign trail.
Survey Methods
Results for this Gallup poll are based on telephone interviews conducted May 6-10, 2015, with a random sample of 1,024 adults, aged 18 and older, living in all 50 U.S. states and the District of Columbia. For results based on the total sample of national adults, the margin of sampling error is ±4 percentage points at the 95% confidence level. All reported margins of sampling error include computed design effects for weighting.
Each sample of national adults includes a minimum quota of 50% cellphone respondents and 50% landline respondents, with additional minimum quotas by time zone within region. Landline and cellular telephone numbers are selected using random-digit-dial methods.
View complete question responses and trends.
Learn more about how Gallup Poll Social Series works.