Story Highlights
Consumers estimate spending an average $812 on gifts this season
Highest October estimate since 2007
Fewer than in recent years say they are "spending less" on gifts
PRINCETON, N.J. -- Gallup's initial measure of Americans' 2015 Christmas spending intentions finds consumers planning to spend an average $812 on gifts this season, up from $781 at the same time a year ago, and the highest estimate since 2007.
The 2015 average spending estimate encompasses a fairly wide range of holiday budgets. According to the Oct. 7-11 telephone survey, about a third of U.S. adults plan to spend $1,000 or more on gifts and another quarter say they will spend between $500 and $999, while about a third will spend between $100 and $499. Another 3% plan to spend less than $100, while 8% say they will not spend anything.
The poll also finds consumers a bit less cautious than last year when asked about how their Christmas spending will compare with the year prior. Although the majority of Americans routinely say they will spend about the same as they did the previous year, the 20% saying they will spend less is down from 24% in October 2014, and is the lowest Gallup has recorded for any October since 2007. It is also markedly lower than the 35% and 33% figures recorded in 2008-2009 during the last recession. Instead, consumers' current mindset about holiday spending appears to be finally restored to the non-recessionary levels seen prior to 2008.
Perhaps reflecting a desire to appear financially responsible, few Americans ever say they will spend more on gifts in a given year than the year prior, and that remains the case today. The 13% saying this is about average for the past decade.
Together, these findings point to improved holiday sales this year compared with 2014. But a cautionary note is in order, as Americans' estimate of the total amount they will spend on gifts can change as the holiday season progresses.
In 2008, consumers' spending estimate plunged nearly $200 between October and November, precipitated by the Wall Street financial crisis, and retail sales wound up falling nearly 5% compared with the year prior. Even in less turbulent times, Gallup has typically found consumers shrinking their spending estimate between October and November.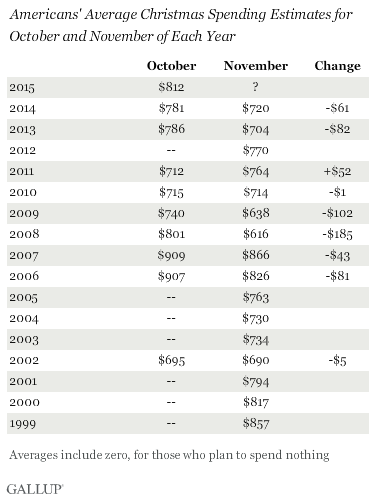 Bottom Line
After seven years of subdued holiday spending estimates, Gallup's initial 2015 look at Americans' Christmas spending intentions offers more encouragement for retailers than any October estimate since 2007. In addition to the possibility that spending intentions could still crater as the season progresses, the current outlook is a bit out of sync with government data showing weak retail sales this year. But much of that could be explained by the effect lower gas prices have on national spending data. Other data indicate that consumers' discretionary spending is holding up, and the broader health of the economy was fairly strong in the second quarter, growing by 3.9%. Gallup's relatively positive October Christmas spending estimate could signal that consumers are ready to take some of the gas savings they have been holding on to, and invest in some much-needed holiday cheer.
Gallup will issue its final holiday spending report in mid-November.
These data are available in Gallup Analytics.
Survey Methods
Results for this Gallup poll are based on telephone interviews conducted Oct. 7-11, 2015, with a random sample of 1,015 adults, aged 18 and older, living in all 50 U.S. states and the District of Columbia. For results based on the total sample of national adults, the margin of sampling error is ±4 percentage points at the 95% confidence level. The margin of sampling error for the mean Christmas spending estimate is ± $62 at the 95% confidence level
All reported margins of sampling error include computed design effects for weighting.
Each sample of national adults includes a minimum quota of 60% cellphone respondents and 40% landline respondents, with additional minimum quotas by time zone within region. Landline and cellular telephone numbers are selected using random-digit-dial methods.
View survey methodology, complete question responses and trends.
Learn more about how Gallup Poll Social Series works.